Free University For All? Startup Aims To End Financial Burden Of College For Good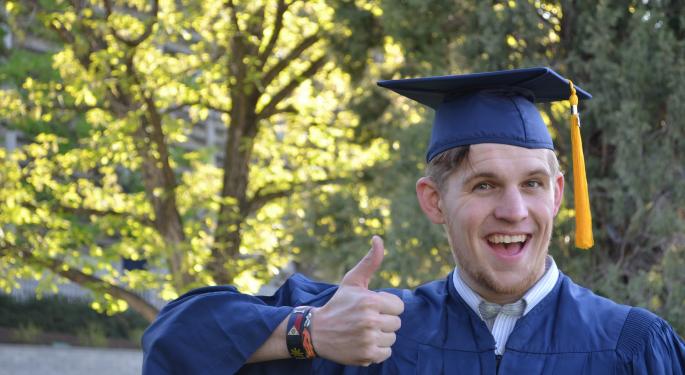 What if getting financing for college was as easy as calling an Uber? A new startup is trying to make this dream a reality.
Leif, which stands for "Long-term Education Investment Fund," is a new platform that hopes to take the financial headache of getting a bachelor's degree out of the equation. The goal is to allow everyone that wants to go to college, can now have access. The company's motto, "Free university for all."
The financial burden of a higher education is one of the biggest barriers to entry for students.
"A ton of students who come from low income backgrounds feel like they can't go to college," said Leif founder Francis Larson.
Currently 60 percent of kids 18–24 are not in any type of school. Leif wants to change this statistic.
Related Link: Do Kids Need Credit?
The company will provide students with full tuition and living expenses to an in-state public university for the four-year duration of school, and everybody qualifies. The money comes in like a salary as long as the student is enrolled.
In return, once the student graduates and gets hired, they agree to allocate 10 percent of their income for 25 years to pay back the loan. The payment is capped so it is never more than a federal loan.
Leif is betting on the future earnings potential of a student holding a bachelor's degree, knowing that on average they earn $500,000 more throughout their lifetime.
"The main thing we are trying to do is make sure people go, we want to remove all barriers involving finances during the education process," said Larson.
Currently there are over 5,000 students on the wait list at joinleif.com. The company has recently received funding from Entrepreneur First, a London-based startup accelerator, and 7 Percent Ventures, a San Francisco-based tech venture-capital firm.
"Voters have been requesting this for a long time in different forms. Other countries have programs like this. But the government is too slow, America needs this now, and we can do this now, it's the right thing to do," added Larson.
Posted-In: 7 Percent Ventures college Entrepreneur FirstFintech Education Startups Tech General Best of Benzinga
View Comments and Join the Discussion!