Independence Day: Can't Forget The Motor City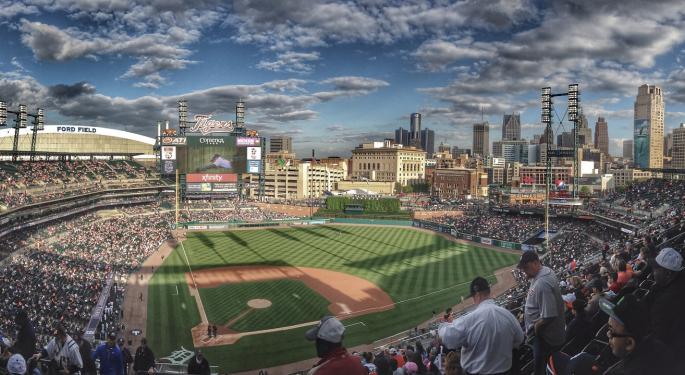 It's been eight months since Benzinga headquarters moved to downtown Detroit. We thanked you all back then for supporting us over these last few years, and thought it was about time to check back in.
Sold in May and went away? Here's what you might have missed:
While tracking these items at Benzinga, we almost missed something: Summer arrived!
Related Link: Campus Martius Park Becomes Detroit Hangout
As kids leave school, parents start to use up those vacations days. Music festivals connect young and old. Summer is a time for relaxation, and while we're having fun at Benzinga, the hard work never stops.
We've welcomed about a dozen interns into the office, in addition to some new full-time faces. The team is bigger than ever, ready to take on our competitors full bore.
Wall Street on Woodward is here, with construction along the avenue just outside our office finally wrapping up. The Q-Line streetcar is set to run in 2017, connecting the city's downtown and midtown areas. And while Detroit was working to upgrade its transportation, we threw the 2016 Benzinga Fintech Awards in New York City!
"Downtown" Josh Brown emceed for the night, keeping things light while honoring the best and brightest in financial technology. TDAmeritrade's (NYSE: AMTD) Nicole Sherrod was her usual rock-star self. And of course, Benzinga CEO Jason Raznick probably didn't take a seat or stop talking the entire day.
We're working on making Benzinga better than you've ever seen it - a one-stop destination for all your financial news and data needs. Enjoy your vacation, and stick with us for a little while longer.
Posted-In: Fintech Opinion Success Stories Startups Best of Benzinga
View Comments and Join the Discussion!