The Mondelez Bid For Hershey Was Never Serious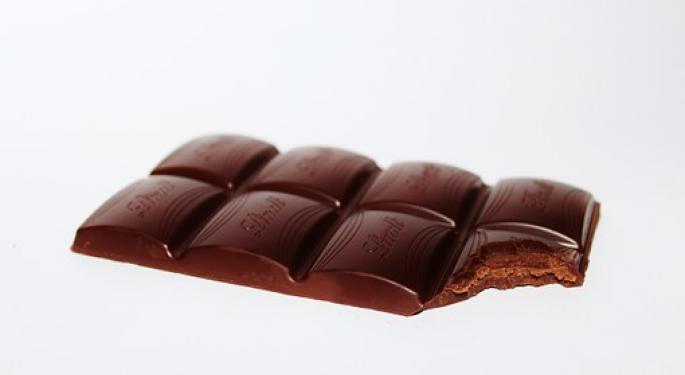 By now you've heard the news.
Mondelez International Inc (NASDAQ: MDLZ)'s bid to acquire Hershey Co (NYSE: HSY) at $107 per share was unanimously rejected by the central Pennsylvania company's board.
In its release, Hershey said the takeover bid provided "no basis for further discussion" with Mondelez. And so ends the fantasy of every child wishing for a chocolate empire.
But veteran traders know that this was never a possibility.
Because the majority owner of Hershey is the Hershey Trust Company, which controls 80 percent of the board and has a mandate to operate in the best interests of Hershey, Pennsylvania, Hershey is directly tied its location. The Pennsylvania state Attorney General also has influence because of the company essentially makes up the entirety of the local economy.
This is why when Hershey gets takeover bids they usually get rejected. It happened in 2002 when they had multiple bidders, and it happened again Thursday. The trust needs to maintain control over the company's location.
In fact one of those 2002 bidders was Cadbury Schweppes, which included a clause that would have made Hershey, Pennsylvania the U.S. headquarters of Cadbury.
So then why would Mondelez, a chocolate conglomerate in its own right, offer up a bid for a measly $107 per share? Surely Hershey is worth more than that.
It's because it was a defensive play. In other words, somebody could be trying to acquire Mondelez. Don't be surprised if we get more news on this in a week or so.
Mondelez made the offer for Hershey in an attempt to either a) speed up this process, or b) attempting a hail mary pass that, if successful, would have made it too big to acquire.
If you'd understood Hershey's ownership situation, then you'd have realized this bid was never serious; It's why Mondelez offered to keep the Hershey name and make Hershey the Mondelez headquarters. Sound familiar?
You could have put a tremendous amount of capital on Mondelez today with very little fear of a pullback. But let's keep an eye out for more headlines on Mondelez in the coming days.
Posted-In: News Rumors M&A Top Stories Markets General Best of Benzinga
View Comments and Join the Discussion!