Morningstar's New President Knows The Next Big Trend In Fintech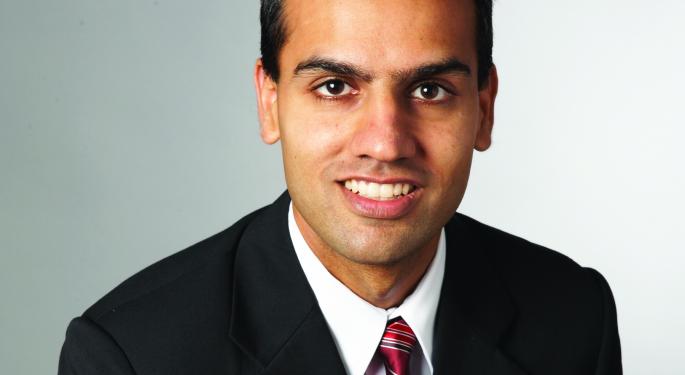 The 2016 Benzinga Fintech Awards is the only event in fintech dedicated to recognizing innovation in financial services and capital markets. Ahead of the May 24th awards show and gala, meet the industry leaders who will be in attendance.
Who he is: Kunal Kapoor, President of Morningstar, Inc. (NASDAQ: MORN)
How is Morningstar a fintech company?
Kapoor: It's fascinating to me that the use of the word "fintech" has exploded. Anyone who has anything remotely to do with finance is casting themselves as a fintech company. Morningstar's roots are in research, but if you go back to our founding, technology has propelled the delivery of our intellectual property to our customers.
How is Morningstar positioned to succeed in this changing landscape?
Kapoor: Morningstar has a diversified business. We offer services for individual investors, financial advisors, and institutional clients. We have some exciting technology businesses, including one many may not realize: robo advice. It has become a buzzword in the financial space, but we've been offering online investment advice for years. We have a managed accounts platform, or automated advice, which is the equivalent of a robo advisor.
What's the next big trend in fintech?
Kapoor: One of the really big things taking place in financial technology is that financial aggregation technology, which used to be nice to have, is becoming core to a lot of financial technology applications. It allows our customers to access all their assets and liabilities in one place. Once you're able to do that you can build some really cool apps on top of it that can alter the way you do things.
One piece of advice he'd give to a young startup:
Kapoor: I think the natural inclination is to build services that are broad and general so you can displace some of the more established names in the space. Some of the most interesting opportunities in the fintech space derive from building specific point solutions that can solve very focused user problems. Particularly for folks who are getting in now, I'd encourage them to focus on point solutions where they have a unique perspective.
Interested in learning more about Morningstar? Meet them at the Benzinga Fintech Awards next week! Time is running out, so get your tickets today!
Posted-In: Fintech Movers & Shakers Success Stories Interview General
View Comments and Join the Discussion!