The CEO Of Australia's V2food On Plant-Based Trends, Partnerships, Beyond Meat's 'Limiting Factor'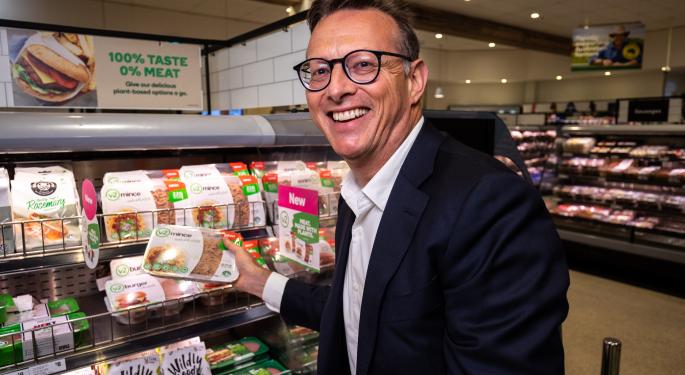 Australia-based v2food is a producer of plant-based meat substitutes with a mission of "creating a version two of meat."
The company strives to create new products and methods to sustainably feed billions of people.
In late October, v2food announced the successful completion of a Series B financing round with new investors, including Goldman Sachs and Singapore's state-owned investment fund Temasek Holdings.
Benzinga had the opportunity to catch up with v2food Founder and CEO Nick Hazell to better understand the company and how the Australian plant-based food industry differs from American operators like Beyond Meat Inc (NASDAQ: BYND).
Australia's Food Preferences: Taste preferences among Australian and U.S. consumers within the plant-based food industry aren't particularly different, Hazell said in the interview.
The Australian plant-based food market is less developed than the U.S. in terms of retail and restaurant exposure, he said.
U.S. companies are more mature, but there has been a surge in growth among new Australian plant-based food makers and global food giants looking to enter the space.
V2food was founded in 2019, while Beyond Meat started in 2009.
Australian companies may have an easier head start toward growth given the country's higher percentage of vegans and vegetarians compared to the U.S., the CEO said.
Yet v2food has every desire to market itself above and beyond vegans and vegetarians, he said.
Data shows that more than 50% of Australian people want to reduce their red meat consumption, he said.
Naturally, meat-eaters won't convert to alternatives unless they are delicious, affordable and readily available in supermarkets.
Related Link: Exclusive: The Very Good Food Company's CEO On Plant-Based Growth, Why 2021 Is A 'Huge Scale Up Year'
V2food's Growth Outlook: V2food already has exposure to the Australian fast food industry.
The company makes a plant-based patty for Burger King-owned stores called Hungry Jack's to use in the chian's "Rebel Whopper."
V2food is set to expand its partnership with Burger King's parent company Restaurant Brands International Inc (NYSE: QSR) across Asia over the coming weeks and months.
The bulk of meat-eating occurs outside of the fast food area. The company's Series B financing round included entities with connections and expertise across Asia that will "open up doors" for v2food to grow across the region.
The Global Opportunity: American investors should be paying attention to international developments because the plant-based meat market represents a true global opportunity, Hazell said.
Meat consumption is "part of every society," and the only difference between countries with very high meat consumption and those with low consumption is their wealth, he said.
As the planet is projected to be home to 10 billion people, the meat industry's ability to keep up in a sustainable fashion is not possible, the CEO said — so the world has a need for a collective effort to create a "new meat industry."
"No one is in any doubt that this is going to be a massive industry over the next 20 years."
Hazell himself is a non-vegan and is guiding the company from a sustainability-driven purpose and less as a "niche vegan" opportunity, he said.
"Investors should be paying attention to this as a global industry and any country that can solve part of this problem is a company that is worth investing in."
Beyond's Weakness: Beyond Meat and privately owned rival Impossible Foods face a "limiting factor" in their ability to grow, as their products aren't much cheaper than organic meat, Hazell said.
In order to make a noticeable difference in tackling meat sustainability at the global level, plant-based alternative products must be available at a cheaper cost compared to traditional meat in every market, he said.
"That has to be solved, otherwise I don't believe that we will deliver against the opportunity, which is a $1-trillion alternative meat industry."
v2foods CEO Nick Hazell. Courtesy photo.
View Comments and Join the Discussion!
Posted-In: food Nick Hazell Plant Food v2foodExclusives Interview Best of Benzinga