#PreMarket Prep For The Week Of June 29: CEOs, Investors & Market Experts Before The Holiday Weekend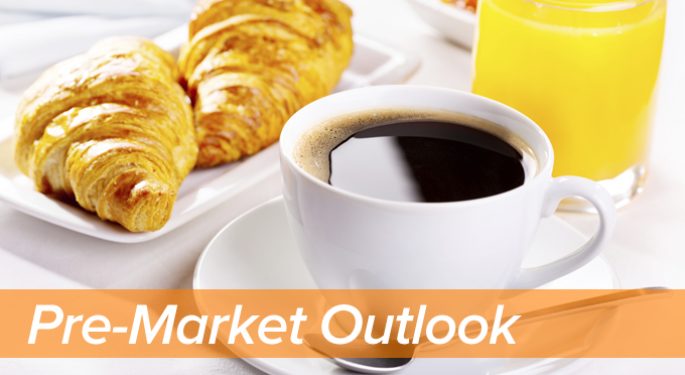 A shortened holiday week leaves no shortage of CEOs, professional investors and market experts on this week's #PreMarket Prep!
Be sure to tune in at 8:00 am EST Monday-Friday here to interact with our veteran traders, market technicians and money managers that come on the show.
Monday, June 29, 8:35 a.m.
Anne-Marie Baiynd (@AnneMarieTrades), Author and Financial Analyst
Anne-Marie Baiynd is a trader, author and financial analyst best known for her book, "The Trading Book Course: A Practical Guide to Profiting with Technical Analysis." Baiynd has a background as a neuroscience researcher.
9 a.m.
Scott Redler (@RedDogT3), Chief Strategist at T3 Live and T3 Trading Group
Scott Redler has been trading equities for more than 10 years and has more recently received widespread recognition from the financial community for his insightful, pragmatic approach. He began his career as a broker and venture capitalist where he was able to facilitate relationships that led him into trading. Beginning his trading career at Broadway Trading in 1999, Scott moved on with Marc Sperling to Sperling Enterprises, LLC after establishing himself as one of the best young traders in the firm. As a manager at Sperling Enterprises, he maintained his status as a top trader at the firm while working closely with all traders in the firm to dramatically increase performance.
9:20 a.m.
Serge Berger (@SteadyTrader), Head Trader & Investment Strategist at The Steady Trader
Serge Berger has been an active trader since 1998. During his career, he's been a financial analyst, dealt in fixed income instruments at JP Morgan, and was a proprietary trader in equities, equity options and futures.
Tuesday, June 30, 8:35 a.m.
Nic Chahine (@racernic), Options Expert
Nic Chahine joins the show every Tuesday to discuss the week's options outlook. He is also a Marketfy Maven and the author of Create Income With Options Spreads. Prior to trading full time, he climbed the ranks of the corporate finance world. Then in 2000, Chahine branched out with an internet venture as CFO/COO. The venture paid off well enough to allow him to start his own fund and pursue his passion: the stock market. Chahine also has a background in electrical engineering.
9 a.m.
Georges Ugeux (@Ugeux), Founder of Galileo Global Advisors
A Belgian and U.S. national, Georges Ugeux founded in 2003 Galileo Global Advisors LLC, to offer CEOs, boards and governments independent advice on their international business, acquisitions and capital raising.Prior to Galileo, Georges Ugeux joined the New York Stock Exchange in 1996, as Group Executive Vice President, International. His new book, "International Finance Regulation: The Quest for Financial Stability" was published in June 2014.
9:20 a.m.
Kevin Cummings (@MyInvestorsBank), CEO of Investors Bank (NASDAQ: ISBC)
Kevin Cummings was appointed President and Chief Executive Officer of Investors Bank on January 1, 2008. He was also appointed to the Board of Directors on the same date. From July 2003 to January 2008 he served as Executive Vice President and Chief Operating Officer.Cummings and the Senior Executive Management team are guiding the Bank's strategic expansion and evolution into a full-service community and commercial bank. Prior to joining Investors Bank, Mr. Cummings had a 26-year career with the independent accounting firm of KPMG LLP.
Wednesday, July 1, 8:35 a.m.
Fari Hamzei (@HamzeiAnalytics), Founder of Hamzei Analytics
Fari Hamzei joins the show every Wednesday, bringing his wealth of knowledge on aggressive equity options and index futures trends. Hamzei is frequently quoted by CNBC, Bloomberg and RealMoney. His book, "Master Traders: Strategies for Superior Returns from Today's Top Traders," published by John Wiley & Sons in October 2006, was a bestseller on Amazon trading books space.
9 a.m.
Aron Pinson (@MicroFundy), Co-Founder and the Chief Investment Officer at LPS Financial
Aron Pinson is the author of MicroFundy. He has more than a decade of professional financial market experience. He is a Chartered Financial Analyst and is a member of the CFA institute.
9:20 a.m.
Cate Long (@cate_long), Financial Blogger and Founder of Puerto Rico Clearinghouse
Cate Long writes about the fixed income markets including municipal bonds. She has worked for a number of years with industry standards organizations, regulators and Congress to help craft a more transparent and fair framework for investors to participate in the fixed income markets.
Thursday, July 2, 8:35 a.m.
JC Parets (@allstarcharts), Founder of Eagle Bay Capital
JC Parets is is a 10-year veteran and Market Technician who actively manages money incorporating Technical Analysis and Behavioral Finance into his practice. JC's work has been featured regularly on CNBC, Fox Business, Bloomberg, Business News Network, Wall Street Journal and Yahoo Finance among many other financial media outlets. JC Parets recently launched a research arm named Eagle Bay Solutions where market participants around the world can pay for access to his research.
9 a.m.
Sean Emory (@_SeanDavid), Portfolio Manager at GFG Capital & Author of TheMarketMeter.com
Sean Emory is currently the author of TheMarketMeter.com and lead portfolio manager of various strategies topping $1 billion in assets. The strategies consist of four global allocation portfolios and a concentrated growth equity portfolio. Prior to arriving at GFG Capital he was an investment trustee and equity/fixed income analyst for the Stetson University endowment. Thereafter he began analyzing small cap stocks at KCM hedge fund. He earned his degree in Finance from Stetson University, and Pre-MBA certificate from Yale University.
9:20 a.m.
Michele Schneider (@marketminute), Director of Trading Education & Research for MarketGauge
Michele Schneider provides in-depth trader training as the market analyst, writer and host of Mish's Market Minute. She manages 2 recommendation services, MMMPremium and MMMAdvantage and is a partner in Marketgauge Asset Management LLC. A former Member of Coffee, Sugar and Cocoa, NYMEX, and FINEX in NYC, as well as Market Analyst for Continental Grain and Floor Analyst for Conti-Commodities, Mish began as a Floor Broker and then became an Independent Trader trading exclusively for her own account. Noted for her Technical Analysis, Mish has advised some of the most successful traders in the world.
Posted-In: Pre-Market Outlook Best of Benzinga
View Comments and Join the Discussion!