Microsoft VP Has A Brilliant Idea For A Scary Haunted House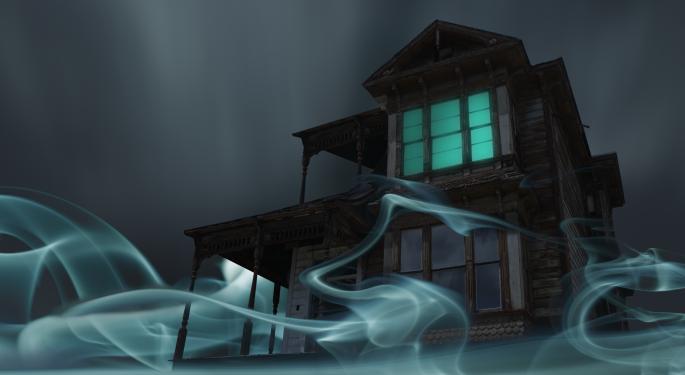 Microsoft Corporation (NASDAQ: MSFT) employs some of the most brilliant technologists in the world. They create amazing concepts and present innovative ideas that could change how consumers interact with their devices.
Not all of the concepts have gone into the R&D phase yet. Some are merely great ideas that could one day become a game-changing product or service. Bryan Biniak, VP and general manager for Microsoft, shared one such idea with Benzinga at TU-Automotive Detroit this week.
To be clear, this is only an idea -- an idea Biniak said he thought of on the fly -- but it involves smart home connectivity, an app and Stephen King. And it could allow someone to create a terrifying haunted house experience.
"All this data, this sensor data, was typically created for utility/productivity purposes," said Biniak, referring to smart homes and smart cars. "But all this data has another world of opportunity around it for entertainment."
Related Link: Microsoft's HoloLens Is What 'You'd Expect From A Cutting-Edge Technology Company'
Horror Redefined
"Just to give you an example, imagine taking a connected home and having a connected car and all the things in that house are now accessible," Biniak continued. "Lighting, temperature, audio/visual, appliances, all your screens -- everything in the house is now tied to the network. Imagine if you gave somebody like Stephen King access to that. What kind of scary movie could he create in your house?"
Sleep monitoring devices could add another exhilarating element.
"And then you know that exact moment in time to introduce something in the house where people are in their deepest moment of sleep," said Biniak. "The point being, that data was never created for the kinds of applications that I'm suggesting, which means there's, you can imagine, a whole world of opportunities from people to leverage data in completely new ways."
"It's cinematic," he added. "It's bringing cinema to real life."
Above And Beyond
Stephen King is one of many people that could theoretically use smart home technology to create a unique and interactive entertainment experience.
"There's this whole culture of people who create these massive scavenger hunts for people," said Biniak. "Now there's opportunities for somebody to create entertainment products and experiences for other people that they would experience in their home."
Biniak said this concept of jacking into a network and leveraging or exploiting data (for entertainment purposes -- with the user's consent) opens it up for people to "think of a whole new world of opportunities that otherwise didn't exist."
"The more things that get connected to the network, the more sensors that are deployed, the more data that is generated and the availability of that data through APIs, public and private, is going to create opportunities for entrepreneurs and creative talent out there to build all kinds of new products and services and companies," said Biniak.
Benzinga asked Biniak if Microsoft is already looking into things along these lines.
"I would say that I can vouch for the ideas that are in my head -- whether or not there's somebody at Microsoft working on something like that, I couldn't tell you, mainly because I don't know," he replied.
Disclosure: At the time of this writing, Louis Bedigian had no position in the equities mentioned in this report.
Posted-In: Bryan Biniak MicrosoftExclusives Tech Interview Best of Benzinga
View Comments and Join the Discussion!