Why The iPhone 6S Won't Have Wireless Charging - Even Though Apple Watch Already Does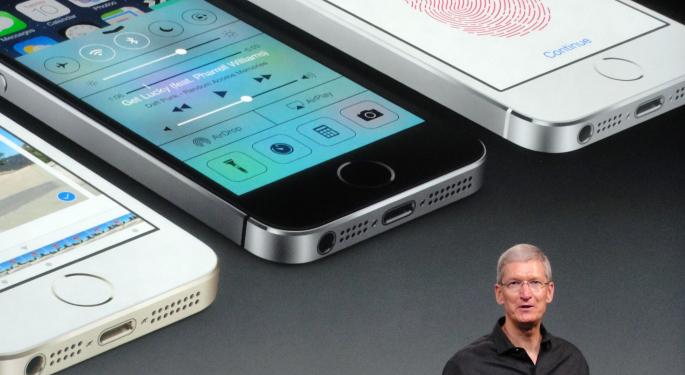 Apple Inc. (NASDAQ: AAPL) has filed numerous patents for wireless charging, leading many to believe that the company will one day release an iDevice that supports the format.
That may happen eventually, but investors shouldn't expect the iPhone 6S to support WPC, the Wireless Power Consortium.
WPC is attempting to create a wireless charging standard (known as Qi) that will unify the industry much in the way that USB, HDMI, Wi-Fi and other standardized formats have in the past. The not-for-profit organization has already lured a number industry players, including Microsoft Corporation (NASDAQ: MSFT), SAMSUNG ELECT LTD(F) (OTC: SSNLF) and Sony Corp (ADR) (NYSE: SNE).
McDonald's Corporation (NYSE: MCD) started testing the Qi format by adding 600 wireless charging hotspots to more than 50 locations in London. Elsewhere, Toyota Motor Corp (ADR) (NYSE: TM), Fiat Chrysler Automobiles NV (NYSE: FCAU) and other automakers are adding Qi to new cars. Marriott International Inc (NASDAQ: MAR) is also on board, and IKEA is going to sell tables, desks and other items with Qi wireless charging built in.
Regardless, Apple is not expected to become an official supporter of WPC or any other third-party wireless charging format.
Related Link: Apple Has 'Limited Downside,' UBS Says
"Apple controls their ecosystem carefully," John Perzow, VP of market development for the Wireless Power Consortium, told Benzinga. "They do that because the stuff works well together, but really it's because they make a huge profit from accessories."
Perzow said that Apple is not interested in joining a standard that would allow lots of manufacturers to develop accessories for its products.
"That's not how they do business," he said.
The One Exception
It may not be widely known, but Apple used the Qi wireless charging standard for its first smartwatch.
The Apple Watch is not promoted as a device that can charge wirelessly. But when users attach the MagSafe charger, they may notice that it isn't actually plugging into the device. The charger's smooth, flat surface is simply connecting to the watch so it can charge wirelessly.
This was confirmed when users started charging the Moto 360 with an Apple Watch charger.
Perzow said that Apple doesn't promote this element because it does not officially support WPC. Apple merely purchased a Qi chip from Integrated Device Technology Inc (NASDAQ: IDTI) and used it for the Apple Watch.
Regardless, the Apple Watch is technically a device that can charge wirelessly. Tech expert Sean Udall thinks it might even be possible to charge the device without Apple's official charging cable.
"I think there's a thing you can set on something so the charging stand is plugged in and you just set the watch on top of it and it charges," Udall, CIO of Quantum Trading Strategies and author of The TechStrat Report, told Benzinga. "I'm not sure you actually have to plug the watch in."
Disclosure: At the time of this writing, Louis Bedigian had no position in the equities mentioned in this report.
Posted-In: Apple Watch John Perzow Qi Sean Udall Wireless Power Consortium WPCExclusives Tech Best of Benzinga
View Comments and Join the Discussion!