Market Prophit CEO Talks About Unique Data And The Power Of Market Sentiment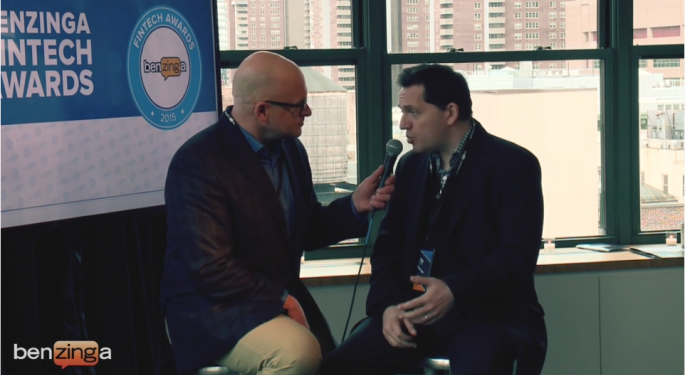 Financial expert and media personality Jeff Macke was the fireside chat host at the 2015 Benzinga Fintech Awards gala in New York on April 8.
Below is the video and full transcript of his talk with Market Prophit CEO Igor Gonta.
Jeff Macke: Alright. Hey, we're back folks. It's the Benzinga Fintech Awards! It's exciting, it's fantastic! I'm here with Igor Gonta. Tell me your name, what you're wearing, and what you're up for awards-wise.
Igor Gonta: Yes, sure. My name is Igor Gonta, I'm the CEO of Market Prophit, and I'm up for a category award in unique data.
Jeff Macke: And what do you guys do, exactly? What's your company do?
Igor Gonta: Sure. We process the Twitter Firehose and we take out stock-related tweets, and we generate sentiment for what people are saying about stocks in real time. But, we also rank people on Twitter based on how predictive they are. So, if people say they're buying a stock, we measure whether or not they were right. If they're selling a stock, we also do the same. So, we let the market put the money where their mouth is.
Jeff Macke: Now, I assume I'm assumed I'm highly rated on this. But, how do you go about deciding if someone's positive or negative, as opposed to someone to, just sort of raising a company in terms of pointing it out to the folks?
Igor Gonta: Yeah, sure. So, we wrote a very sophisticated natural language-processing software that was highly trained to know how traders talk. So, it doesn't just know happy or sad. It knows what a call option is, it knows what a put option is, it knows what a head and shoulders pattern is. It took many thousands of hours of blood, sweat and tears, really, to know how bearish or bullish a trader is. And so, it knows when somebody's really, really bullish, or just mildly bullish and likewise.
Jeff Macke: Cool. And so, you're doing this all through the Twitter feed. Does your company rely on Twitter's cooperation, or are you able to do that as a third party?
Igor Gonta: Well, we buy data from Twitter, so we pay them for the data. Yeah.
Jeff Macke: And have they been decent to deal with? I mean, it's so, fast growth out there, they gotta have a million different companies coming up to them. Has it been- what's your experience been, as someone who's a CEO of your own firm, getting involved with this? How's the competition in terms of the competitive landscape? And do Twitters and Facebooks of the word have this- really, they seem to have that market by the throat, in terms of making money off it. They been okay to deal with?
Igor Gonta: Yeah. Sure. They've been great to deal with. We actually started by dealing with Gnip, before Twitter bought Gnip. They support the ecosystem, they want to encourage startups like ours to do interesting stuff with their data. They have tremendous support. They have a machine. So, they're the first data source we chose. We're obviously going to be expanding to other data sources. Facebook just opened up their API, lots of interesting stuff there. I mean, lots of people talk. And we want to listen.
Jeff Macke: Hey, thanks so much, Igor. Congratulations. Good luck to you tonight. We'll see you soon. Hey, we're at the Benzinga Fintech Awards. It's finance, it's tech, it's all that, it's a bag of chips. Eliot Spitzer's here, Igor's here, I'm here. Check it out, live stream, come storm the gates right down here. We're in Tribeca, folks. Check it out.
View Comments and Join the Discussion!
Posted-In: Benzinga Fintech Awards Igor Gonta Jeff Macke Market ProphitExclusives Interview Best of Benzinga