Thomson Reuters CTO On The Next 'Disruption' In Financial Media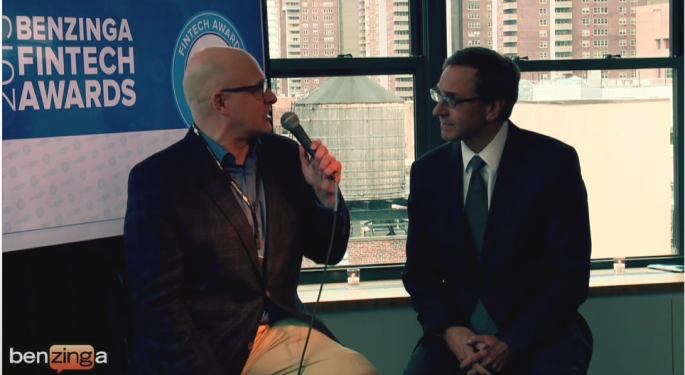 Financial expert and media personality Jeff Macke was the fireside chat host at the 2015 Benzinga Fintech Awards gala in New York on April 8.
Below is the video and full transcript of his talk with Thomson Reuters CTO of Philip Brittan.
Jeff Macke: Alright, folks, we're back at the Benzinga Fintech Financial Awards. I'm with Philip Brittan. He, of course, is the CTO of Thomson Reuters. You're going to be keynoting tonight, what are you going to talk about?
Philip Brittan: I'm going to talk about a couple of trends involving innovation and disruption in the Fintech space.
Macke: And how real is it at this point? Because you're old media- at least reputationally, your firm is. But social media's kind of taking over, in terms of the news feed. Has it been- disruption seems to just be taking hold now, particularly in the financial media side. Do you see it picking up steam? And what's the financial media world look like in two years, let alone five?
Philip Brittan: Well, I think there's a lot of disruption, at all levels, going on. Certainly, there are many new capabilities, like social media, new consumer trends, new kinds of workflows, new expectations. I think things are going to continue to evolve very quickly. It's really- it's hard to say exactly what it's going to look like in a couple of years, but I think some of the things we see, you know, are very real, are here to stay. Some things will try and fizzle off. But I think there's a really healthy kind of evolution going on in the market right at the moment.
Macke: And how worried should financial media be about the disruption potential of something like a periscope? I saw that and I immediately thought, when Carl Icahn figures out how to use this, it's going to be, just, The Truman Show. It's going to be billionaire grandpa Truman Show, just Icahn just talking about his positions. Where does financial media on a traditional side of things fit in in that picture?
Philip Brittan: So, I think, on the- I think what's going to happen is traditional financial media is going to evolve along the way. It's going to find new ways to be part of the revolution. And those that don't, of course, will get left behind. I think that, while things will evolve quickly, the shake-up of players will probably be a little slower than people expect. But I think there will be a lot of interesting opportunities all around. And I think you're going to see players, big and small, trying new things and seeing what works and what doesn't work, in a pretty elastic environment.
Macke: It seems kind of cool- I mean, what's a theme that the folks at home wouldn't necessarily have thought of? Is there anything out there's that's sort of bubbling under the surface that's going to take them by surprise, over the next six months, 12 months?
Philip Brittan: Stuff that's…?
Macke: Well, we all- Right now, we're in the very, very early stages. So, these guys, these hedge fund guys, are still out there experimenting with tweets, and kind of getting up to speed and getting savvy on it. What is the next disruption that would take place? Is it just going to be expansion as the Facebook-Twitter sort of world expands, or is it going to be something that we haven't thought of yet?
Philip Brittan: So, I think we'll see expansion of a bunch of things that are going on today, for sure. There will be new and unexpected disruptions. There always are. Disruptions are, by their nature, unexpected. So I'm sure we'll see some of those. I'll be surprised if we don't. But, which ones actually stick, and which ones make a difference and which ones don't is hard to say.
Macke: Alright, disruptions are by their nature disruptive, but he says, hey, it's going to look a lot like we have it right now. It's Philip Brittan, let us know what you think. Why don't you comment, why don't you just check out the awards? Stay tuned, my friends. I'm Macke, I'll be here all night.
View Comments and Join the Discussion!
Posted-In: Benzinga Fintech Awards Jeff Macke Philip Brittan Thomson ReutersExclusives Interview Best of Benzinga