These Were The 10 Most Traded Stocks Of 2014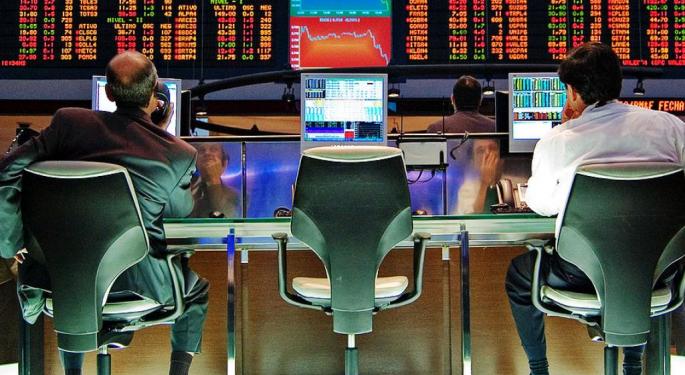 Rated one of the best online brokers of 2014, TD Ameritrade serves a lot of clients.
TDA recently shared some interesting data about the most-held and top-traded stocks over the past year. Chief Strategist JJ Kinahan went over the data with Benzinga and explained what the statistics mean.
The Top 10 Names Held By TD Ameritrade Retail Clients:
The Top Names Traded By TD Ameritrade Retail Clients:
Apple
SPDR S&P 500 ETF Trust
Facebook
Twitter Inc (NYSE: TWTR)
Tesla Motors Inc (NASDAQ: TSLA)
Netflix, Inc. (NASDAQ: NFLX)
Amazon.com, Inc. (NASDAQ: AMZN)
Bank of America
iShares Russell 2000 Index (NYSE: IWM)
Gilead Sciences, Inc. (NASDAQ: GILD)
What The Numbers Reveal
First, investors like to both hold and trade Apple. It takes the top spot in both lists. But what Kinahan said was more interesting is that Facebook is also one of the top-held names. He said it shows a difference in mindset when compared to the past.
"If you look at this list five years ago, I don't think it would be a surprise to anybody that GE, Bank of America, Microsoft will be in there," he said. "But I think to see Facebook on there is really something amazing."
Related Link: Exclusive: EquityNet CEO On Why The Fed Won't Raise Rates In 2015
Kinahan also found it interesting that Bank of America was still so high on the list. He suspects investors are holding that name to hunt for yield, "especially with the rates most of the year under 2.4 percent."
In terms of the top-traded stocks, Kinahan thinks investors are drawn toward the sexy names; it's no surprise Twitter, Tesla and Netflix are on there.
Kinahan did admit, however, that he was slightly intrigued to see such a high-priced stock like Netflix on the list. He thinks this breaks the stereotype that most traders are "all in and out" and only have $20,000 in their accounts.
"Well, clearly this data is showing you this is not the case, because of the trading of these highly priced stocks," he said.
The Biggest Difference
The biggest difference between the most-held and top-traded stocks for TD Ameritrade clients lies in the technology sector. Kinahan called it the difference between "old line versus new line" tech.
What he means is this: Established companies like Microsoft and AT&T, though they do have diversified product mixes, are still somewhat older technologies.
That's in comparison to other tech companies that top the most-traded list like Netflix, Facebook and Twitter.
The social media names on the list stuck out to Kinahan, as well. "Too many times, people are afraid to invest in tech because it is too confusing. People understand social media."
What About Gilead?
Gilead Sciences managed to squeeze its way into the top-traded list. Kinahan said this surprised him, because he's not sure people totally understand what the company does.
"That is one that makes sense to me that people are just trading in and out of and not necessarily holding," he said. "If you are going to hold something, you certainly want to understand a lot more about what the company does and how they make money in the longer curve."
What's Next?
Moving into the new year, Kinahan expects tech stocks to remain hot.
He also said retailers will likely be trading as earnings season approaches, since many investors appear to expect a positive relationship between the sector and low gas prices.
Image credit: Rafael Matsunaga, Flickr
Posted-In: JJ Kinahan online brokerage retail TD Ameritrade techExclusives Trading Ideas Interview Best of Benzinga
View Comments and Join the Discussion!