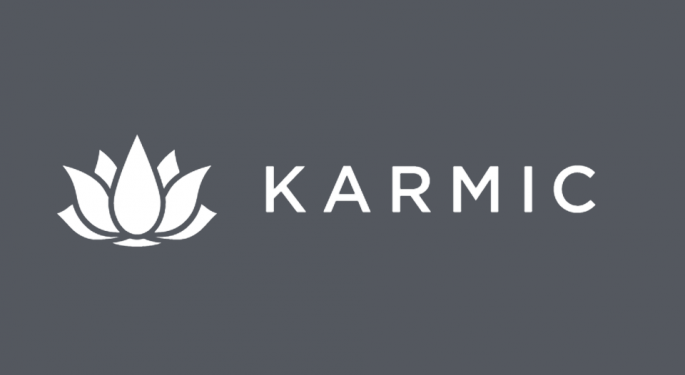 The Benzinga Global Fintech Awards are a yearly showcase of the greatest advents in fintech from leaders and visionaries in the worlds of finance and technology. This year, we have executives, developers and innovators from the likes of Facebook, Amazon, IBM, JP Morgan, Zelle, TD Ameritrade, TradeStation, Fidelity, and so many more.
In preparation for its biggest installment yet this May, we're profiling the companies competing for the BZ Awards. In this feature we focus in on Karmic Labs.
What does your company do? What unique problem does it solve?
Every year, businesses lose countless hours to the process of expense management, costing as much as $2,000 per employee in lost productivity. Karmic is dedicated to solving problems Through payments by blending traditional corporate cards and modern applications to improve cash flow management and simplify the expense reconciliation process.
With reliable solutions that power straightforward, state-of-the-art financial applications, we deliver convenience, easy enrollment, instant payment records, and superior expense management capabilities through real-time mobile experiences. A "Powered by Karmic" solution gives businesses the power to save time and money.
Who are your customers?
Karmic has unique product offerings to support businesses of all sizes and stages of development. Our flagship product, dash, provides small-to-midsize companies with simple and flexible payments and expense management tools at no cost.
For companies in need of something uniquely tailored to their brand, or an even higher degree of control, Karmic also offers co-branded cards and fully customized card programs for larger enterprises. Marquee applications of Karmic's white-labeled enterprise solutions include programs for the business customers of financial institutions, and a custom offering for the Pro customers of a major home improvement retailer.
How long have you been in business?
Karmic is presently in its fifth year of operations.
Where are you located?
Karmic is headquartered in San Francisco, California. We also have an office in Toronto, Ontario, a significant presence in Austin, Texas, and remote employees in several parts of the U.S. The willingness and flexibility to hire the best talent, regardless of their physical location, is one of our greatest strengths.
Who is your company's leadership? What kind of experience do they have?
Karmic boasts the deep domain expertise required to fuel a high growth company. Our Senior Leadership Team includes members who have come to us from tech leaders like Netscape, Google [Alphabet Inc. GOOG 1.23% GOOGL 1.25%], and Dropbox, as well as financial industry experts from Mastercard, American Express Company AXP 0.86%, Citibank Inc. C 1.04%, and FIS. Please visit the "About" page on our website for Executive Bios.
Who are your investors, if any?
We are fortunate to have the opportunity to work with experienced entrepreneurs and investors. Presently, we benefit from investment and advice of several institutional investment firms, including Alsop Louie Partners, Arbor Ventures, Greycroft, Marketplace Funds, and Startup Capital Ventures. Please visit the "About" page on our website for a complete list.
Is there anything else Benzinga should know about your company?
Karmic is pleased to have the opportunity to vie for the distinguished "Solving Problems Through Payments" award, and we are proud to take our place among your distinguished nominees.
To meet with the minds behind companies like Karmic Labs and others testing the cutting edge of fintech, grab a ticket to the Benzinga Global Fintech Awards May 15-16 in New York.
This article was originally published on Benzinga by Chris Dier-Scalise, Benzinga Staff Writer.