Inside The Billion Dollar Industry Of China's Most Famous Social Media Celebrities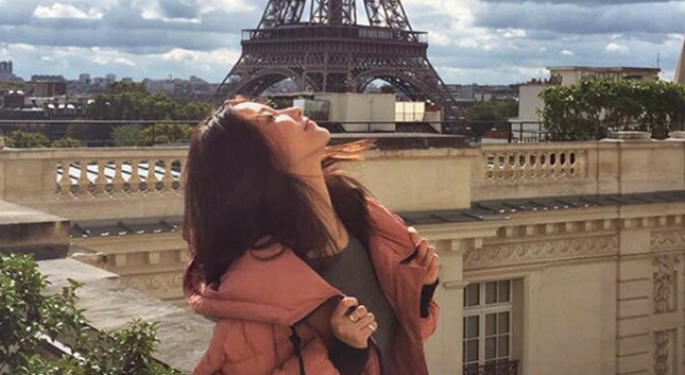 Mobile internet has changed the way consumers make purchasing decisions. Television ads and celebrity endorsements must now compete with social media for spreading brand awareness. A powerful group of tech savvy, entrepreneurial, and predominantly female influencers have emerged as China's new tastemakers on social media, and they are equally as adored by their fans as they are by major brands.
These social media influencers are known as "Weibo Celebrities" because they rose to prominence on Weibo Corp (NASDAQ: WB) 1, a leading social media network in China. Weibo is best described as a blend ofFacebook Inc (NASDAQ: FB) andTwitter Inc (NYSE: TWTR). Much like those platforms, Weibo accounts are full of selfies and graphics personalized by each user.
Weibo Celebrities inhabit a space similar to those Western celebrities who are "famous for being famous." Fans follow their favorite Weibo Celebrity as they live idealized lifestyles: posting their travels abroad, fancy meals at restaurants, and the clothing they use to express their individual style. Beyond posting images, they also host live broadcasts on video streaming platforms like YY2 and Inke*. This online presence alone has been enough to captivate a huge amount of followers and turn Weibo Celebrities into a new advertising channel known in the industry as Key Opinion Leaders (KOL), a non-traditional celebrity icon able to influence the taste and behavior of millions of loyal followers.
The most successful Weibo Celebrities use social media to direct their followers to their TaoBao store, an online storefront owned by Alibaba Group Holding Ltd (NYSE: BABA 3 similar to eBay Inc (NASDAQ: EBAY)* or Etsy Inc (NASDAQ: ETSY)*. Weibo Celebrities sell everything from the clothing they wear to the home accessories featured in their selfies. This form of selling products through social media has grown into one of the hottest industries in China. For now, Weibo is at the center of the phenomenon, but the trend is quickly spreading to competing social media platforms like WeChat, a real time chat tool developed by Tencent4.
Weibo was one of the best performing China internet stocks in 2016, increasing 208 percent. Profit from advertising in the third quarter surpassed ¥1 billion RMB for the first time, reaching ¥1.05 billion RMB ($151 million)5. The number of monthly active users also grew to 297 million6. Weibo still has room to grow however, as its user penetration is only 62 percent of its major competitor WeChat7. One thing is clear, Weibo and its Weibo Celebrities have a very lucrative relationship.
Zhang Dayi, who goes by the English name Eve, is a Weibo Girl with 4.8 million fans on Weibo. Unlike western versions of Weibo Girls—like fashion model Gigi Hadad, who as 3.8 million Twitter followers and promotes designer names like Tommy Hilfiger—Eve has created her own brand called Jupe Vendue*. Eve has used her status to partner with countless small clothing factories in the Fujian and Zhejian provinces, who supply her with high quality products at a low cost.
On November 11, 2016 (Singles' Day, a Chinese national holiday) Eve posted a selfie on Weibo sporting a Jupe Vendue pink puffer coat with a corresponding link to buy the coat on her Taobao store. Within 10 days of her post, the coat had accumulated 19,286 orders at $159 each (1099 RMB)10. Eve's ability to translate her social media following to sales through her Taobao store has been extremely lucrative, with her annual income reportedly as high as $46 million11. A report released last May from CBNData, a strategic data platform backed by Alibaba, evaluated the Weibo Celebrities sales value on E-Commerce platforms at around $8.4 billion12.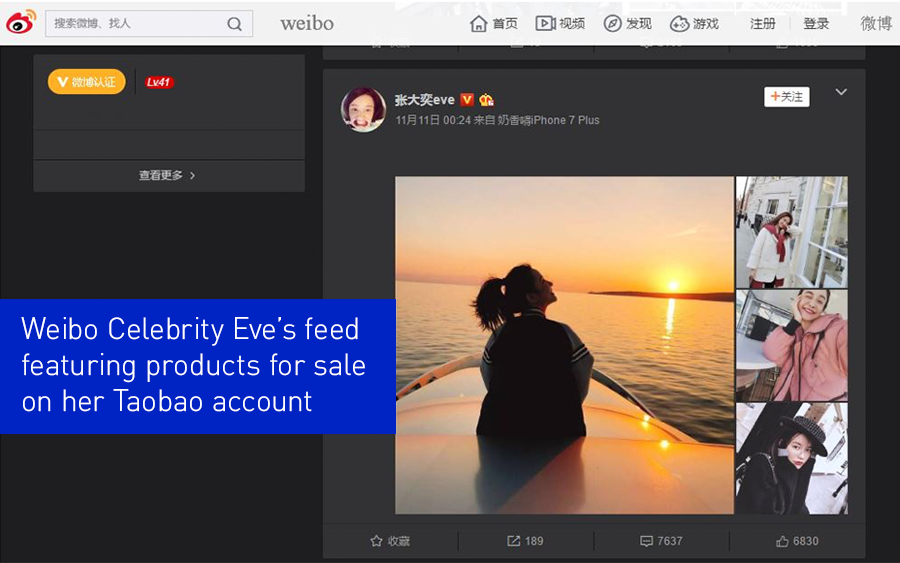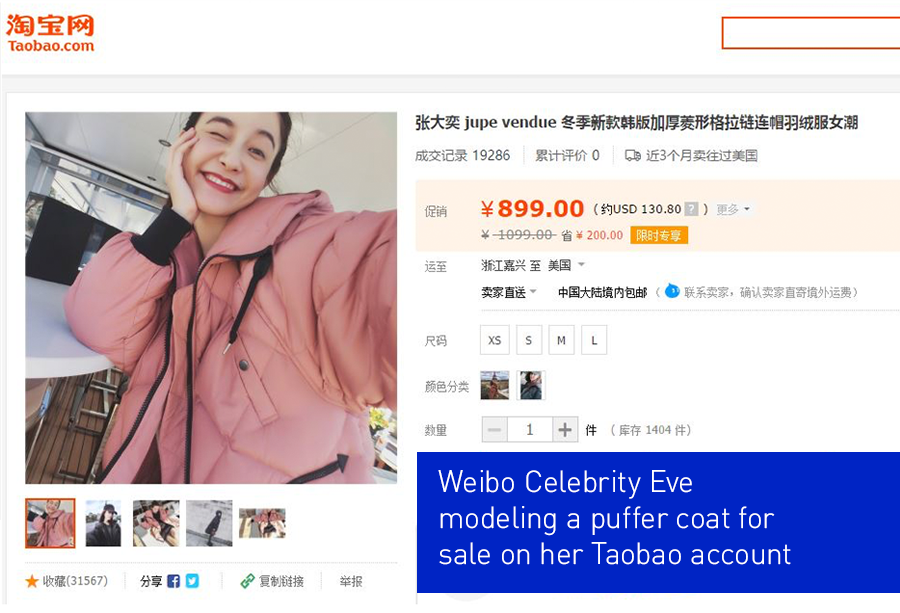 As the Weibo Celebrities gain traction, more traditional advertisers have taken notice and begun incorporating KOLs into traditional marketing strategies. For example, in April 2016 the US-based cosmetic company Maybelline* hired Weibo Celebrities to do a live broadcast on the platform Inke to promote a new product launch. That started with Chinese actor Angelababy (who recently made her Hollywood debut with a role in Independence Day: Resurgence) posting a backstage makeup tutorial using soon-to-be-released Maybelline products to her Weibo account. Angelababy's Weibo post drove 2 million visitors to Maybelline's page within 30 minutes13.
During the official product launch party, 50 KOLs simultaneously live broadcasted the event. Each KOL included a shopping cart tab on their livestream page, which redirected to Alibaba's business-to-consumer platform Tmall, where Maybelline's products could be purchased. Within two hours Maybelline sold 10,000 units of lipstick12.
While the Weibo Celebrity phenomenon has seen a number of distinct beneficiaries—from international brands like Maybelline, to individuals like Eve, and certainly social networks like Weibo—it's also benefitted some government policies. China's 13th Five Year Plan, which serves as the blue print for the direction and development of Chinese society, specifically states two major goals that are served by Weibo Celebrities: increased urbanization and domestic consumption. The ideal urban lifestyle portrayed by Weibo Celebrities captures the imagination of Chinese social media users outside of major cities, it defines their aspirations and teaches them which products to buy. In the end, the influence of Weibo Celebrities may extend beyond fashion and advertising into shaping the future of their culture.
The KraneShares CSI China Internet ETF (KWEB) offers investors exposure to the Weibo Celebrity phenomenon and the broad China internet sector through holding Weibo, Alibaba, Tencent, YY and more. Click here for the most recent KWEB holdings. The fund's holdings are subject to change.
*Theses companies represent 0% of KWEB net assets as of 12/30/2016
1. Weibo, 2.86% of KWEB net assets as of 12/30/2016
2. YY, 2.59% of KWEB net assets as of 12/30/2016
3. Alibaba, 8.94% of KWEB net assets as of 12/30/2016
4. Tencent, 10.91% of KWEB net assets as of 12/30/2016
5. Data from Bloomberg as of 12/30/2016
6. Weibo, "Weibo Reports Third Quarter 2016 Financial Results", 11/21/2016
7. China Daily, "Second And Third Tier Cities Bring New Business Opportunities To Weibo", Oct 31, 2016
8. Data from Weibo.com as of 1/19/2017
9. Data from Twitter.com as of 1/19/2017
10. Data from Taobao.com as of Nov 21, 2016
11. Grace Tsoi, "Wang Hong: China's online stars making real cash", BBC News, Aug 01, 2016
12. Data from CBNData, May 23, 2016
13. Data from Social Touch, as of Nov 03, 2016
14. Jerry Clode, "Maybelline sells 10,000 lipsticks in China within two hours!", Social Brand Watch, May 11, 2016
The KraneShares ETFs are distributed by SEI Investments Distribution Company (SIDCO), 1 Freedom Valley Drive, Oaks, PA 19456, which is not affiliated with Krane Funds Advisors, LLC, the Investment Adviser for the Fund. Additional information about SIDCO is available on FINRA's BrokerCheck.
Posted-In: Specialty ETFs Emerging Market ETFs Topics Top Stories ETFs General Best of Benzinga
View Comments and Join the Discussion!