Investors Bet Big On Currency-Hedged German ETF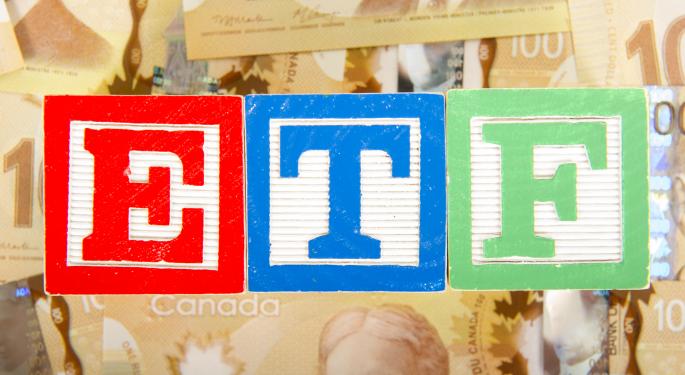 Germany has been one of the strongest European markets in 2015 as its foremost index, the German DAX, hit an all-time high of 12,000 this week. This historic bullish momentum for German stocks is linked to continued depreciation in the euro and deliberate quantitative easing efforts by the European Central Bank.
This has been a perfect environment for currency-hedged ETFs to thrive, as U.S. investors seek innovative ways to participate in international markets.
iShares Currency-Hedged MSCI Germany ETF
The iShares Trust (NYSE: HEWG) has been the beneficiary of $940 million in new inflows this year and is nearing $1.2 billion in total assets. This ETF invests directly in the unhedged iShares MSCI Germany Index Fund (ETF) (NYSE: EWG), along with short positions in the euro.
Related Link: Germany ETFs Follow The Breakout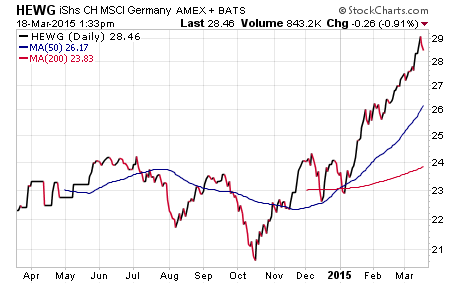 The end result is a highly liquid and diversified basket of German stocks that thrive when the euro is falling (i.e. when the U.S. dollar index is rising).
Stock Allocation
The underlying stock allocation in HEWG can be linked back to 54 large- and mid-sized companies in Germany. Many of these same stocks are included in the German DAX and include well-known names such as Bayer AG, Daimler AG and Allianz SE.
HEWG charges a net expense ratio of 0.53 percent, which is just slightly higher than the 0.49 percent management fee in EWG.
Unhedged Peer
The continued strength in the PowerShares DB US Dollar Index Bullish (NYSE: UUP) has been a significant tailwind for HEWG this year. On a total return basis, HEWG has gained 20.95 percent, while the unhedged EWG has jumped just 7.77 percent.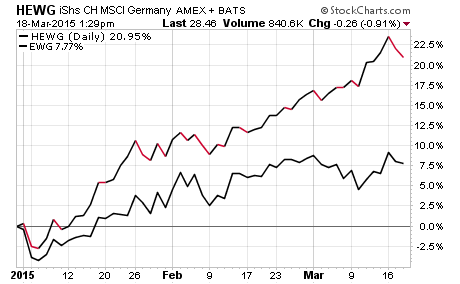 Competitive Peers
Other funds that compete with HEWG include the Deutsche X-trackers MSCI Germany Hedged Equity ETF (DBX ETF Trust) (NYSE: DBGR) and WisdomTree Germany Hedged Equity Fund (NASDAQ: DXGE). DBGR follows a similar index of underlying stocks, while DXGE differentiates itself with a slightly different sector makeup.
Note: Currency-Hedged ETFs Are Unique
It's important to note that currency-hedged ETFs are designed to remove the impact of currency risk on a basket of international stocks. As a result, they will likely underperform a traditional fund such as EWG when the U.S. dollar is falling.
Investors in these trend-setting funds should be mindful of both country-specific stock market and currency direction, as both will play an important role in a successful outcome.
View Comments and Join the Discussion!
Posted-In: euro European Central Bank GermanySpecialty ETFs Currency ETFs Top Stories Trading Ideas ETFs Best of Benzinga