Why Currency Hedged ETFs Are Just Getting Started
Investors in traditional international funds are waking up to the realization that currencies play a vital role in generating returns. The majority of funds that track both developed and emerging markets use a U.S.-dollar denominated structure that faces an uphill battle during periods of prolonged dollar strength.
Dodd Kittsley, head of ETF strategy at Deutsche Asset & Wealth Management, recently wrote a new market outlook report that underscored the headwind a rising U.S. dollar creates for these assets. He pointed out that in 2014 the MSCI EAFE Index returned 5.9 percent in local currency terms, but –4.9 percent in U.S. dollar terms, a difference of 10.8 percentage points.
One reason for this breakneck pace of PowerShares U.S. Dollar Bullish Index Fund (NYSE: UUP) strength can be tied to the divergence in central banking policies between the U.S. and other developed nations such as Japan and Europe. The U.S. is focusing on the end of quantitative easing along with a potential rate hike, while other nations are ramping up their fiscal stimulus efforts.
As a result, investors are increasingly turning to currency-hedged funds such as the Deutsche X-trackers MSCI Europe Hedged Equity ETF (NYSE: DBEU) for their international exposure. Since its debut in September 2013, this ETF has swelled to $1.6 billion in total assets by investing in a broad-based basket of over 400 European stocks from 15 countries along with short positions in the euro currency.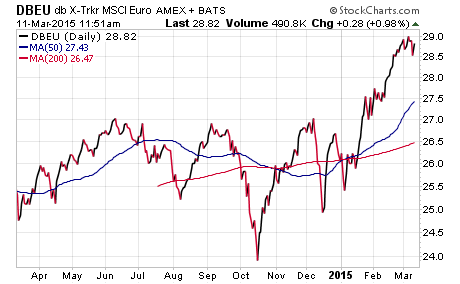 Kittsley also underscored that "currency-hedged ETFs tracking international equities have exhibited dramatic growth over the past three years, with assets surging in excess of $36 billion." He went on to note "investors clearly have a healthy appetite for European companies, but no taste for the euro as the ECB engages in quantitative easing amidst negative rates."
If the strength of the U.S. dollar continues to be a prolonged multi-year event, this could lead to additional adoption of currency-hedged ETFs over traditional unhedged international portfolios.
Kittsley summarized his findings by stating "We expect that utilization of currency-hedged ETFs has only just begun: Most currency strategists are forecasting multi-year continued strength of the U.S. dollar, a view that we share at Deutsche Asset & Wealth Management."
View Comments and Join the Discussion!
Posted-In: Dodd Kittsley dollarSpecialty ETFs Currency ETFs Top Stories ETFs Best of Benzinga