ETFs Adding Alibaba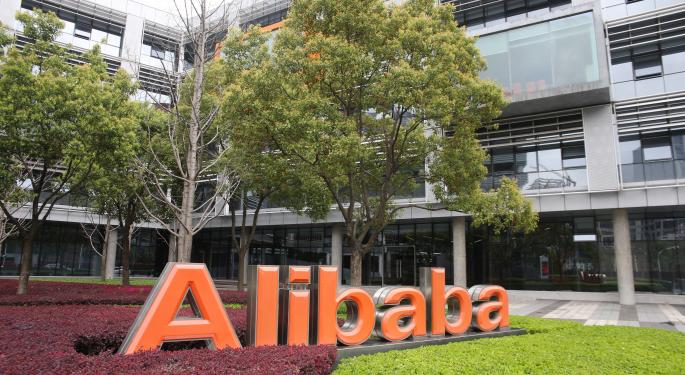 After garnering an immense amount of media attention for its IPO two months ago, Alibaba Group Holding Ltd (NYSE: BABA) is attempting to live up to the hype. The stock has posted an impressive rally over the last two weeks, gaining 16 percent.
The Chinese Internet retail company went public September 19, opening at $92.70, a whopping 36 percent above the IPO price of $68 per share.
Alibaba doesn't actually carry inventory or create products; they are an e-commerce platform that allows people to sell products through its website.
Related Link: Consumer Discretionary ETF Gaining Momentum
For fiscal year 2013, Alibaba supported $240 billion in sales through its e-commerce sites, which is more than Amazon.com, Inc. and eBay Inc combined. This is a massive company that has gained a great deal of momentum through U.S. capital markets and will likely continue to draw support as long as it post favorable financials.
Interested investors in Alibaba have a few alternatives to buying the stock outright. The stock has made its way into several ETFs over the last couple of weeks, and investors could consider buying the ETF as a more diversified approach to owning Alibaba.
Below are a few of the ETFs that have Alibaba as a holding for investors to consider.
KraneShares CSI China Internet ETF
The KraneShares CSI China Internet ETF (NASDAQ: KWEB) is one of several ETFs that concentrate on the niche Chinese Internet sector. It tracks publicly traded, China-based companies whose primary business is Internet-related.
The portfolio is comprised of 44 holdings; the top three being Alibaba at 10.6 percent, Tencent Holdings LTD with an 8.9 percent allocation and Baidu Inc coming in at 8.2 percent. KWEB is up 18 percent over the last 12 months and 11 percent over the last six. It has an expense ratio of 0.68 percent.
First Trust IPOX-100 Index Fund (ETF)
The First Trust IPOX-100 Index Fund (ETF) (NYSE: FPX) tracks IPOs of mainly mid- and large-cap companies traded on U.S. exchanges. The largest weighted sectors are technology at 24 percent, consumer discretionary at 22 percent and health care at 19 percent.
The top individual holdings include Facebook Inc at 10.7 percent, AbbVie Inc at 9.5 percent and General Motors Company with a 4.9 percent holding. BABA is the seventh largest holding with 3.1 percent. FPX has performed well, up 12 percent over the last 12 months and 5 percent over the last six. The fund has an expense ratio of 0.60 percent.
Renaissance IPO ETF
Another IPO ETF play on Alibaba is the Renaissance IPO ETF (NYSE: IPO) that tracks stocks in the early stages of their life on the exchanges. The stocks are typically added after the first five days of trading and removed roughly two years later when it has become a seasoned stock.
The top three holdings in IPO are Alibaba with a 10.8 percent holding, Zoetis Inc at 9.2 percent, Twitter Inc at 8.2 percent and Workday Inc coming in at 4.4 percent. The ETF is up 12 percent over the last 12 months and 7 percent over the last six months. IPO has an expense ratio of 0.6 percent.
Posted-In: China ETF e-commerceSpecialty ETFs New ETFs Trading Ideas ETFs Best of Benzinga
View Comments and Join the Discussion!