15 High Dividend ETFs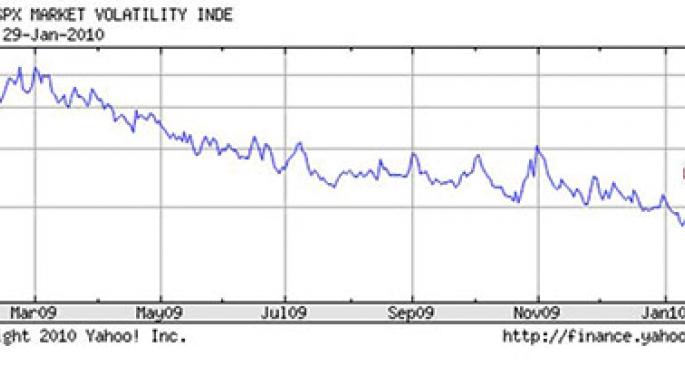 Volatility Is Back
Chicago Board Options Exchange Volatility Index (VIX) has gained 50% last week:
Last 2 weeks the market sold off on both positive and negative news. Many analysts rushed to change market outlooks from uptrend to confirmed downtrend. Is the long-awaited stock market correction finally arriving?
S&P 500 Index Daily Volume is not High Enough
Last 9 trading days' trading volume is less than2009's average:
Period Average Daily Volume
2009 ( Whole Year) 5,571,025,000
Last 9 Days of Jan 2009 5,836,563,000
Last 9 Days of Jan 2010 5,335,111,000
15 High Yield iShares ETFs
When the market turns south, think defense. Followings are iShares ETFs with net assets over $100 million and have yields over 3.5%:
Asset Class Name (Symbol) P/E (ttm) Yield
Equity Dow Jones Select Dividend Index (NYSE: DVY) 19 3.7
Equity Dow Jones U.S. Real Estate Index (NYSE: IYR) 40 4.3
Equity Dow Jones U.S. Utilities Sector Index (NYSE: IDU) 16 3.6
Equity MSCI Austria Investable Market Index (NYSE: EWO) 32 4.5
Equity MSCI Taiwan Index (NYSE: EWT) 29 4.7
Equity MSCI Turkey Investable Market Index (NYSE: TUR) 16 4.9
Equity S&P U.S. Preferred Stock Index (NYSE: PFF) -- 6.9
Fixed Income Barclays 10-20 Year Treasury Bond (NYSE: TLH) -- 4.1
Fixed Income Barclays 20+ Year Treasury Bond (NYSE: TLT) -- 4.4
Fixed Income Barclays Credit Bond (NYSE: CFT) -- 4.2
Fixed Income Barclays Intermediate Credit Bond (NYSE: CIU) -- 3.5
Fixed Income iBoxx $ High Yield Corporate Bond (NYSE: HYG) -- 8.5
Fixed Income iBoxx $ Investment Grade Corp Bond (NYSE: LQD) -- 4.7
Fixed Income JPMorgan USD Emerging Markets Bond (NYSE: EMB) -- 5.7
Fixed Income S&P California AMT-Free Muni Bond (NYSE: CMF) -- 3.5
12-Month-Yield vs. 30-Day SEC Yield
There are 2 populate ways to calculate yields. iShares uses 30-day SEC yield. This calculation is developed by SEC for bond fund and based on a 30-day period ending on the last day of the previous month.
The other is 12-Month-Yield, which is the sum of a fund's total trailing 12-month interest and dividend payments. The 12-month number has the virtue of reflecting a longer time period, but it's backward-looking. A stock may have a high yield, but if the company is in trouble, it might not be able to sustain its dividend.
Following table compares yield difference using 2 calculations:
Name (Symbol) 12-Month-Yield 30-Day SEC Yield
Barclays TIPS Bond Fund (NYSE: TIP) 2.6% 0.7%
Dow Jones U.S. Utilities Sector Index (NYSE: IDU) 3.9% 3.6%
MSCI Turkey Investable Market Index (NYSE: TUR) 1.5% 4.9%
Reposition Emerging Markets Assets
In his book Security Analysis, Ben Graham remarked that buying stocks with P/E over 20 was speculating more than investing, because that meant you were willing to accept an "earnings yield" of less than 5% on a risky asset.
For yield-seeking investors, emerging market's investment value has continued to diminish following the past 9 months rally. In the list above, MSCI Taiwan Index (NYSE: EWT)'s P/E is 29. Another related one is iShares MSCI Hong Kong Index (NYSE: EWH) and its P/E is 27. Both highly depend on mainland China's economy.
Donald Tsang, Hong Kong Chief Executive, recently admitted that he has grown pessimistic on the city's economy because Hong Kong could see a double-dip recession in the near future. Hong Hong's real estate market is the backbone of its economy. EWH currently holds 62% of its assets in financial sector.
Even though people might argue house price in Beijing look relatively affordable as compared to Manhattan ( http://finance.yahoo.com/news/China-Real-Estate-Bubble-a-tsmf-3005546357...), in an effect to cool the overheating Chinese property market, this year Bank of China has raised rate on one-year bill and increased the amount of funds banks are required to place on reserve. Such moves will have ominous affects on Hong Kong. Just like old-say "Don't Fight the Fed" in U.S, in China it is "Don't Fight the Government".
Conclusion
Does the government, in its zeal to end the crisis at all costs, bring about unbridled inflation, driving early all prices sharply higher? Or does the sinking economy bring deep deflation, driving nearly all prices sharply lower? Inflation may ease the pain of debtors temporarily and help provide the semblance of a recovery. But such benefits are almost invariably short lived. They are limited to a privileged few. And even if they are more widespread or last a bit longer, they almost inevitably backfire in the form of new bubbles, new busts, and ultimately an even deeper depression, according to Martin Weiss, author of The Ultimate Depression Survival Guide.
If you don't want to guess trend of interest rate, Vanguard Total Bond Market ETF (NYSE: BND) might be good for you. It is a blended ETF, which consists of Treasury, U.S. agency bonds, corporate and foreign bonds and mortgage-backed securities. Its 12-month-yield is 4%.
S&P 500 index was down 6.7% from its Jan 19's high. However, trading volume was lower than last year; Volatility index was not even close to 1 year ago; Dow Jones Industrial Average index is fairly valued (http://seekingalpha.com/article/170336-what-s-the-fair-value-for-the-dow...). It might suggest it is only a pullback and not the beginning of double-dip. Most investors do an awful job of timing the market, consistently sell-low-buy-high. Even professional investors' crystal balls turn smoky these days, it's better for retail investors to stick with your long-term asset allocation plans.
Disclose: I have long position on TIP. Data are from iShares (http://us.ishares.com), Google and Yahoo Finance as of January 29, 2010.
Stocks: BND, CFT, CIU, CMF, DVY, EMB, EWO, EWT, HYG, IDU, IYR, LQD, PFF, TIP, TLH, TLT, TUR
Posted-In: Specialty ETFs Trading Ideas ETFs
View Comments and Join the Discussion!