Bond Investors: What To Watch For Next Year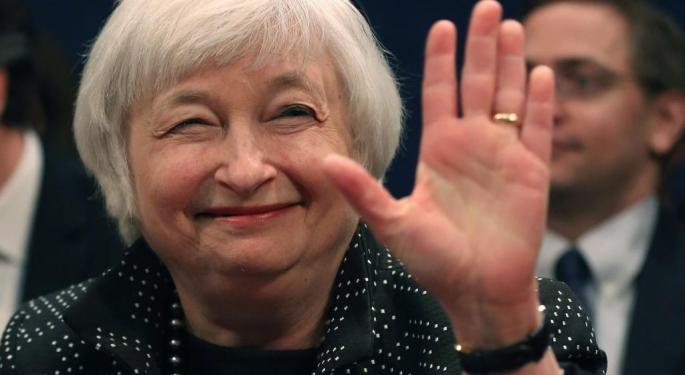 Much has been written about the unexpected selloff in high yield debt that has occurred since the end of May 2015. Truly a "sell in May" time period.
SPDR Barclays Capital High Yield Bnd ETF (NYSE: JNK) was down 11.79 percent during the second half of 2015 and is down 12.20 percent year to date. iShares iBoxx $ High Yid Corp Bond (ETF) (NYSE: HYG) was down 6.35 percent during the second half of 2015 and is down 5.15 percent year to date.
The energy and mining sectors have been to blame and are currently suffering a deep bear market that has been brought about by the precipitous slowdown in the emerging markets, namely China.
Shifting Away From Credit Sensitive To Investment Grade
Conversely the iShares IBoxx $ Invest Grade Corp Bd Fd (NYSE: LQD) was up 0.34 percent during the second half of 2015 and is down 1.42 percent year to date. PIMCO's Total Return ETF, and retail favorite, Vanguard Total Bond Market ETF (NYSE: BND) was down 0.14 percent during the second half of 2015 and is up 0.69 percent year to date.
Capital clearly shifted away from credit sensitive areas and into investment grade proxies as money managers fought to maintain fixed income allocations in the face of deteriorating fundamentals.
Duration risk was a winning factor during the second half of 2015 with the PIMCO 25 Yr Zro Cupn US Ty Inx Fd ETF (NYSE:ZROZ) up 4.86 percent bringing its year to date return to -7.29 percent. iShares Barclays 7-10 Year Trasry Bnd Fd (NYSE: IEF) was up 1.49% during the second half of 2015 which brought its YTD return to +1.35 percent.
Two Fundamental Factors
Two important fundamental factors can be inferred from this second half of 2015 performance:
The market favored higher rated corporate credit while it shunned lower grade credits.
The market favored long duration U.S. Treasuries in the face of a Federal Reserve that is championing durable strength in the U.S. economy.
These two factors suggest that investors are concerned about corporate credit quality and are not concerned about global growth creating inflation. A slowdown/recession trade.
Since fixed income trading action during the second half of 2015 was driven in large part by the pain emanating from the oil and mining sectors, it can be deducted that the fundamentals of these two areas must firm up in order for the higher credit and long duration Treasury trade to be reversed.
The Fed will be watching oil and commodity prices as will the market during the first half of 2016.
View Comments and Join the Discussion!
Posted-In: bond investorsSector ETFs Specialty ETFs Previews Trading Ideas ETFs Best of Benzinga