Time To Watch Transportation ETFs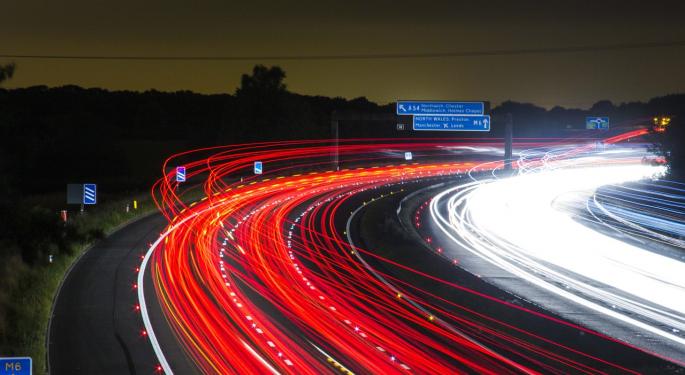 Even though the S&P 500 is trading within 3 percent of an all-time high, there may be some troubling signs within the market. The Dow Jones Transportation Average is now 6 percent off its all-time high set in November 2014, and it has struggled to break through the old high during the rallies.
Because the transportation industry can be considered by many to be a leading indicator of the economy, it has raised yellow flags for the bulls. In comparison, the Dow Jones Industrial Average is only down 3 percent from its all-time high set in March, and it continues to hold the lows of the last two months.
The reason the transportation stocks are important is because the sector is responsible for moving goods around the country and the globe. If the sector begins to struggle, it could be an early indication that demand for goods is starting to wane.
Related Link: Britain's Great Transportation Debates
Another bearish argument is that with oil prices less than half of where they were last year, it should be a boost to such sectors as trucking, airlines and logistics. On the flip side, the low energy prices have hurt the railroads that are responsible for shipping a large portion of oil and gas around the country.
The pullback of 6 percent from an all-time high is not a flat-out sell signal; however, it is something to keep an eye on as earnings season gets into full swing later this month. Below are two transportation ETFs investors should keep an eye on.
iShares Transportation Average ETF
The iShares Dow Jones Transport. Avg. (ETF) (NYSE: IYT) tracks 21 different transportation stocks across seven sectors. The most heavily weighted sectors are road and rail at 48 percent, followed by airfreight and logistics at 28 percent.
The top individual holdings in the fund include:
FedEx Corporation (NYSE: FDX) at 11.7 percent
Union Pacific Corporation (NYSE: UNP) making up 7.4 percent
Norfolk Southern Corp. (NYSE: NSC) coming in at 7.3 percent
IYT up 13 percent over the last 12 months, up 5 percent over the last six months and has lagged so far in 2015, down 5 percent.
The ETF has an expense ratio of 0.43 percent.
SPDR S&P Transportation ETF
The SPDR Series Trust (NYSE: XTN) seeks to provide results that are characteristic of the S&P Transportation Select Industry Index. The ETF is made up of 49 companies distributed across six sub-sectors, with trucking at 37 percent and airlines at 24 percent.
The top individual holdings include:
Hawaiian Holdings, Inc. (NASDAQ: HA) with a 2.7 percent holding
JetBlue Airways Corporation (NASDAQ: JBLU) at 2.5 percent
American Airlines Group Inc (NASDAQ: AAL) coming in at 2.5 percent
XTN is up 19 percent over the last 12 months, up 14 percent over the last six months and has lagged in 2014, down 4 percent.
The ETF has an expense ratio of 0.35 percent.
Image Credit: Public Domain
View Comments and Join the Discussion!
Posted-In: Dow Jones Industrial Average Dow Jones Transporation Average S&P 500 S&P Transportation Select Industry IndexSector ETFs Broad U.S. Equity ETFs Trading Ideas ETFs Best of Benzinga