3 Agriculture ETFs Seeking To Breakout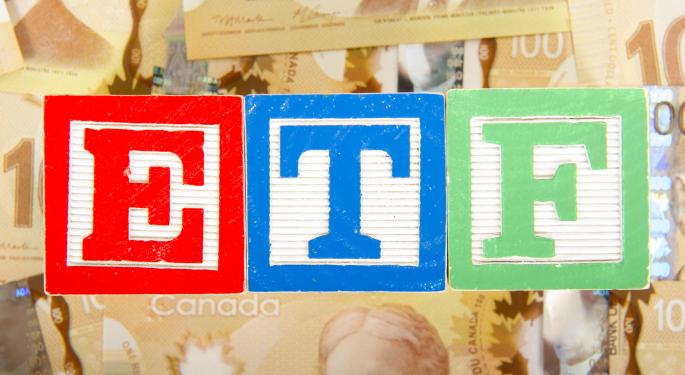 The agricultural business sector of the market has been slow to keep pace with the pronounced growth in the major indices over the last year. The flagging prices of agricultural commodities such as corn, wheat and soybeans have capped the gains in fertilizer and other supply companies that are heavily tied to crop production.
Market Vectors Agribusiness
Fortunately, those misfortunes may be soon be put to rest as the price of the Market Vectors Agribusiness (ETF) (NYSE: MOO) is testing its 52-week highs. MOO has more than $1.5 billion invested in 58 global agriculture companies that derive a significant portion of their profits from this industry.
Related Link: China's Approval Could Make Agriculture More Appealing
The portfolio is structured with 50 percent of the assets in the U.S. and the remaining half peppered throughout international stock markets.
Top holdings in MOO include: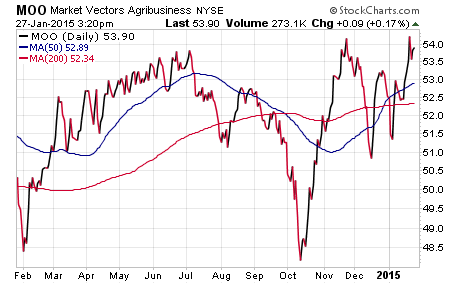 Potash in particular is set to report earnings this week, and is trading higher in anticipation of a jump in profitability versus the same quarter last year. Further positive earnings announcements that surprise consensus forecasts in this industry will likely help boost MOO above its 2014 highs.
In addition, a reversal or consolidation in the PowerShares DB Agriculture Fund (NYSE: DBA) would likely be seen as a positive catalyst. This ETF tracks a diversified basket of commodity futures contracts in the agriculture sector and recently fell to new one-year lows.
PowerShares Global Agriculture Portfolio
The PowerShares Global Agriculture Port(ETF) (NYSE: PAGG) is another similar portfolio of stocks engaged in farming-related activities. This ETF tracks a comparable composite of stocks as MOO, but has a more pronounced weighting towards international and mid-cap companies. PAGG has $52 million in total assets and charges an expense ratio of 0.75 percent.
iShares MSCI Global Agriculture Producers
Lastly, the iShares Inc. (NYSE: VEGI) provides a highly diversified mix of 132 securities with a reasonable expense ratio of just 0.39 percent. This index has more ground to make up in order to recapture its 2014 highs, but has been showing similar positive momentum as MOO and PAGG over the last several weeks.
This industry will certainly be one to watch in 2015, as it battles to overcome some of the headwinds that capped gains last year.
Posted-In: ETF ishares Market Vector powersharesSector ETFs Specialty ETFs Trading Ideas ETFs Best of Benzinga
View Comments and Join the Discussion!