Here Are A Few Preferred Stock ETFs For Income And Diversity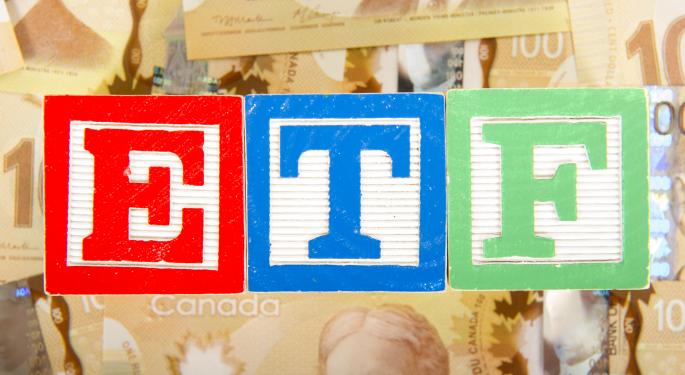 Preferred stock ETFs are an intriguing way to diversify as well as increase the overall yield of a portfolio.
A preferred stock provides the income aspect of a fixed income security as well as the growth potential of an equity security.
The ETFs in the niche asset class have been trading near multi-year highs and they pay dividends well above that of U.S. Treasury bonds.
Highlighted below is a number of preferred stock ETFs available to investors.
iShares S&P US Preferred Stock Index Fund
The iShares S&P US Pref Stock Idx Fnd (ETF) (NYSE: PFF) consists of 329 publicly traded preferred stocks. The holdings are spread across six countries and 15 sectors. The United States at 76 percent and the United Kingdom at 15 percent represent the most heavily weighted countries. With diversified financials at 35 percent and banks at 27 percent, there is a heavy concentration on the financials.
The top individual holdings include preferred stocks from:
HSBC Holdings plc (ADR) (NYSE: HSBC)
GMAC Capital Trust I Fixed Rate Floating Rate Trust (NYSE: ALLY-A)
Barclays Bank PLC (NYSE: BACR)
The ETF is up 8 percent year to date, not including the 6.9 percent dividend yield. It charges investors an annual expense ratio of 0.47 percent.
Related Link: ALLY Financial Declares Dividends On Preferred Stock
Global X Funds
The Global X Funds(NYSE: SPFF) is made up of 50 of the highest yielding preferred securities in the United States and Canada. The holdings are distributed across six sectors with financials at 75 percent and telecommunications services at 8 percent being the most heavily weighted sectors.
The top individual holdings include preferred stocks from:
The ETF is up 1 percent year to date not including its 7.2 percent dividend yield. The ETF has an annual expense ratio of 0.58 percent.
SPDR Wells Fargo Preferred Stock
The SPDR Wells Fargo Prfd Stk ETF (NYSE: PSK) follows 119 preferred stocks across seven sectors with financials at 76 percent and telecommunication services at 6 percent.
The top holdings include preferred stocks from:
PNC Financial Services Group Inc (NYSE: PNC)
Metlife Inc (NYSE: MET)
Goldman Sachs Group Inc (NYSE: GS)
The ETF is up 13 percent year to date and offers a 5.9 percent dividend yield, while charging a 0.45 percent annual expense ratio.
Preferred stocks are vehicles that are sensitive to interest rate changes. With an expected hike in interest rates coming from the Fed in the near future, preferred stock prices could face a headwind as the ""risk free" rate of U.S. Treasuries will increase and make the dividends paid by preferred stocks less attractive. The future moves of the Fed are not set in stone, however, and in the meantime the high income outweighs a lot of the potential interest rate risk.
View Comments and Join the Discussion!
Posted-In: ETFs sector ETFsSector ETFs Specialty ETFs ETFs Best of Benzinga