Watch These Funds For Skyworks Solutions, Apple's Rumored Chipmaker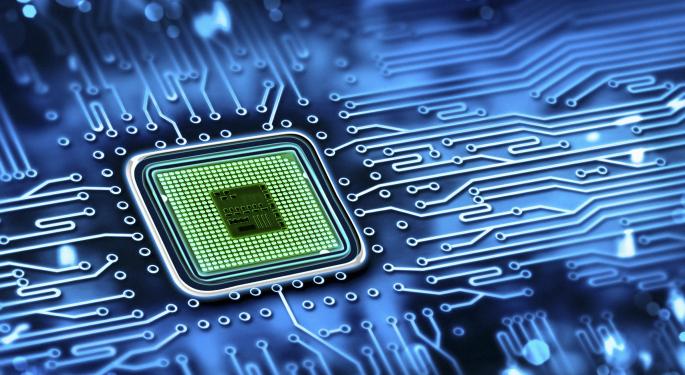 Chipmaker Skyworks Solutions Inc (NASDAQ: SWKS) dropped 3.64 percent in heavy volume last Friday, following its fourth-quarter report on Thursday.
Initially, the stock vaulted higher on better than expected top- and bottom-line results and a strong current-quarter view. However, it settled in for a loss on the session.
Nonetheless, analysts continue to expect a lot from the company, widely thought to supply Apple Inc. (NASDAQ: AAPL) with handset chips. Other customers include General Motors Company, General Electric Company and Rockwell Collins, Inc.
Vanguard Mid-Cap Index Fund Investor Shares
The Vanguard Mid-Cap Index Fund Investor Shares (MUTF: VIMSX) is the largest mutual fund holder of Skyworks Solutions, owning 1.71 percent of outstanding shares. That accounts for 0.35 percent of fund assets. This is a passively managed index fund, so a manager is not picking stocks. Instead, it tracks the CRSP US MidCap Index (INDEXNASDAQ: CRSPMI1).
The fund has a 14.62 percent weighting in the technology sector. Consumer cyclicals is the most represented sector, with a 17.78 weighting.
The fund has a year-to-date return of 11 percent, topping the S&P 500's 9.9-percent return. Top fund holdings include Vertex Pharmaceuticals Incorporated, Avago Technologies Ltd and Chipotle Mexican Grill, Inc.
Related Link: Analysts: Skyworks Solutions Sees New Markets
Other Vanguard Family Funds Owning Skyworks
Two other funds from the Vanguard family are also top owners of Skyworks. The Vanguard Total Stock Market Index Fund Investor Shares (MUTF: VTSMX) and the Vanguard Windsor Fund Investor Share (MUTF: VWNDX) own 1.63 percent and 1.41 percent of outstanding shares, respectively.
Non-Vanguard Owner
The top non-Vanguard owner of Skyworks is the Victory Munder Mid-Cap Core Growth Fund Class Y (MUTF: MGOYX). The fund holds 1.30 percent of Skyworks shares, but that accounts for 1.84 percent of total fund assets.
Other top holdings of the Victory Munder Fund are Affiliated Managers Group, Inc., SBA Communications Corporation and Nisource Inc.
This fund has a year-to-date return of 8 percent.
This is an actively managed fund, investing in companies with market capitalization in the range of those included in the iShares Russell Midcap Value Index (ETF) or the iShares S&P MidCap 400 Growth (ETF). The fund uses the "Growth at a Reasonable Price" philosophy of investing.
Posted-In: consumer cyclical CRSPMI1 kyworks Solutions mgoyxSector ETFs ETFs General Best of Benzinga
View Comments and Join the Discussion!