How Gold ETFs Sank After The End Of QE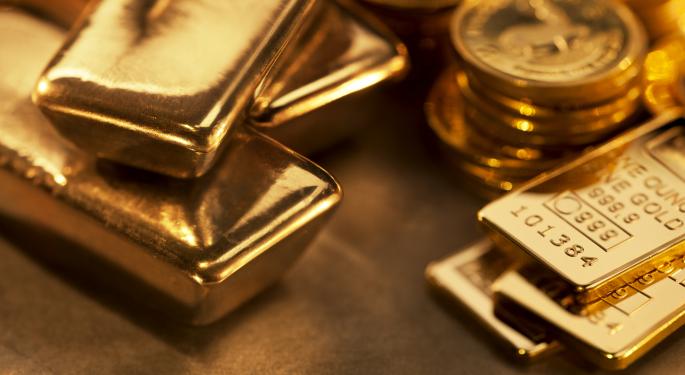 The Federal Reserve confirmed on Wednesday its plan to rescind its quantitative easing efforts at the end of October. This hallmark event was widely expected, despite the need for further zero interest rate policy to manage inflation expectations and economic stability.
Shortly after this release, the precious metals' markets began waving the white flag as gold and related mining stocks fell precipitously. The SPDR Gold Trust (ETF) (NYSE: GLD) tracks the daily percentage change in the spot price of gold bullion and was down 1.45 percent on Wednesday.
Related Link: S&P-500, Homebuilders And Gold ETFs To Watch This Week
GLD is now in danger of once again sliding to 2014 lows after making a rally attempt earlier in the month. This widely-followed yellow metal index is now once again flat on the year and has yet to show signs of a convincing turn for the bulls.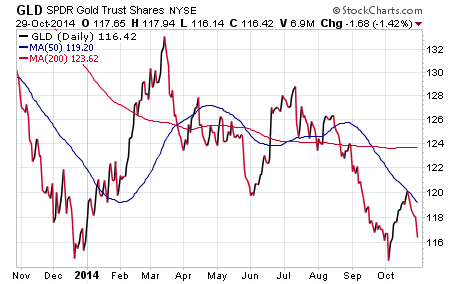 One headwind for gold has been the strength in the U.S. dollar index, which also rose significantly after the Fed release. The PowerShares DB US Dollar Index Bullish (NYSE: UUP) gained 0.79 percent, and is continuing to be a headwind for precious metals' investors.
Stable Longer-Term Inflation Expected
Gold often moves in an inverse pattern to the U.S. dollar because of the association with monetary values and hard asset prices. In addition, the Fed indicated in its statement that "longer-term inflation expectations have remained stable," which tempers a commonly cited reason to own precious metals.
In conjunction with this most recent move, the Market Vectors Gold Miners ETF (NYSE: GDX) fell more than 4 percent to a new 2014 low and is showing no signs of abatement in selling pressure. GDX tracks a global index of gold mining stocks with more than $6.6 billion in total assets.
The largest holdings in this ETF include Goldcorp Inc. (USA) (NYSE: GG) and Barrick Gold Corporation (USA) (NYSE: ABX), which have both slid precariously in recent months.
Gold Mining Stocks And Price Of Gold Bullion
Gold mining stocks often show high correlations with the price movement of gold bullion. However, the effects can be magnified given the varying business risks and other forces impacting these stocks.
The one thing gold may have going for it is the negative sentiment and multiple years of negative returns that can often precede new bull markets. For now, it is still unclear when that bottom will materialize.
Posted-In: bull markets ETFs Gold gold bullionSector ETFs Currency ETFs Trading Ideas ETFs Best of Benzinga
View Comments and Join the Discussion!