These 3 ETFs Are Hitting Highs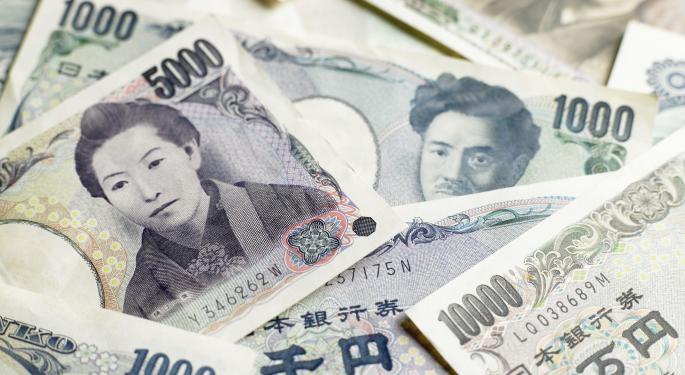 The amount of stocks hitting new highs is slowing with the major indices are only one week removed from historic levels.
The universe of ETFs is in the same predicament with only a handful able to breakout to 52-week highs this week. However, within that group there are a few interesting names that should be highlighted for investors.
The PowerShares Dynamic Pharmaceuticals Portfolio ETF (NYSE: PJP) tracks about 30 publicly traded companies that are engaged in the research, development, manufacturing, sale or distribution of pharmaceutical drugs of all types. The top holdings in the fund include Auxilium Pharmaceuticals Inc with a 5.1 percent holding, Johnson & Johnson at 5.1 percent and Pfizer Inc at 5 percent.
PJP has outperformed the overall market in the last 12 months with a gain of 40 percent. An expense ratio of 0.58 percent is reasonable for an ETF with such good performance.
Related Link: New Zealand ETF Higher After Election
The WisdomTree Japan Hedged Small Cap Equity ETF (NYSE: DXJ) aims to provide exposure to small-cap equity securities in Japan, while simultaneously hedging exposure to oscillation between the U.S dollar and the Japanese yen.
DXJ is an diverse fund with a total of 599 holdings. Its top holdings being Kaken Pharmaceutical Co Ltd making up 0.78 percent of the fund, Sanrio Co Ltd with a 0.74 percent holing, and Azbil Corp at 0.62 percent. The ETF is heavily concentrated in the industrials and consumer discretionary sectors, with half the portfolio invested in the stocks.
DXJ is up 8 percent over the last 12 months and 14 percent over the last six. The small-cap Japan ETF has an expense ratio of 0.58 percent with is favorable for such a concentrated ETF.
The PowerShares DB US Dollar Index Bullish ETF (NYSE: UUP) is designed for investors who want to track the value of the U.S. dollar against six major world currencies: the Euro, the Japanese Yen, British Pound, Canadian Dollar, Swedish Krona and Swiss Franc. The largest weighting is the U.S. Dollar-Euro at 58 percent, followed the U.S. Dollar-Yen at 14 percent and the U.S. Dollar-British Pound at 12 percent.
UUP is up 4.7 percent over the last 12 months. The ETF charges an expense ratio that is higher than the average, 0.80 percent, because of the nature of investing in currencies.
Posted-In: Sector ETFs Specialty ETFs Currency ETFs ETFs Best of Benzinga
View Comments and Join the Discussion!