Food ETF Hits High On Merger News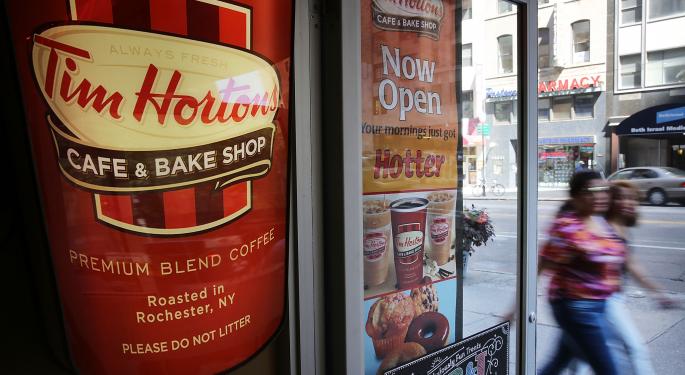 The United States' second-largest burger chain Burger King Worldwide (NYSE: BKW) officially announced it would be buying Canadian coffee and bake shop Tim Hortons (NYSE: THI) Tuesday morning.
The acquisition of Canada's largest coffee shop would allow Burger King to move its headquarters to Canada and benefit from its much lower corporate tax rate that is now at 15 percent compared to the United States' 40 percent.
Talks of the merger sent Burger King stock up 19.5 percent to $32.40 on Monday; Tim Hortons also surged with a gain of 18.9 percent. With such big news in the food and beverage industry, one of the largest ETFs that tracks the industry was on the move -- PowerShares Dynamic Food and Beverage Portfolio (NYSE: PBJ).
Related Link: What You Need to Know About The Burger King/Tim Hortons Deal
Burger King is the 18th-largest holding out of the 30 stocks in the portfolio, accounting for 2.8 percent. The ETF has had a solid year with a gain of 8.5 percent, just above the 8.4 percent gain for the S&P 500. The ETFs top two holdings are commodity giant Archer-Daniels-Midland (NYSE: ADM) at 5.3 percent and supermarket operator Kroger (NYSE: KR) at 5.1 percent.
With 5 percent of Tim Hortons operating income coming from stores located in the United States, an acquisition by Burger king could help Tim Hortons expand its market share in the U.S and compete with companies like Starbucks and Dunkin' Donuts.
The chain will likely not be as popular as it is in Canada, where it has over 3,600 stores and claims to serve eight out of every 10 cups of coffee.
At first glance, many analysts believed the deal was all about inversion, where a U.S. company buys a foreign company and moves the headquarters outside of the country for a lower tax rate. There are other reasons behind the merger, however.
Burger King is not sitting on a large amount of cash outside the United States, which is typically a major driver for seeking out an inversion. The combination of the two companies will likely end in a lower tax rate, but more importantly it should help cut costs for the newly-combined company. The deal also needs approval from Canada to be complete; the Canadian government could be more inclined to green light the deal if the new company is based in Canada.
With the popularity of fast food chains such as Burger King and McDonald's waning with the younger crowd, there is real growth opportunity is overseas. There may not be more deals the size of King/Hortons in the near future in the sector, but consolidation is a possibility, as U.S.-based companies look to take advantage of the international growth story.
View Comments and Join the Discussion!
Posted-In: Burger King Canada Tim HortonsSector ETFs ETFs Best of Benzinga