Best & Worst ETFs Of The Week Amid Geopolitical Uncertainty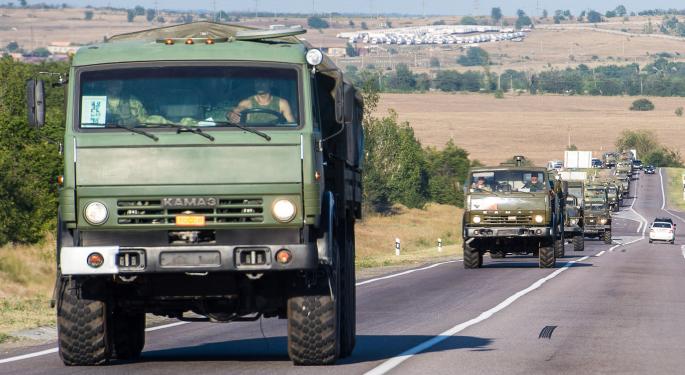 The markets were in recovery mode this week until additional geopolitical uncertainty returned in the ongoing Russia and Ukraine conflict on Friday. This news sent global equity indices swiftly lower and underscores the fragility of global markets during this choppy summer.
The following ETFs represent a sample of the best and worst performing funds over the last five trading sessions:
BEST: MLP ETFs
Master limited partnership ETFs received a significant boost this week on the news that Kinder Morgan (NYSE: KMI) would be consolidating four of its publicly traded entities into one unit. This spurred double-digit jumps in Kinder Morgan Management (NYSE: KMR) and Kinder Morgan.
Related Link: First Trust Launches Active Strategic Income ETF
One ETF that significantly benefited from this news was the First Trust North American Energy Infrastructure Fund (NYSE: EMLP). This actively-managed energy ETF has exposure to 61 holdings that include both traditional MLPs and utility companies.
The managers of EMLP had significant exposure to both KMR and KMI, which helped spur the fund to a gain of more than 5 percent this week. EMLP also hit a new 52-week high on the strength of these favored dividend stocks.
The outperformance of this ETF in 2014 has helped draw in $300 million of new assets this year, bringing the total in EMLP to $830 million.
WORST: Volatility ETFs
Two weeks ago, volatility ETFs were the reigning champions as traders hedged their bets against falling stock prices. This week, these ETFs fall to the bottom of our performance ranking as stocks recovered a portion of their drop.
The ProShares VIX Short-Term Futures ETF (NYSE: VIXY) has lost almost 12 percent this week amid signs of buyers stepping in to prop up equity markets.
VIXY is designed to track near-term VIX futures contracts, which are a measure of expected volatility in the S&P 500. The fund charges an expense ratio of 0.85 percent, and currently has more than $120 million in net assets.
View Comments and Join the Discussion!
Posted-In: Sector ETFs ETFs Best of Benzinga