ETFs Poised For Apple Rally (AAPL, IYW, XLK, QQQ, GOOG, MSFT)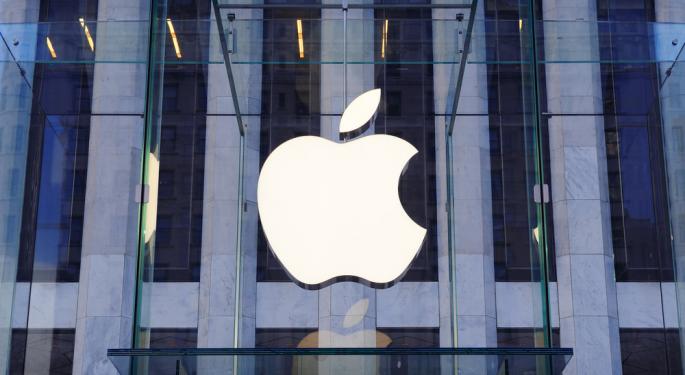 There has been a big bite taken out of the share price of Apple since late December and this may be a good thing for potential investors.
The pullback in the price of Apple (NASDAQ: AAPL) shares is closing in on the seven percent level. The good news is that the pullback is on average volume, it is not too large, and it is holding price support at the $515 area.
On Monday, shares of Apple are moving higher as the broader market is struggling to remain in positive territory. Adding to the bullish relative strength today is an RSI crossover on the chart, which is often viewed as a buy signal.
It is always more risky to buy into an individual stock versus an ETF and Apple is no exception to the rule. Because Apple is a behemoth in the world it is often the largest holding of technology-focused ETFs. Investors that would like to buy into Apple on the post-holiday sale price could consider these ETFs in lieu of buying the stock outright.
ETF Options
iShares U.S. Technology ETF (NYSE: IYW) has Apple as the largest holding, making up 16.4 percent of the portfolio. The large-cap heavy ETF rounds out the top three holdings with Google (NASDAQ: GOOG)and Microsoft (NASDAQ: MSFT). The ETF is an equal mix of hardware and software companies with a total of 143 stocks in the allocation. In the last 12 months the ETF is up 21 percent and it charges an expense ratio of 0.45 percent.
See also: Two Country ETFs Rising From The Ashes (GREK, EGPT, CCH)
Apple is also the number one holding in the SPDR Technology Select Sector ETF (NYSE: XLK), accounting for 14 percent of the ETF. The next two largest holdings are GOOG and MSFT and there are a total of 73 stocks in the portfolio. Over the last 12 months the ETF is up 19 percent and the expense ratio is 0.18 percent.
The first two ETFs concentrated solely on the technology sector. The PowerShares QQQ ETF (NYSE: QQQ) tracks the NASDAQ 100 Index and has exposure to non-technology stocks. The ETF calls Apple its largest holding with a 12 percent allocation. Even though the ETF is not only technology companies, the top three holdings remain the same as the first two ETFs mentioned. Over the last year the ETF is up 29 percent and it charges an expense ratio of 0.20 percent.
All three ETFs will be greatly influenced by the price movement in Apple and at the same time investors get exposure to a stock market that is trading near an all-time high. The strategy appears to be a win-win in this market environment.
Posted-In: ETFSector ETFs ETFs Best of Benzinga
View Comments and Join the Discussion!