Sector ETFs Breaking Out (IBB, IHE, XLV, IAT, SKYY)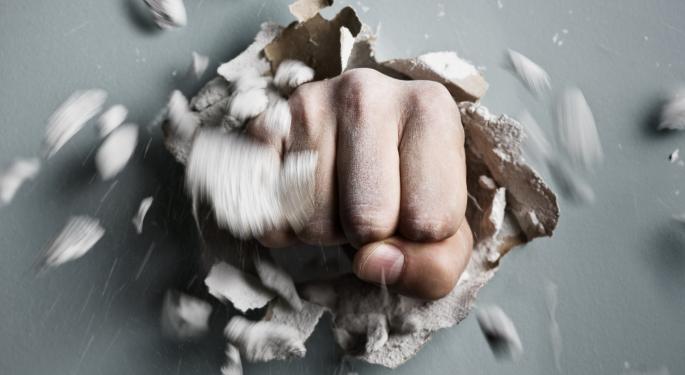 The S&P 500 is attempting to regain the all-time high set during the last trading day of 2013, but remains about one percent below the level.
While the overall market has yet to breakout in 2014, there are a number of sector ETFs that have already hit new highs and appear to be ready to lead the first 2014 market rally.
There are several health care-related ETFs that are hitting new highs, led by a big surge in the biotech and pharmaceutical stocks. The financials, which often outperform during market rallies, have a couple of ETFs breaking out and then there is the group of miscellaneous sectors attracting buyers.
Health Care ETFs
Three ETFs that have nearly identical and all fall within the health care umbrella are the iShares NASDAQ Biotechnology ETF (NYSE: IBB), iShares Dow Jones U.S. Pharmaceutical ETF (NYSE: IHE), and the SPDR Health Care ETF (NYSE: XLV). All three are trading at their best levels ever after putting together a strong 2013.
See also: Analysts Dissect Apollo Education's First Quarter Results
While IBB and IHE may sound similar in nature as both ETFs are full of companies that create and sell drugs, they could not be any different. The top ten holdings of the two ETFs do not have any overlap and performance has been inconsistent. In 2013, IHE gained an impressive 39 percent, but IBB bested it with a gain of 65 percent. Historically the biotech stocks will have more volatility than the pharmaceuticals and that is backed up by the beta of 1.43 for IBB and 1.16 for IHE.
XLV is a mix between the first two health care ETF with 45 percent in the pharmaceuticals and 19 percent in biotech stocks. The remainder of the ETF is invested in medical providers and equipment stocks that help diversify XLV throughout the health care sector. In 2013 the ETF was up 39 percent.
Regional Banks and the Cloud
The iShares Dow Jones U.S. Regional Banks ETF (NYSE: IAT) is breaking out to its best level since October 2008 as higher interest rates are not viewed as a negative to the sector. There is a case to be made that as interest rates increase it could benefit the regional banks that rely more heavily on revenue from lending activity.
The First Trust ISE Cloud Computing Index ETF (NYSE: SKYY) has been consolidating for the last two weeks near a new high before recently breaking out. The niche technology sector had a great 2013, gaining 34 percent as the technology becomes more widespread and has piqued investor interest.
It is important to identify the ETFs that are breaking out and leading the market before the overall index ETFs join the party. It will often indicate which sectors will be the best performers during the next leg of the bull market.
View Comments and Join the Discussion!
Posted-In: Sector ETFs ETFs Best of Benzinga