Profiting from Rising Restaurant Traffic (PEJ, XLY, MCD, SBUX, CMG)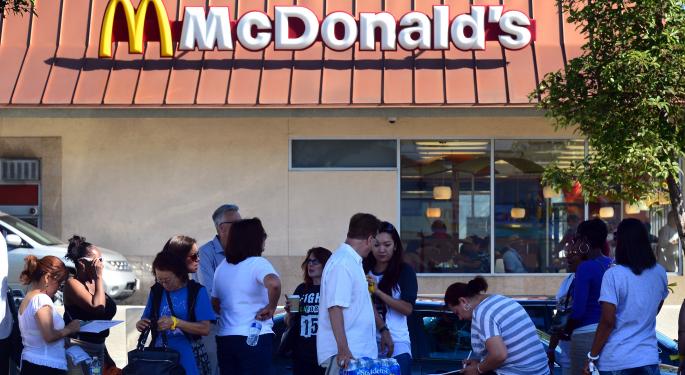 On Monday, the National Restaurant Association released their Performance Index for the month of October. The month over month sales showed an increase of 0.7 percent, pushing the index to a new four-month high. As far as customer traffic is concerned, more restaurant operators reported an improvement versus a drop.
The restaurant sector is diverse as it includes everything from fast food restaurants such as McDonald's (NYSE: MCD) to high-end dining establishments Del Frisco's Restaurant Group (NYSE: DFRG). As a whole the sector will attract customers looking for dollar menus to steaks that cost upwards of one hundred dollars. This will make investing in restaurant stocks difficult for most investors.
See also: McDonald's Suggestions for Employees Creates PR Snafu
An option is to turn to ETFs, which will give investors exposure to a basket of restaurant stocks from all categories. The one issue is that there is currently no ETF available to investors that concentrate solely on restaurant stocks. But, there are a few options that are available.
PowerShares Dynamic Leisure and Entertainment ETF (NYSE: PEJ)
A basket of 30 stocks chosen based on a variety of investment criteria from the leisure and entertainment sectors. The restaurant stocks account for 42 percent of the ETF, the largest portion of the allocation. It is followed by 15 percent in the broadcasting stocks.
Chipotle Mexican Grill (NYSE: CMG) is the number one holding, making up 5.8 percent of the ETF. Other restaurant stocks in the top ten holdings include Starbucks (NYSE: SBUX), Buffalo Wild Wings (NASDAQ: BWLD),and Krispy Kreme (NYSE: KKD). The majority of the restaurant stocks fall into the low to medium-end range as far as menu prices.
This year PEJ has been able to beat the overall market significantly with a gain of 42 percent. The ETF charges an annual expense ratio of 0.63 percent.
SPDR Consumer Discretionary ETF (NYSE: XLY)
Spending that takes place at restaurants is considered discretionary by nature and XLY has some exposure to the sector. The ETF owns a total of 85 stocks with 14 percent in the leisure and restaurant sector. There are two restaurant stocks in the top ten holdings, MCD and SBUX. The top two holdings are Amazon.com (NASDAQ: AMZN) and Comcast Corporation (NYSE: CMCSA).
See also: US Is World's Largest Wine Market
The performance of XLY has been solid in 2013, gaining 36 percent, but it is lagging PEJ do to its more diverse approach. The ETF charges a low annual expense ratio of 0.18 percent and pays a dividend of 1.1 percent.
While there is no pure play restaurant ETF, investors can gain exposure to the sector as well as related leisure stocks via PEJ. When it comes to XLY, it is considered a more diverse option that does not give investors the restaurant exposure they will be in search of.
Posted-In: National Restaurant AssociationSector ETFs ETFs Best of Benzinga
View Comments and Join the Discussion!