A Magnificent Ascent For The Newest Cloud ETF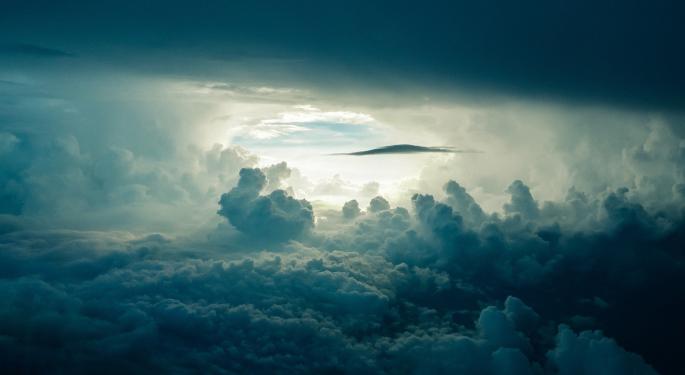 If the technology sector is hot this year (it is), then cloud computing stocks and exchange-traded funds are scorching (they are).
The seemingly never-ending ascent of dedicated cloud computing ETFs to records continued Monday as all three funds addressing the industry hit all-time highs.
What Happened
As was recently noted here, not all cloud ETFs are the same. In fact, the trio aren't even really cousins. They're more like distant relatives.
Still a few months shy of its first birthday, the WisdomTree Cloud Computing Fund (NASDAQ: WCLD) is the newest member of the cloud ETF fray.
Rookie status aside, WCLD is higher by more than 42% in the year-to-date period with the help of an almost 29% gain of the past month. That's enough to make the fund the best-performing member of the cloud ETF group.
Why It's Important
While cloud stocks are getting plenty of attention due to the work from home phenomenon created by the coronavirus pandemic, that doesn't mean the group is vulnerable to retrenchment as employees head back to their offices. In fact, the virus likely hastened seismic shifts in how and where work is performed, adding to the longer-ranging thesis for cloud fare, including WCLD.
"Disruptive events, like the COVID-19 pandemic, are often catalysts for long-term operating changes," WisdomTree said in a recent note. "These market dislocations can expose companies that are driving or quickly adapting to change, and create opportunities for significant gains in market share."
Specific to the WCLD is an index methodology that ensures investors are levered to cloud growth. The BVP Nasdaq Emerging Cloud Index, WCLD's underlying index, requires that first-year components have revenue growth of at least 15% while others that are longer-tenured members of the fund have top-line growth of at least 7%.
What's Next
It's clear work is becoming more digital and that's going to stop even as COVID-19 is put to bed.
"The coronavirus has forced companies to adjust to this 'new normal.' Digitizing operations and implementing tools that enable a distributed workforce are critically important to business continuity," said WisdomTree. "We believe the pandemic-induced business disruption has accelerated the shift to the cloud and will lead to rapid growth for the industry. In our view, WCLD's year-to-date outperformance versus broad market indicies demonstrates that a significant transformation is already underway."
Investors are buying in. Literally. WCLD's 2020 inflows are just over $120 million. That's $120 million of $152.47 million in assets under management.
View Comments and Join the Discussion!
Posted-In: New ETFs ETFs Best of Benzinga