Greenback Poised To Continue Rally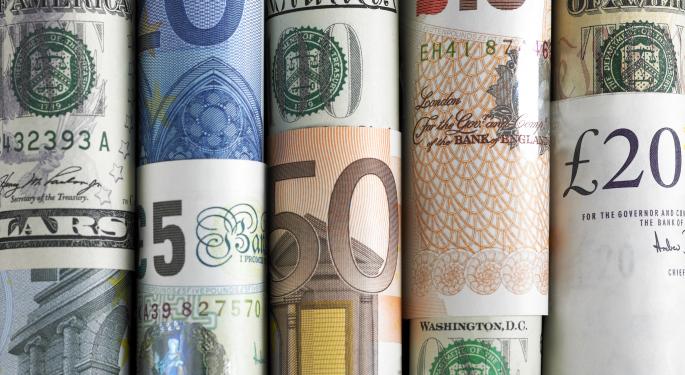 The U.S. Dollar Index surged to an 11-month high this week as central banks around the world look to continue pushing stimulus programs.
The European Central Bank (ECB) is likely to keep interest rates low for the foreseeable future and is being pressured to provide for stimulus for a region on the brink of a new recession. The Bank of Japan (BOJ) has been upfront with their stimulus plans, including creating inflation by devaluing the yen.
As major central banks outside the U.S. are in stimulus mode, the Federal Reserve is set to wind down its current bond buying program in October. The move by the Fed will help push the greenback higher, and with the ECB and BOJ attempting to pressure their currencies lower, it is a perfect storm for the U.S. dollar.
Related Link: Tensions & Airlines Boost ETFs (ITA, PPA, BA, LMT)
Currency ETFs
The PowerShares DB U.S. Dollar Index Bullish ETF (NYSE: UUP) is up 2.6 percent this year as its peers have struggled.
The ETF follows an index that tracks the value of the U.S. Dollar versus a basket of six foreign currencies (euro, Japanese yen, British pound, Canadian dollar, Swedish krona, and Swiss franc). While the move this year in UUP is impressive for a diverse currency ETF, it is down 19 percent from a 2008 high.
The Rydex CurrencyShares Euro ETF (NYSE: FXE) hit the lowest level since July 2013 this week as investors anticipate more moves by the ECB. Year-to-date the ETF has lost 4.7 percent and is now down 19 percent from its 2008 high.
The ETF is currently trading at $129.55 and does not have significant support until it reaches the $126 area.
The CurrencyShares Japanese Yen ETF (NYSE: FXY) is unchanged for the year, however it has fallen 3.6 percent in the last six weeks to the lowest level since September 2008. The ETF peaked in October 2011 and has since fallen 29 percent to the six year low.
The ETF does not have any true support under it at this time, but may find some buying near the $90 area, which is another 3 percent below the current price of $92.85.
Even though the cat is out of the bag that the Fed will wind down its quantitative easing program and that the ECB and BOJ are moving in the opposite direction, there is still more money to be made in the currency market. Until the European economy starts to improve and the Japanese government decides to move away from monetary easing, the trend should continue.
Posted-In: BOJ ecb ETFs Federal Reserve foreign exchangeCurrency ETFs Trading Ideas ETFs Best of Benzinga
View Comments and Join the Discussion!