ETFs React To President Obama's Speech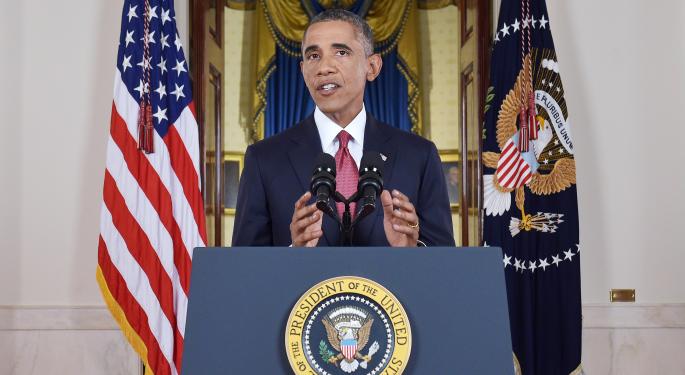 The anticipated speech by President Barack Obama regarding U.S. action toward ISIL was met with a mixed emotions.
The 15-minute speech outlined the military's strategy to defeat the terrorist group. Obama stressed that his strategy to fight ISIL would "be different from the wars in Iraq and Afghanistan," and listed four features that encompass the governments "comprehensive and sustained counter-terrorism strategy."
A systematic series of airstrikes.
Deploying 475 service men and women on a non combat mission to support Kurdish and Iraqi forces with training and intelligence.
Improve counter terrorism capabilities to prevent an ISIL attack by improving intelligence.
Providing humanitarianism assistance to group affected by the fighting.
Related Link: How Raytheon And General Dynamics Could Benefit From The ISIL Announcement
Like any important speech by the president regarding a topic of this magnitude, the market reacted immediately. When the opening bell rang, the S&P 500 fell 10 points within minutes. After the initial swoon the market attempted to rally as the overall volatility continued to increase. Two hours into trading the SPDR S&P 500 ETF (NYSE: SPY) rallied back to within 0.1 percent of Wednesday's closing price.
Gold, a typical safe haven for money during a time of increasing geopolitical tension, has not acted in a manner that many would anticipate. The SPDR Gold Trust (ETF) (NYSE: GLD) closed Thursday lower by 0.66 percent and hit its lowest level since the first week of January.
Another surprise was the continued drop in the price of oil. Over the first two hours of trading, the commodity did get some bids and the United States Oil Fund LP (ETF) (NYSE: USO) rallied into positive territory. This is after USO hit the lowest level since February. The ETF closed up 1.3 percent.
The president gave a sterner message toward fighting terror than he has in the past as he now recognizes ISIL as a real threat -- not the JV team, as he referred to them a few weeks ago.
As the airstrikes begin, it could lead to more unrest in the Middle East and commodities could begin to rally from lows. At the same time, stocks tend to do well when the bombs start to fly. Unless a major confrontation erupts, it appears stocks will continue their bullish trend after a short-term pullback from last Friday's all-time high.
Posted-In: Barack Obama ISIL President ObamaBroad U.S. Equity ETFs Commodities Top Stories Markets ETFs Best of Benzinga
View Comments and Join the Discussion!