Jobs Report Week: Is Record-Hugging Wall Street Too Calm?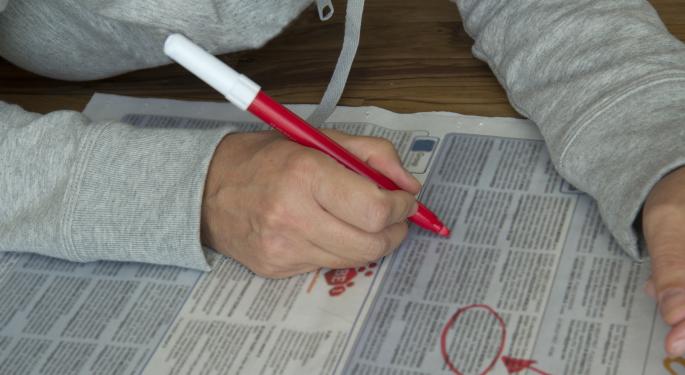 Risk perceptions are down sharply by many measures, but not all.
Check out the bond market. Treasury prices fell sharply last week, driving up benchmark 10-year yields to one-month highs above 2.1%—a level that bears watching heading into Friday's monthly job market report.
Given investors' Federal Reserve fixation, bond yields potentially hold important implications for the stock market, too. That's because the recent yield uptick might signal a growing belief that economic activity is improving enough to trigger interest rate hikes sooner versus later.
It's pretty clear that the biggest test of interest rate sentiment may lie with the employment report.
After all, April's reading, due out at 8 a.m. ET Friday morning, follows a stinker of a March report that showed a measly 126,000 new jobs created—the worst reading since December 2013 and likely impacted by poor weather. For April, Wall Street's median forecast is for about 230,000 new jobs and a slight decline in the unemployment rate to 5.4% from 5.5%. Was March an anomaly or the start of a trend?
What's less clear is if Wall Street will warm to a strong hiring rebound? The stock market sometimes boos bullish economic data and with it, the prospect of a hyper-vigilant Fed that risks overshooting with aggressively higher rates. For that reason, "good" economic news sometimes sends stocks lower, while weak numbers can push the S&P 500 (SPX) higher. Recall two months ago when stocks were jolted and the SPX shaved nearly 30 points in a single day when employment numbers showed the economy adding nearly 300,000 jobs (later revised to 264,000), much more than economists had predicted.
Related Link: Crude Reality: Time To Think Longer-Term Options For Oil?
Nervous anticipation may leave Wall Street wanting more signs from the several Fed officials slated to speak this week. Fed Chair Janet Yellen's Wednesday topic of "finance and society" sounds pretty benign. But who knows if she'll use the opportunity to make the Fed's case or even take audience questions that may prompt a few clues from the Fed chief.
Stock Grind
It seems as if Wall Street has been waiting for a breakout event like a big jobs report. As April wrapped and May began, it's been a sloppy performance, albeit still near record highs, for the SPX and other broad stock measures. Importantly, SPX did hold the closely watched 2100 line by week's end after dipping below during the week. Looking across market sectors (see table below), energy was a big reason that the SPX stayed above water. Basic materials and technology also outperformed, and defensive sectors health care and utilities moved lower.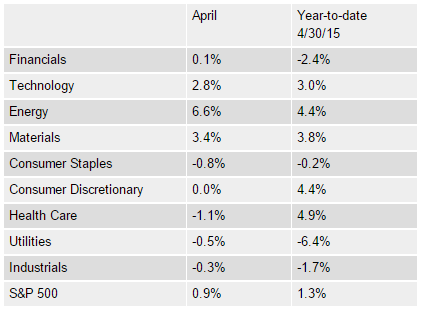 Can Stock Volatility Stay This Low?
The mixed market action in April held down measures of broad market volatility. The CBOE Volatility Index (VIX), for example, eased 5% last month. The index then fell sharply on the first trading day in May (figure 1), and after the 12.7% one-day slide Friday, is now down 34% year to date.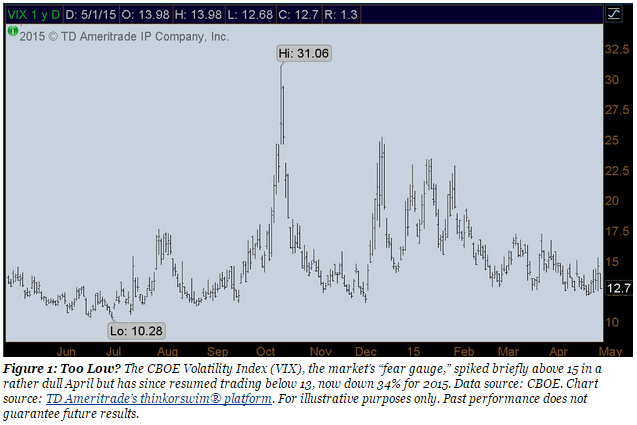 VIX isn't the only volatility barometer moving lower. Several stocks measures are lower (see table below). Oil volatility has also pulled back, and the sharp decline suggests that investor angst about falling energy prices late last year and in early 2015 have receded.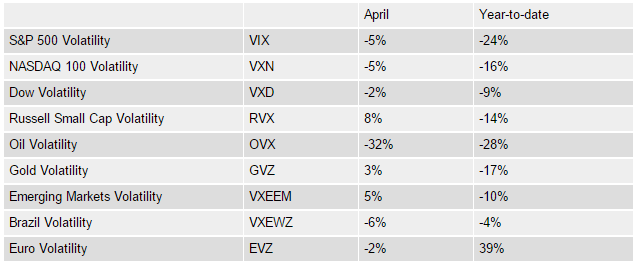 What's Coming Up?
Now, the buildup to Friday's report includes a few job market curtain-raisers. ADP offers a peek at private-sector hiring Wednesday morning and the Labor Department releases jobless benefits claims Thursday (see figure 2).
Meanwhile, corporate profit reports are still pouring in. While more than two-thirds of the S&P 500 has already released Q1 results, it will be another busy week of earnings releases across many sectors, including energy, health care, and technology. Among the reporting names, a snapshot of the "new" economy: Disney (NYSE: DIS), SolarCity (NASDAQ: SCTY), Priceline (NASDAQ: PCLN) and Tesla (NASDAQ: TSLA).
Don't let Cinco de Mayo partying knock you off your trading game. Remember, the day celebrates the against-the-odds Mexican victory over France at the 1862 Battle of Puebla. Will you conquer the markets this week?
Good trading,
JJ
@TDAJJKinahan
This piece was originally posted here by JJ Kinahan on May 4, 2015.
TD Ameritrade, Inc., member FINRA/SIPC. Commentary provided for educational purposes only. Past performance of a security, strategy, or index is no guarantee of future results or investment success. Inclusion of specific security names in this commentary does not constitute a recommendation from TD Ameritrade to buy, sell, or hold.
Options involve risks and are not suitable for all investors. Please read Characteristics and Risks of Standardized Options before investing. Supporting documentation for any claims, comparison, statistics, or other technical data will be supplied upon request.
Posted-In: JJ Kinahan The Ticker TapeEconomics Federal Reserve Markets Best of Benzinga
View Comments and Join the Discussion!