Caterpillar vs. John Deere - Which Would You Rather Build With?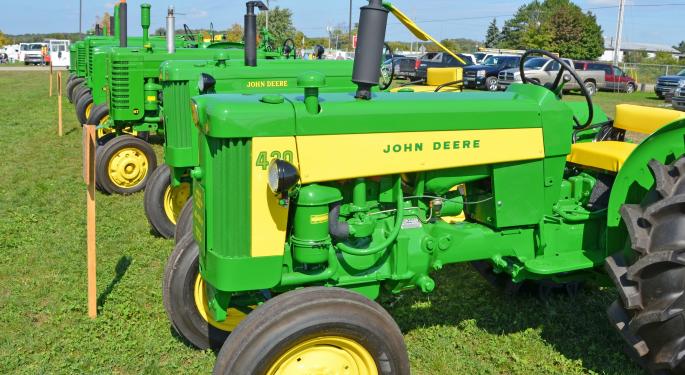 Heavy equipment manufacturers, such as Caterpillar (NYSE: CAT) and Deere & Co. (NYSE: DE) are directly affected by the new construction markets, as an increase in construction can lead to greater demand for their products.
Although 2013 has been hailed as a turnaround year for real estate, which had been mostly dour since 2008, most of the growth came from existing home sales. That meant the equipment makers -- and their stock -- ultimately didn't get much boost from the sector.
Here we will take a look at how these two companies fared during the 2013 turnaround in the real estate market, and into 2014.
More Volatility Ahead?
Caterpillar began 2013 trading for $92.95. The company's stock faced significant volatility all year, vacillating wildly between a low of $80 and a high of $90. Overall the year was a loser for the company, which closed at $90.81.
2014 appears likely to hold a similar fate. Caterpillar dropped sharply in late January, and even briefly traded under $86 per share. But going into February, Caterpillar came back to life and climbed to almost $98 at the end of the third week of the month.
Related: Sotheby's vs. eBay - Which Would You Rather Bid On?
Deere opened 2013 in the midst of an upswing, trading at $87.97. But going into spring the company stalled badly, at one point falling under $83.00 per share. Though Deere was able to pull to $92.88 just weeks later, the company was not able to sustain the momentum and saw its stock price fall yet again, a fall from which the stock would not recover until the end of the year.
In December, Deere was able to mount a sustained upward move that saw the stock close at $91.33. The meager four percent return was dwarfed by the Dow's and S&P's 2013 returns, which were both in the mid to high 20 percent range. Going into the fourth week of February 2014, Deere gave back all of its 2013 progress, trading in the sub-$85.00 range.
The industrial construction equipment business is intimately tied to the residential and commercial real estate construction markets. When those markets boom, it is likely that companies such as Caterpillar and Deere will benefit from the activity. But in times of depressed construction activity these stocks can suffer.
As can be seen by the 2013-2014 stock valuations for these two companies, investors apparently are not expecting a serious enough rebound in construction activity in 2014 to significantly impact the fortunes of Caterpillar and Deere.
Posted-In: construction John DeereEconomics Markets Best of Benzinga
View Comments and Join the Discussion!