Ford vs. General Motors - Who's In The Driver Seat?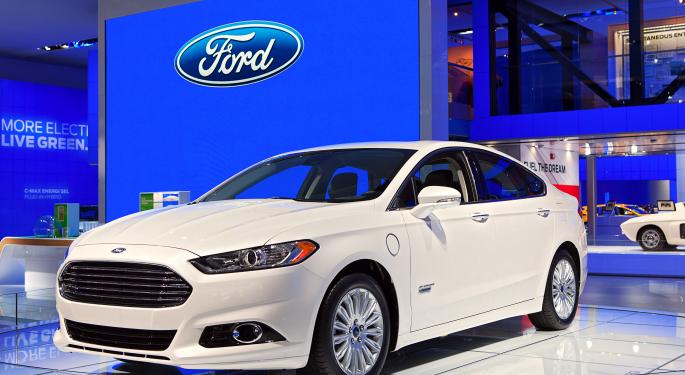 The past five or six years have been a real roller coaster for companies in the American auto industry, much as companies in many American industries. The fate of the big three American auto manufacturers – Ford (NYSE: F), General Motors (NYSE: GM), and Chrysler – were in as much doubt as Detroit itself.
But while the city of Detroit has yet to bounce back, it can be argued that the American auto manufacturer has made a true turn around. Here we will take a look at the two remaining major American auto manufacturers and review how their stocks performed in 2013.
Investors who bought into Ford stock at the beginning of 2013 purchased at a time of a serious upswing. Ford, which had once practically been left for dead, began to move higher in summer 2012, and was still gaining steam on January 2, 2013 – with a price of $13. The stock proved that its rally had legs as it continued higher through much of the year, topping out at $18.02 on October 24.
Related: Exxon Mobil Or Chevron: Which Is The Better Bet?
Investors who sold at the high would have earned a nice return of 38.6 percent. After its October high, however, the stock sold off significantly, closing the year at $15.43. Investors who held the stock for the entire year were left with an 18.7 percent return – well below market averages.
General Motors began 2013 with a stock price of $29. The stock's 2013 performance, combined with that of Ford, helped to convince skeptics that the American auto industry really could mount a historic come back.
GM spent most of 2013 going higher, seeing very little pull back as it rose. Investors who held on to the stock for the entire year would have been pleased, as they saw their investment close at $40.87 - near yearly highs. For the year, General Motors stock returned 40.9 percent – well ahead of the Dow and S&P.
General Motors certainly had a better year than Ford in terms of stock price in 2013. But, whether or not you were an investor in these stocks last year, they can be used to serve as yet another example of American perseverance and ingenuity for all investors and business people.
View Comments and Join the Discussion!
Posted-In: Chrysler Great RecessionEconomics Markets Best of Benzinga