Markets' Interpretation, Not Message, Key to Today's FOMC Releases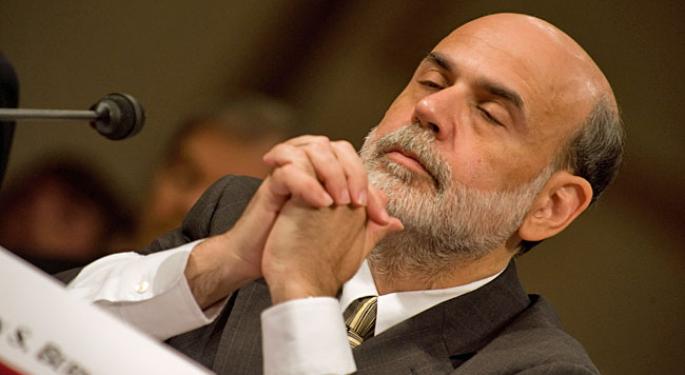 Yesterday's Wrap-Up
U.S. stocks trended upwards throughout the session while Euro-area shares were little changed, with the S&P 500 rising nearly +0.8% to a fresh monthly high. U.S. May CPI rose slightly less than estimated and core CPI, which excludes volatile energy and food costs, rose +0.2% MoM matching estimates. Building permits missed estimates, dropping -3.1% to 974K compared to the median forecast of 975K. All ten sectors of the S&P 500 closed in the green led by industrials, and volume was slightly lower than average as investors awaited the FOMC release later today. Yields on Treasuries were slightly lower across the curve, with tens down -0.35bps to 2.178%. The commodities realm experienced a typical risk-on day, with crude oil and copper rising while gold declined. The dollar index moved higher by +0.22% and the euro rose +0.28%.
Morning Commentary
U.S. stock futures are little changed this morning ahead of today's FOMC releases at 2pm EST and Bernanke's news conference at 2:30pm. Overnight the currency markets experienced only modest price changes, with the dollar index down nearly -0.1% and the euro just slightly higher. Bank of America's Corporate Master Index OAS (option adjusted spread) rose to a YTD high of 158bps after $5B (corporates) priced yesterday (explanation here). Copper is trading modestly lower at -0.3%, while natural gas is extending gains by +0.8% to $3.937; crude oil is even on the day. Treasuries overnight held steady, but recently yields started moving lower with tens down -2bps on the day to 2.17%. Investors today awaiting the Fed's policy statement and economic projects are looking for details on whether/when the Fed believes the economy is strong enough for the central bank to begin tapering its current open market bond purchases. The market's response is likely to depend on the smaller details of Bernanke's press conference, just as it did on May 22 when in a response to questions before congress he mentioned a hypothetical hawkish scenario, stating that it was possible the Fed could scale back stimulus if economic conditions warrant it. Projections for U.S. economic growth are likely to be cut back close to the median of many private economists.
We will make another release today after Bernanke's press conference. Please check www.themorningsnapshot.com for more.
Today's Economic Data Lineup (EST)
4:30 am: BOE minutes from June meeting
5:30am: Portugal to sell 6M, 18M bills
5:30am: Germany to sell €5B 1.5% 2023 bonds
7:00am: MBA mortgage applications, June 14 (prior 5%)
2:00pm: FOMC seen holding overnight bank lending rate target between zero and 0.25%
2:00pm: Release of Fed's Summary of Economic Projections
2:30pm: Fed's Bernanke to hold news conference
North America
· FOMC releases and Bernanke's press conference following are set to be the highlight of the day.
· According to Bloomberg, Wall Street banks, buoyed by record stock-market prices and high-yield bond issuance, probably will report a jump in second-quarter trading and investment-banking revenue from the same period a year ago.
Europe
· Cypriot President Anastasiades said creditors must urgently provide a long-term solution to restore the nation's biggest bank to health so that capital controls can be lifted and "devastating" effects to the economy averted.
Asia
· Japanese exports rose more than forecast in May as a weaker yen helped boost the value of overseas sales. The value of shipments abroad increased +10% YoY, the most since 2010 and exceeding the +6.4% median estimate; export volume dropped -4.8%. The data reflects the fact that the yen has slid -12% versus the dollar in the past six months.
· HSBC cut its forecast for Chinese economic growth to 7.4% for both this year and next, down from 8.2% and 8.4% respectively.
· China's one-year IRS (int. rate swap) rose by the most in five years after the central bank refrained from adding funds to the financial system to ease a cash squeeze, causing demand to fall at a government debt auction.
"Try not to become a man of success but a man of value."
-Albert Einstein
The preceding article is from one of our external contributors. It does not represent the opinion of Benzinga and has not been edited.
View Comments and Join the Discussion!