Is The Fed Bluffing?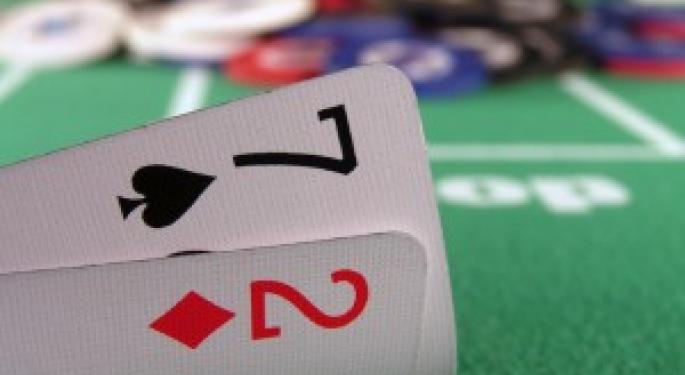 Overview:
Is the Fed bluffing?
Mixed messages from the recent FOMC meeting indicate that the Fed may or may not slow down its fiscal stimulus policy.
Jon Hilsenrath published an article in Friday's Wall Street Journal titled "Fed Maps Exit From Stimulus - Timing of Wind-Down Is Uncertain, but Focus Is on Managing Unpredictable Market Expectations." Hilsenrath has a reputation of pre-announcing major Fed moves to the market.
As a result, bond investors seem to be worried about the Fed laying off the gas pedal, and have begun to reduce their bond holdings.
However, stock investors believe economic data is still in a fragile balance between growth and slowdown. Any major dip in the markets caused by fears of a slowdown will be met with Fed stimulus.
In addition, there is continued weakness in commodity prices and rising inventories, which do not signify a strengthening economy.
The recent actions of the Fed may be in hopes of removing some of the euphoria in equity markets and to send a signal to Congress to enact more fiscally responsible programs... in other words, a "bluff". The Fed does not want to repeat the mistakes of 1937-38 that caused a spike in unemployment, which included the introduction of the payroll tax, high Congressional spending and slowdown in fiscal stimulus.
S&P 500 (SPY) continues to trade in record territory and nearing long-term resistance. The current euphoric state of the market may cause the market to continue trading near resistance levels - until summer, when portfolio managers may reduce leverage in their portfolios.
(click to enlarge)
source: Riverbend Investment Management
Bond investors seem to be thinking the opposite - that the Fed will start to reduce its balance sheet, causing rates to rise and bond prices to drop. US Treasuries (TLT) have seen a dramatic drop since the last FOMC meeting:
(click to enlarge)
source: Riverbend Investment Management
However, commodity prices do not reflect a strong growth cycle in the economy and have failed to keep pace with the S&P 500:
(click to enlarge)
Copper inventories remain high - a negative sign for the economy.
From September 2011′s Economist:
"Copper's excellent conduction of electricity and heat means that it is used not only to cable and pipe the globe. An average car contains over 25kg of copper; electronic gadgets, from PCs to mobile phones, use copper for wiring and contacts. Its ubiquity means that rising demand should provide an early indication of an uptick in manufacturing and construction. Copper sagged in the early stages of the credit crisis, for example, and then started to pick up at the end of 2008, some months before the stock market began to rebound."
(click to enlarge)
While Monetary Base is still expanding:
(click to enlarge)
So, Is the Fed bluffing?
FOMC's goals may be to "talk" the euphoria out of equities and to bluff Congress into cutting spending.
(click to enlarge)
Ben Bernanke may be worried we will repeat the 1930s "recovery"-
1938:
Payroll tax introduced
Fiscal stimulus starts to unwind
Unemployment spikes
Source: NY Times
The following article is from one of our external contributors. It does not represent the opinion of Benzinga and has not been edited.
View Comments and Join the Discussion!