Danger: Market Sentiment Too Bullish in This Sector?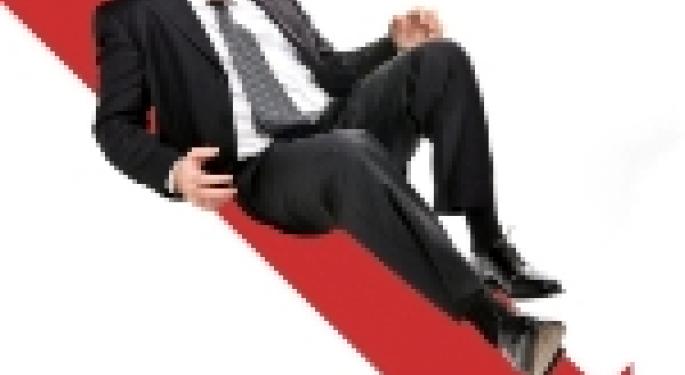 By Sasha Cekerevac for Investment Contrarians
One of the most dangerous periods for an investor is when they become too complacent. As the combined view of all investors, market sentiment ends up becoming overly bullish, running far ahead of the fundamentals. This has now occurred in several sectors, but one that investors should be aware of is in bank stocks, especially in Europe.
Bank stocks around the world have risen tremendously, pushed higher by a wave of positive market sentiment. The general consensus is that following the financial crisis over the last few years, the worst is over. I would caution investors that there are still significant hurdles for many global bank stocks.
Recently, the Bank of England stated that many investors are underestimating potential risks. As we all know, the global economy is still weak, yet share prices have soared, including bank stocks. Market sentiment has shifted from massively bearish to extremely positive over the past couple of years.
As the minutes of the Bank of England's last meeting note, the committee recommended that bank stocks in the U.K. raise an additional $38.0 billion for potential pitfalls related to the euro area as well as their real estate exposure. (Source: Moshinsky, B., "BOE Says Investors May Be Taking 'Too Rosy' a View of Stresses," Bloomberg, April 5, 2013.)
Investors have piled into bank stocks with positive market sentiment on the belief that the worst is over, especially in Europe. Many bank stocks within Europe are closely intertwined with other nations on that continent. As we've just seen from the recent Cyprus fiasco, there are still significant pitfalls ahead.
Market sentiment is clearly being pushed upward by the aggressive and unprecedented stimulus provided by the global central banks. However, at some point, the fundamentals do matter. Considering how high bank stocks have moved on this wave of market sentiment, I would certainly look to take profits and avoid these bank stocks.
Europe is still mired in a deep economic slump with little sign of an exit. Many bank stocks that have exposure to Europe may face significant problems if a larger country encounters a financial crisis. The problems on that continent are far from resolved, and market sentiment does not appear to be matching the underlying fundamentals of these bank stocks.
While American bank stocks seem to be in better shape, especially considering they have less exposure to Europe, bank stocks in many other parts of the world, including the U.K., should be avoided.
As an example of a problem that most people are not aware of, the Netherlands is now encountering its own housing bubble that is bursting. That nation has a debt-to-income ratio of approximately 250%, far above Spain, which reached a debt-to-income of 125% in 2011. (Source: Schult, C. and Sieth, A., "The Netherlands Falls Prey to Economic Crisis," Spiegel International, April 2, 2013.)
Bank stocks today are global in nature, and a crisis in one nation could easily spill into another. Market sentiment is not properly evaluating the potential contagion effect that another crisis could set in motion. Most investors believe that the worst is over; however, the situation is just beginning to worsen for other nations.
Always be cautious when market sentiment rises far above the underlying fundamentals for any sector. Bank stocks are closely linked to the economics of a nation and the world. As we all know, the global economy is not growing rapidly, and neither are the largest nations in the world. I believe market sentiment for bank stocks has moved far too high, and this spread will revert back to more normal levels.
This Article Danger: Market Sentiment Too Bullish in This Sector? was originally published at Investment Contrarians

The preceding article is from one of our external contributors. It does not represent the opinion of Benzinga and has not been edited.
Posted-In: Economics Markets Trading Ideas
View Comments and Join the Discussion!