Slowing World Economy Will Make 2013 Rough
By Poly
Equities took a significant overnight drop on Thursday when talks of a fiscal cliff breakdown hit the wires. The drop only served the purpose of keeping this 100 point 1st Daily Cycle from getting to far ahead of itself. The decline has only taken the S&P right back to its rising 10dma where I expect the next rally to a DC Top will begin. With a good 10 days left before a normal DC Top is expected I believe we will first see another drop on Monday the 24th that is followed by a rally starting from the 26th. The top of this Daily Cycle will likely be a failed challenge of the cyclical bull market highs (1,472 area). In all likelihood this Daily Cycle will top right in that area and will be the cue for a chorus of double top callers.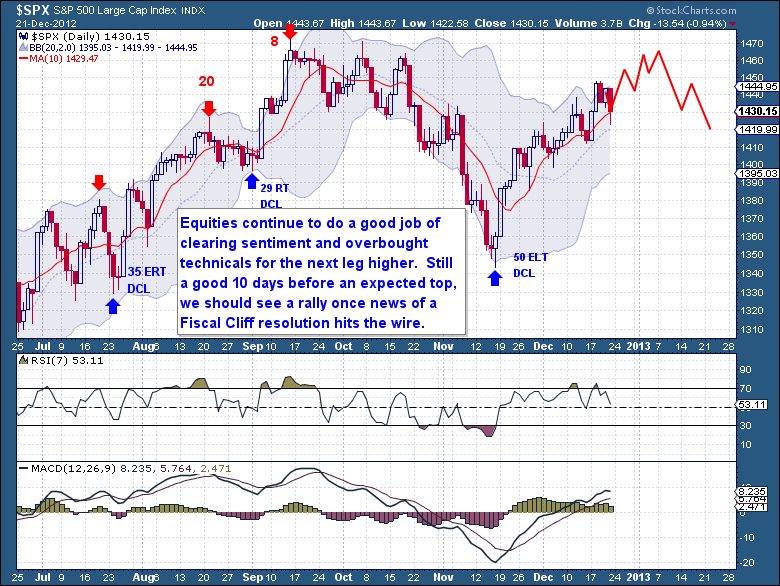 The Investor Cycle still looks young and solid, again I see no reason not to expect at least a challenge of the Cyclical bull market highs. From a technical standpoint the market breadth remains positive, new highs continue to increase, and the bullish percent index is rising. The Cycle is only on week 6 while the technicals remain bullish and sentiment is in check.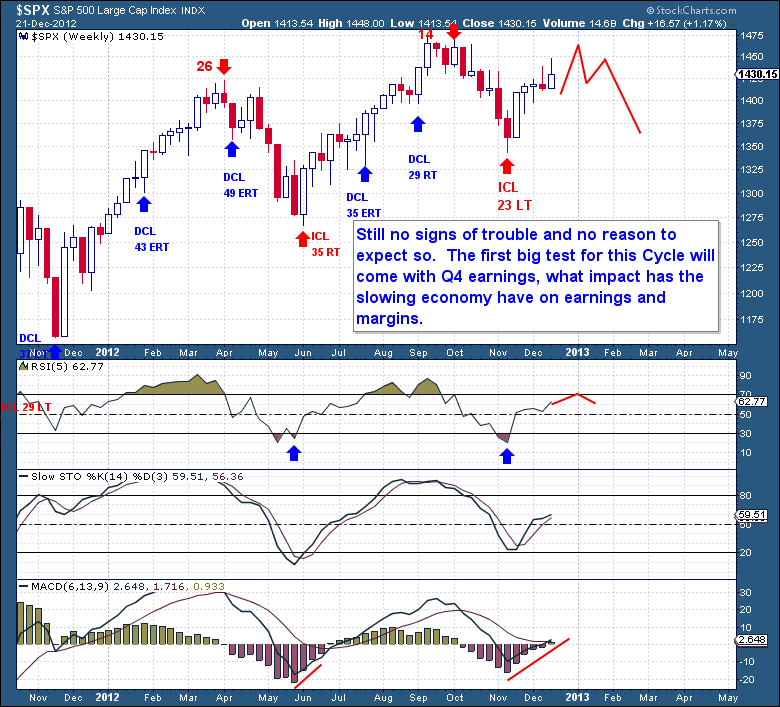 Technically this market is yet to show the signs of what is likely to be a very significant decline in 2013. The 4 Year Cycle has stretched into a 5th year as the FED has prolonged the natural business Cycle out with their accommodating policies. Because the environment is so very accommodating (ZIRP + QE) it's going to take a fundamental shift in the underlying economy to force equities to peak and decline into a 4 Year Cycle Low. It's no secret that the world economy is slowing, but as long as corporations can respond with aggressive cost reductions to contain margins and the liquidity keeps flowing into these assets, this market will continue to push higher. At some point the slowdown in the world economy will be such that earnings will suffer and no amount of liquidity will justify the rapidly expanding valuation multiple. Until then, the trend remains upwards and this Cyclical bull market marches on.
This as is an excerpt from this weekend's premium update focusing on equities from the The Financial Tap, which is dedicated to helping people learn to grow into successful investors by providing cycle research on multiple markets delivered twice weekly, as well as real time trade alerts to profit from market inefficiencies. They offer a FREE 15-day trial where you'll receive complete access to the entire site. Coupon code (ZEN) saves you 15%.
Related Posts:
Desperately Seeking A Gold DSL-Daily Cycle Low
Markets Slip Into Half Cycle Low On QE News
US Dollar Could Be Nearing Endgame
The following article is from one of our external contributors. It does not represent the opinion of Benzinga and has not been edited.
Posted-In: Economics Markets Trading Ideas
View Comments and Join the Discussion!