Cadbury Melts To Kraft's Takeover Offer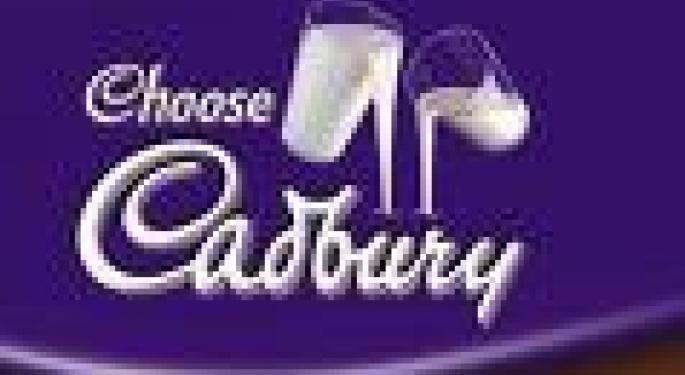 American food company Kraft Foods (NYSE:KFT) has reached an agreement with Cadbury (LON:CBRY) for acquisition of the British confectioner for an estimated $19 billion. The Cadbury board has advised its shareholders to accept a new offer of 840 pence a share.
Kraft said the deal would create a "global confectionery leader". But there are renewed fears over possible job cuts at Cadbury's UK operations as a result of the agreed takeover.
The Kraft Foods-Cadbury deal must be the least friendly "friendly" deal in history, says a report by MarketWatch. Source It's not simply that Cadbury pretended to be insulted by Kraft Foods valuation.
That's fair enough -- after all, it was the London Stock Exchange that most famously trotted out the phrase "derisory" in reference to a takeover bid, so nothing wrong with Cadbury adopting similar language.
And for the U.K. chocolate producer to ask for a better bid, well, that's what investors expect management to do. But what was unusual about Cadbury's defense is the ferocity with which it attacked Kraft as a company. Cadbury management had little choice but to accept the Kraft offer, even as it frowns on the way to the altar.
Unions have expressed concerns that the Kraft takeover could cost jobs.
The company has given no specific assurances over UK jobs, though it says it wants to invest in the Bournville site and maintain production at Somerdale, near Bristol, also known as Keynsham.
It has not ruled out cuts, and staff numbers at Cadbury's head office in Uxbridge are expected to be reduced, according to the BBC's business editor Robert Peston.
Kraft, which makes everything from Oreo cookies to American cheese slices, had met resistance from some of its shareholders over its pursuit of Cadbury.
Earlier this month, billionaire investor Warren Buffett, whose Berkshire Hathaway is Kraft's biggest shareholder, voted against Kraft's proposal to issue new shares for its takeover bid.
View Comments and Join the Discussion!