As your business begins to grow, implementing a customer relationship management (CRM) system can help you keep client details in order. When most business owners decide to implement a CRM system, Salesforce is one of the first options they research. Though Salesforce does provide a comprehensive range of marketing, commerce, sales and analytics solutions, it's not right for every business.
Undecided if Salesforce is right for your small business? No matter if you're looking for features that Salesforce doesn't offer or you're just interested in learning more about your options, we've rounded up 5 of our favorite Salesforce alternatives.
The Importance of CRMs
An old business saying dictates that the "customer is king" but businesses that cater to their customers effectively and efficiently are rewarded. What happens, however, when your customer base becomes too large to handle on your own?
A CRM system can help small business owners stay on top of customer needs and even provide valuable insights on consumer data. CRMs offer your team a one-stop dashboard to keep client data and information organized and often act as marketing and analytic tools.
Depend on the CRM system you choose, your CRM might help you with:
Organization: One of the biggest benefits of using a CRM system is that it keeps your customer data in one place that's easily accessible with all of your team members.
Data collection: Most CRM systems allow you to learn about your customers, including who they are, what they frequently purchase and which types of emails they're more likely to open. Many small business owners use their CRM systems to create email blasts and track the results as the system collects click and opening data.
Project management: If you have multiple projects that team members are working on, you can often use your CRM system to track progress, assign tasks and create plans.
Automation: If your CRM system offers email automation, you can set up auto-replies to some of the most common questions or concerns your business receives. This frees up management time to work on other projects. Some CRM systems even allow you to create your own onsite chatbot to assist customers in real-time.
Salesforce is the most well-known CRM system, but there are plenty of Salesforce alternatives offering competitive pricing and even more features.
The Best Salesforce Alternatives
Now that you understand what a CRM is and why it's important, let's take a look at a few of our favorite Salesforce alternatives.
1. Best Overall: HubSpot CRM
HubSpot CRM is designed to lex to your needs. Because Salesforce is used in a range of industries, Hubspot, too, can be used with a range of businesses.
When you sign up for HubSpot's CRM, you don't need a credit card and it's free for life.
Choose which type of professional or business you are:
Sales leader
Salesperson
Marketer
Customer service professional
Operations manager
Business owner
Once you get into the HubSpot CRM, you can set up forms, live chat or chatbots, track prospects, etc. Because the platform is so versatile, you can manage yourself, your team or your company from one program. You can even use the HubSpot mobile app on the go.
Best Features:
Multiple formats
Chatbot and live chat options
Create online forms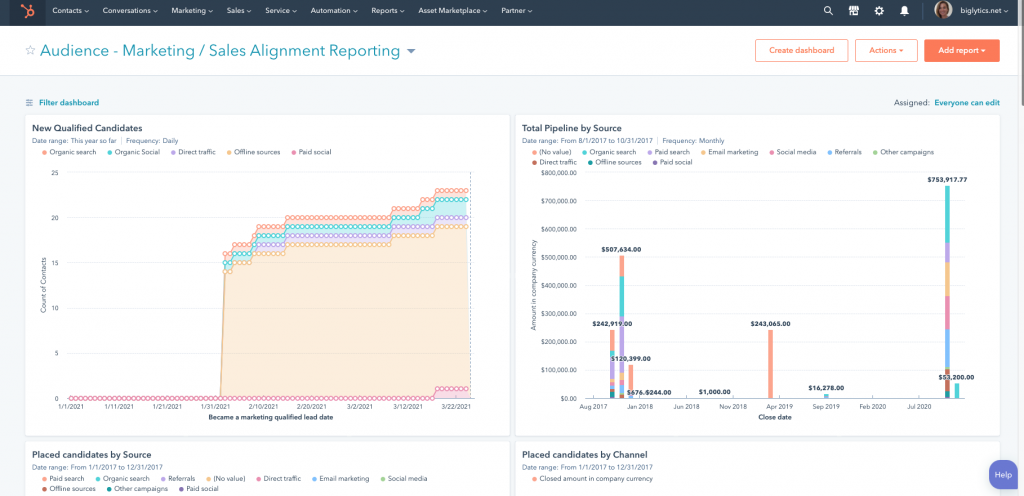 | | |
| --- | --- |
| Pricing | Free |
| Email Tracking | Yes |
| Sales Forecasting | Yes |
| Storage | Up to 1 million contacts |
| Account Insights | Included |
2. Best for the Non-Tech Savvy: Pipedrive
Pipedrive is a simple CRM that also doubles as a project tracking and management tool. Easily track email, call and other communications and organize them by client or task. When tracking the status of a project, simply drag and drop tiles through your process.
Pipedrive also allows you to automate repetitive administrative tasks, and you can even create an artificial intelligence (AI) chatbot for your site without a degree in programming. Perfect for anyone looking for a simple Salesforce alternative, Pipedrive is an excellent choice.
Best features:
AI chatbot creation
Easy tile layout anyone can master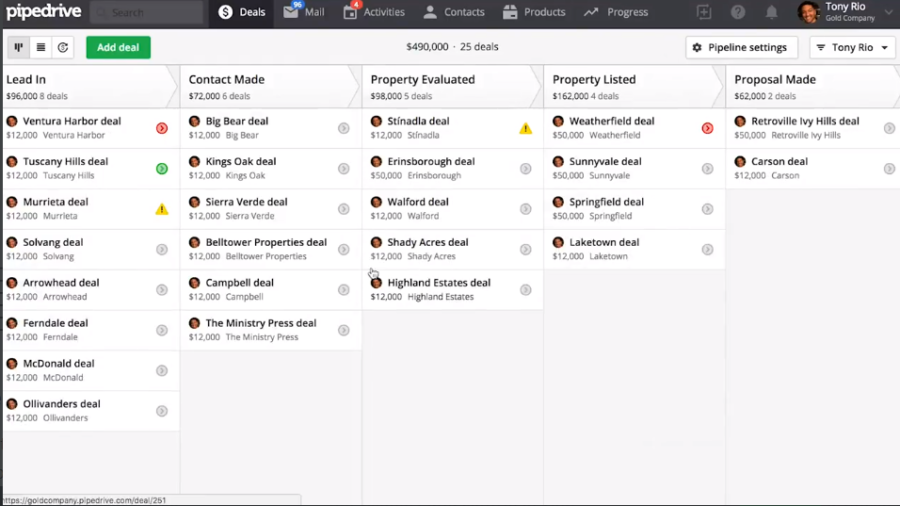 | | |
| --- | --- |
| Pricing | $12.50 to $99 per user per month depending on package |
| Email Tracking | Included on advanced options |
| Sales Forecasting | Included |
| Storage | 2 gigabytes of data per user |
| Account Insights | Included |
3. Most Affordable: Agile CRM
If you're in charge of a very small operation, Agile CRM offers a functional and affordable option. Agile CRM is free for the first 10 users on your account — you don't even need to enter credit card information so long as you have 10 or fewer users. Agile CRM allows you to automate your sales, marketing and customer response tasks from one convenient desktop platform. Easily integrate apps like Google Drive and Twitter to make outreach even easier and track your email performance over time. Agile CRM even offers a unique "gamification" system that makes hitting your targets more fun.
Best features:
Fun sales "gamification"
Affordable pricing
| | |
| --- | --- |
| Pricing | Free for first 10 users; $8.99 to $47.99 per user per month depending on package |
| Email Tracking | Included on all packages |
| Sales Forecasting | Included on all packages |
| Storage | N/A |
| Account Insights | Included on paid accounts |
4. Best for Sales Features: Really Simple Systems
If you're looking for top-of-the-line sales features, you'll love the aptly named Really Simple Systems. It can help you estimate the probability of success of any given sales strategy based on past data and track it through your sales pipeline. Use the "Opportunity Lines" feature to create a breakdown of tasks, to-do's and other notes on each sales opportunity.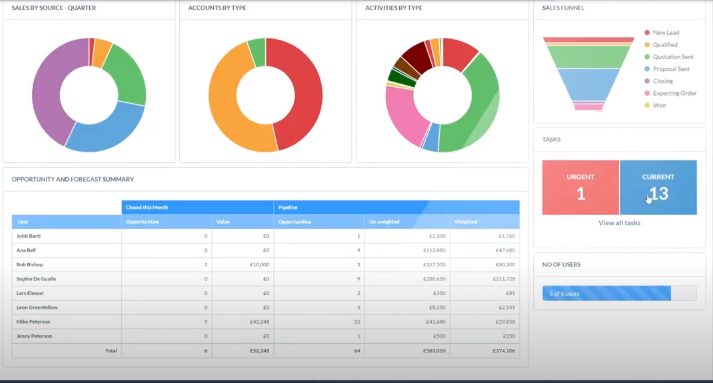 Really Simple Systems allows you to quickly install varying levels of user permissions, meaning that you can limit data available to newer or lower-level team members. Really Simple Systems also offers marketing and automation features as well, but its sales powers are what makes it stand out among competitors.
Best features:
Comprehensive sales functions
Free for the first 2 users
| | |
| --- | --- |
| Pricing | Free for first 2 users; $14 to $46 per month depending on package |
| Email Tracking | Included with higher-level accounts |
| Sales Forecasting | Included on all packages |
| Storage | 100MB to unlimited |
| Account Insights | Included |
5. Best for Social Media Management: Zoho CRM
Social media has changed the way almost every business markets its products and interacts with customers. If your brand has a social media presence, you'll love Zoho CRM's comprehensive social media management and analysis tools. Zoho can keep track of what customers are saying about your brand across a variety of channels and platforms and use these to create new leads in your CRM.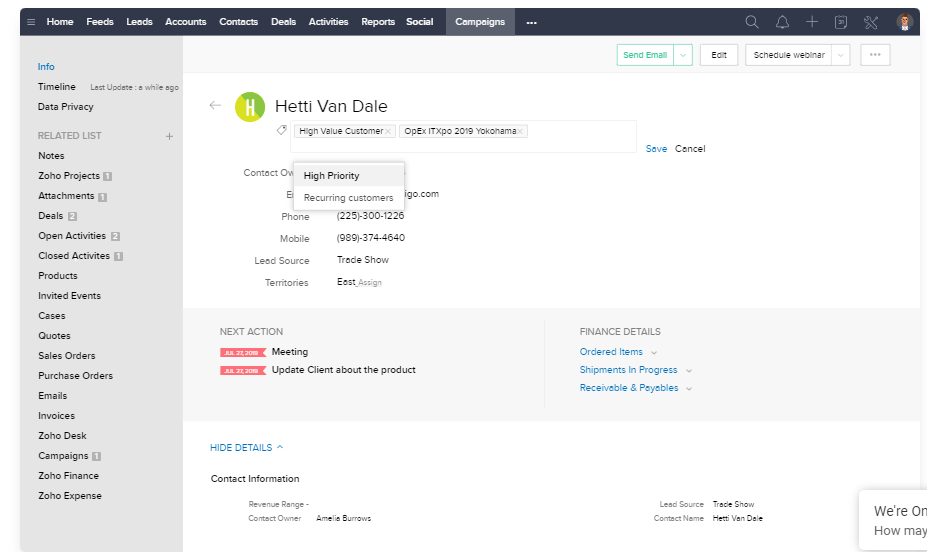 Zoho CRM also offers impressive analysis tools. Zoho is one of the only CRMs that will analyze your social media data on your behalf, which can save you time and money. From sharing content to identifying influencers to partner with, Zoho CRM is a social brand's best friend.
Best features:
Comprehensive social media analytics
Free for the first 3 users
| | |
| --- | --- |
| Pricing | Free for the first 3 users; $12 to $100 per user per month depending on package |
| Email Tracking | Included on all packages |
| Sales Forecasting | Included on paid packages |
| Storage | 1 GB |
| Account Insights | Included |
6. Best for Integrations: Insightly
From Google Drive to Mail Chimp, your business probably already has some form of collaborative software already in place. Insightly effortlessly combines its powerful CRM with over 250 business apps on each of its 3 plans.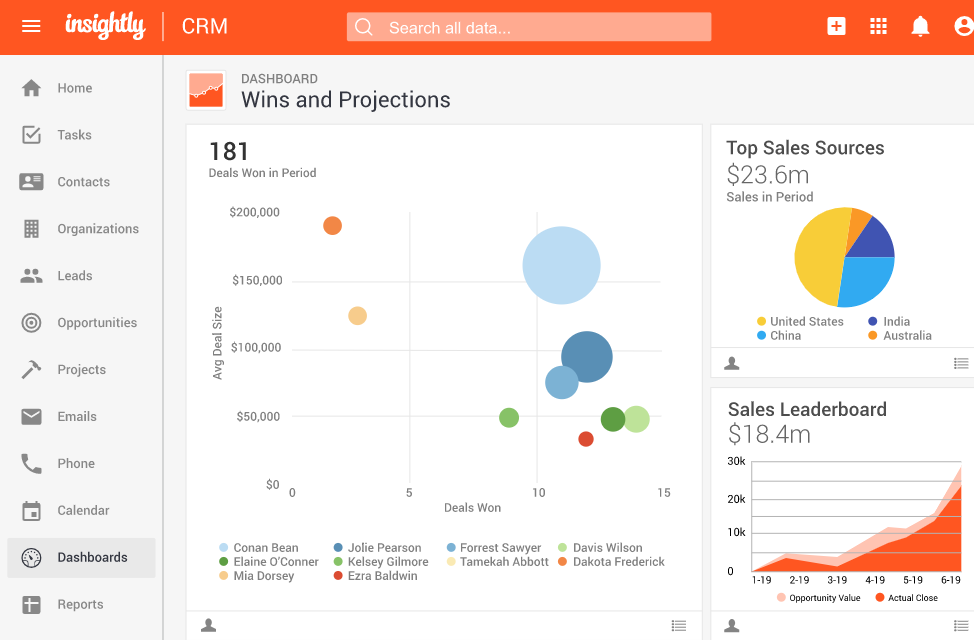 Insightly also offers a number of engaging marketing tools to complement its CRM. Create detailed visualized customer journeys and create complex, multistep automation processes to further streamline your user experience. Insightly also offers detailed reporting on your email blasts, allowing you to see click-through and open statistics in real-time.
Best features:
High number of apps that your business can integrate
Excellent visualization and graphics
| | |
| --- | --- |
| Pricing | $29 to $99 per user per month |
| Email Tracking | Included on all packages |
| Sales Forecasting | Not included |
| Storage | N/A |
| Account Insights | Included |
Managing Your Customer Relations With the Right CRM
It's impossible to say exactly which CRM is the "best" because the best system will depend on the unique needs of your team and the nature of your business. If you have a business that's heavily involved on social media and does most of its marketing through ads on Facebook or Twitter, for example, Zoho CRM's comprehensive social media analysis might be something your team uses daily. However, if you're a small business focused mostly on in-person sales and projects, you may need the simplicity offered by a CRM like Pipedrive.
No matter what your business needs to manage customer relations, don't be afraid to take a few options for a "test drive" before you make your final choice. Most CRM companies allow you to add a few users for free before subscribing — so you might want to ask your upper-management to test out a few different systems to see which works best for your staff and your marketing methods.