Dropshipping software holds excellent appeal if you run an eCommerce website.
There is no need to stock inventory and manage product shipments, leaving you with more time to focus on marketing and building up an audience for your store. You are only billed for the products that you sell, which is very appealing to most entrepreneurs.
Using dropshipping software to jumpstart your online business has far fewer risks, can be set up quickly, and allows you to sell many more products on your site.
Quick Look: The Best Dropshipping Software
Best for Reliable and Efficient Order Fulfillment: The Fulfillment Lab
Best for Shopify Integration: Oberlo
Best for Shipping in the U.S. and Europe: Spocket
Best for Woocommerce Integration: Yakkyofy
Best for Fulfillment on Multiple Platforms: Jolt Fulfillment System
Best for Low Fulfillment Pricing: Syncee
The Best Dropshipping Software
Let's dig deeper into the details of the 5 best dropshipping software to grow your ecommerce business. 
The Fulfillment Lab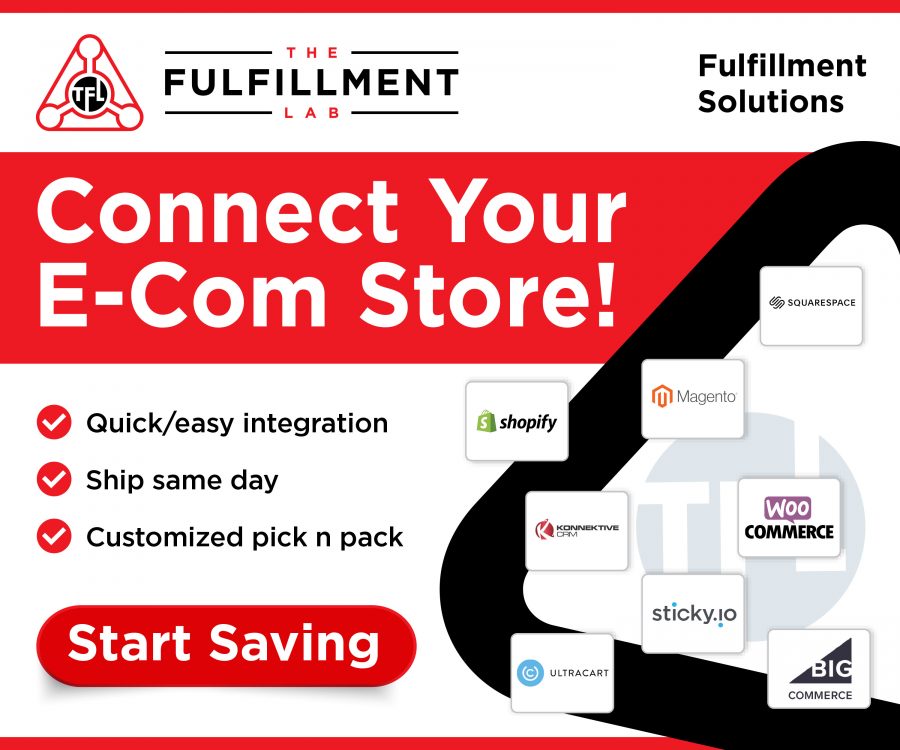 Get started
securely through The Fulfillment Lab's website
1 Minute Review
As technological advancements continue to transform the e-commerce landscape, businesses are engaged in fierce competition for customer attention and loyalty, driving a need for constant adaptation and innovation. Fast and efficient order fulfillment is crucial for driving customer loyalty and sales. A study by Dotcom Distribution found that 87% of online shoppers consider shipping speed when deciding whether to shop with an e-commerce brand again. However, many businesses lack efficient order fulfillment strategies. That's where The Fulfillment Lab (TFL) comes in.
Founded in 2012 and headquartered in Tampa, Florida, The Fulfillment Lab is a leading third-party logistics (3PL) and e-commerce fulfillment company that offers comprehensive services to help businesses manage their supply chain and streamline their order fulfillment processes. The company provides various services, including warehousing, order fulfillment, inventory management and shipping solutions leveraging its state-of-the-art facilities, cutting-edge technologies and team of experienced professionals. 
The company also offers customized solutions tailored to each client's unique needs. Its commitment to customer service and efficient operations has earned them a reputation as a trusted partner for businesses of all sizes. TFL's technology-driven approach and expertise ensure that clients can focus on growing their businesses while leaving the logistics to the experts. Benzinga spotlights TFL, explaining how its services can help you fast-track order fulfillment and turbocharge your e-commerce businesses. 
Best For
E-commerce business owners seeking reliable and efficient partners for their order fulfillment and shipping needs
Startups and small businesses looking to outsource their logistics and warehousing operations to a trusted third-party provider
Entrepreneurs who want to focus on growing their business and sales instead of worrying about the logistics of order fulfillment
Companies expanding into new markets or launching new product lines that need a flexible and scalable order fulfillment solution.
Online retailers who want to provide their customers with fast and reliable shipping and delivery options to boost customer satisfaction and loyalty
Pros
Robust and agile proprietary software — Global Fulfillment Software (GFS), to expedite and streamline order fulfillment
Dynamic integration with over 40 e-commerce platforms, including Etsy, Shopify, eBay, Amazon and BigCommerce
Real-time inventory tracking using its proprietary management software
In-house design and printing services for personalized marketing campaigns with client orders
Custom packaging and shipping materials
Excellent global or international presence
Efficient customer services across diverse channels
Cons
Available in only two locations in the U.S.
Lack of transparent pricing (no upfront estimates)
Unavailability of climate-controlled facilities
In the eCommerce space, there's quite a lot going on for every retailer. You're selling products to consumers who expect a fast turnaround, but how can you make the most of your business and get the fulfillment services you deserve?
When you use The Fulfillment Lab, you can take advantage of a 3PL service that leverages state-of-the-art facilities, processes, order fulfillment, warehousing solutions, inventory management options, shipping and more. As you take advantage of these services, you can foster greater loyalty amongst your customers, and you also get:
Reliable 3PL services
Support for startups and established small businesses
Logistics and warehousing options
The ability to grow your business
Scalable fulfillment services
Agile proprietary software
Global fulfillment services (GFS)
Integration of over 40 platforms, including Etsy, Shopify, Amazon and more
Real time inventory tracking
Quality customer services
While climate-controlled facilities are not available, you still have an incredible opportunity to streamline the options you have for shipping to your eCommerce customers. As you can promise better service for your clients, your business will grow that much faster.
Oberlo Software
Oberlo is an excellent option for Shopify sites that would like to incorporate dropshipping products into their stores. We chose Oberlo for many reasons, but we love how with the Oberlo Chrome Extension, product listings can be imported directly from AliExpress. Sellers can customize product data and images to match their personal branding.
Oberlo is useful in tracking market sales trends, order volume and competitor data to help sellers choose suitable products. Users also love the clean, user-friendly interface.
The one con of using Oberlo as your dropshipping software is only available for the Shopify platform.
Anyone building a side hustle, passion project or full-time career using Shopify will love Oberlo.
Oberlo offers 3 plans. The Starter Plan is free with a limit of 500 product listings. The Basic plan is $29.90 per month for 10,000 listings, and the Pro Plan is $79.90 for 30,000 products.
5 Stars
Spocket
There is a lot to love about Spocket. We picked it as one of the best dropshipping software because it does a fantastic job of carefully vetting suppliers. In fact, 70% of Spocket's suppliers are in either the U.S or Europe, so they offer super fast delivery times.
Merchants and customers are consistently pleased with fast shipping, quality products, branded invoicing, and a top-notch customer support team. Unlike Oberlo, Spocket integrates with both Shopify and WooCommerce stores.
Some businesses do not like how suppliers are only located in the States and the EU. If you want to ship products from suppliers residing outside these parameters, you will pay higher shipping rates and have longer shipping times.
Sprocket is best for those looking to partner with dropshipping suppliers from the United States and EU.
The free plan is not as generous as Oerlo, as it only allows 25 listings. Once it's time to grow, you will need to upgrade to The Pro Plan for $49 per month ($29 per month when paid annually). This plan lets you list 250 products. Prices increase to $99 per month ($79 per month when paid annually) with unlimited product listings.
5 Stars
Yakkyofy
We chose Yakkyofy as it helps Woocommerce shop owners to automate the management of their store completely. Okay, maybe we decided Yakkyofy because of its quirky name as well!
Some of the positives of using Yakkyofy is that it works with Woocommerce and Shopify, offers product discounts if you have more than 1 store, dropship products with private labels, and offers quick delivery within 5 to 10 days from numerous countries.
Users sometimes report frustration with the user interface and find it challenging to navigate at times.
Yakkofy is best for dropshippers, eCommerce owners and online business owners.
It is completely free! There are no monthly listing charges at all.
4 Stars
Jolt Fulfillment System
Jolt Fulfillment System is undoubtedly one of the best dropshipping software platforms if you are selling on 3 or more platforms. They remove the chaos of taking orders and processing shipments (which is bound to happen as you expand), so you can focus on growing your business and supporting your customers.
The best part about Jolt is that it is a dropshipping platform that integrates with Amazon, eBay, Google Shopping, BigCommerce, Shopify, Magento, Quickbooks, UPS and others.
Jolt does not have as many features as the more popular dropshipping software platforms, but it makes up for it in excellent customer service. We also found the website to be much more confusing than other dropshipping software companies.
Jolt is best for eCommerce distributors selling on three or more platforms.
Accurate pricing is only available by filling out an estimate request on the Jolt website.
3 Stars
Syncee
Syncee is a global marketplace of suppliers. When you partner with Syncee, you can explore dropshipping suppliers worldwide.
One advantage of using Syncee is that when you browse the Syncee Marketplace, you will find only pre-vetted suppliers with quality products and fast shipping. Many users choose Syncee as their dropshipping software as they also offer many niche items that cannot be found elsewhere.
One con is that you can experience longer delivery times since you are dealing with worldwide suppliers.
Syncee is the best for ecommerce sites looking for worldwide suppliers.
When you sign up with Syncee, you can pay monthly or yearly, but it's cheaper to pay annually. The free plan only allows you to list 25 products, but the Basic Plan offers 500 listings for $29 per month. Pricing increases as you increase the number of products you list.
4 Stars
What are the Benefits of Using Dropshipping Software?
There are 3 excellent reasons that every ecommerce retailer should consider drop shipping software.
Low Overhead Costs
Gone are the days of investing a lot of money upfront to house expensive inventory. Dropshipping software stocks inventory and fulfills orders, so you don't have to hold on to inventory yourself. Merchandise is only purchased by the business when a customer makes a purchase.
Easy Set Up
Using dropshipping software allows you to get your ecommerce business up and running fast. Since you are skipping the traditional supply chain, you can create an entire ecommerce business within a few days.
Sell More Products
Using dropshipping software lets you sell a broader range of products on your website. For example, you don't have to worry about stocking many different colors or sizes, you can simply list them on your site, and your supplier can deal with the rest.
What to Look for in the Best Dropshipping Software
When choosing between the various dropshipping software, the following factors will streamline the day-to-day running of your dropshipping business, so you can spend time marketing and growing your business.
Factor #1: Product Search and Import
Look for dropshipping software that lets you search, choose, and import the products you want to sell. Make sure popular dropshipping product marketplaces such as AliExpress, Alibaba and Oberlo are included. Some software contains advanced product research features for identifying profitable products.
Factor #2: Manage Listings
Quality software will have comprehensive listing management tools. These help you to download product information, make edits, and publish product listings.
Factor #3: Shipment Tracking
A shipment tracking feature will automatically update your sales channels with shipping and tracking details from your supplier.
Factor #4: Reporting
Software that produces quality reports enables you to monitor your performance and sales to evaluate profits and execute future strategies.
Factor #5: Automation for Inventory and Price
Inventory and price automation are critical when choosing the best dropshipping software. Inventory automation syncs product data directly from your suppliers with your listing tool, including stock, SKU and pricing information. Pricing automation lets you create pricing markup rules to price and re-price products in your store automatically.
It's Time to Dropship Some Products
As you can tell, there are many great choices when it comes to dropshipping software. Take some time to do a bit of research, and before you know it, you will be selling products quickly and easily.