Are Boeing, Delta And Exxon 'Zombie Companies' Or Value Stocks?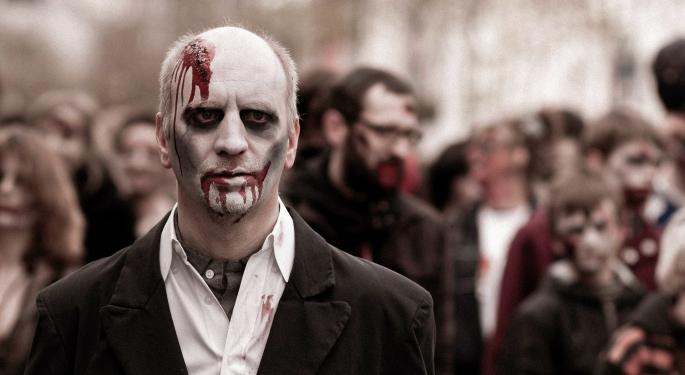 The economic downturn and subsequent government stimulus measures in 2020 has led some analysts and traders to use the phrase "zombie companies" to describe companies that would not be surviving without financial support from the government.
On Thursday, DataTrek Research co-founder Nicholas Colas defined zombie companies and drew distinctions between true zombies and value stocks that could make for excellent economic recovery plays.
What Is A Zombie Company? Colas said a zombie company is a business that is not generating enough operating income to cover its interest expense. He said the phrase has risen in popularity this year due to concerns that the Federal Reserve has created an entire group of zombies due to its corporate bond buying stimulus program.
According to a new Bank of International Settlements paper, the number of zombie companies has been steadily rising since the late 1990s, but Colas said one investor's zombie is another investor's cyclical value stock. Precious metals and oil and gas stocks are two examples of groups that include many companies that haven't been profitable since the commodity price bust of 2015 and 2016.
However, Colas isn't sure all of these companies are necessarily permanently impaired.
In addition to commodity stocks, cyclical consumer stocks, pharmaceutical stocks and other groups also have zombification rated above 10%.
Related Link: Here's How Much Investing $1,000 In Boeing On The Day The 737 Max Debuted Would Be Worth Today
Value Stock Or Value Trap? Colas said the zombie analysis can be useful, but it seems to be overused in the 2020 climate, particularly when it comes to unprofitable stocks like Exxon Mobil Corporation (NYSE: XOM), Boeing Co (NYSE: BA) and Delta Air Lines, Inc. (NYSE: DAL).
"Companies like Exxon, Boeing, and Delta are being labeled zombies because they are currently unprofitable and have taken on considerable fresh debt to weather downturns in their businesses," Colas said. "At the same time, all 3 are expected to return to profitability or at least break even in 2021 and all are off their 2020 stock price lows."
Colas said all three companies will likely have plenty of opportunities to pay down their debt loads by issuing fresh equity once their businesses return to profitability.
Benzinga's Take: As Colas said, identifying a true zombie stock can be useful in that it's unlikely to make for a good long-term investment. However, the unprecedented 2020 economic disruption has made plenty of value stocks appear to be zombies, and some of these stocks will eventually come back to life once a coronavirus vaccine is widely available.
View Comments and Join the Discussion!
Posted-In: DataTrek Research Nicholas ColasAnalyst Color Top Stories Analyst Ratings Trading Ideas Best of Benzinga