Everything You Need To Know Ahead Of The G20 Summit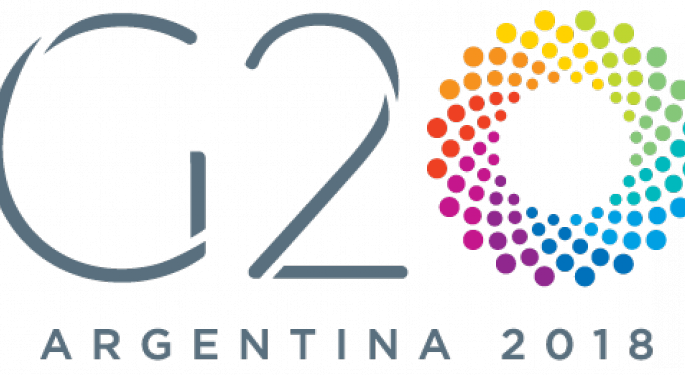 The 2018 G20 summit will be held in Buenos Aires, Argentina starting Friday, and this year's meeting is lining up to be an extremely important one for global financial markets.
The two major areas investors will be watching at this year's event will be any developments on the international trade war and any deals on oil production between the U.S., Russia and Saudi Arabia.
Oil Deal
Oil and other commodities could potentially finally stabilize following the G20 summit, according to Goldman Sachs analyst Jeff Corrie. He told Bloomberg this week commodity prices have taken a hit due to excess global supply of oil and the ongoing trade war.
"If we can see either a pause or a deal on the trade war this coming week, as well as some type of agreement between Russia, the United States and Saudi...that's the basis of our call here," Corrie said.
While Trump has pressured Saudi Arabia for lower oil prices in recent months, Corrie said $50/bbl oil prices are a bit too low.
Trump has been criticized in the U.S. media for his support for Saudi Arabia and the Crown Prince after the U.S. CIA concluded bin Salman ordered the murder of journalist Jamal Khashoggi.
On Wednesday, Trump said he canceled his planned meeting with Russian President Vladimir Putin, "Based on the fact that the ships and sailors have not been returned to Ukraine from Russia."
Trade War
On the trade war front, White House economic advisor Larry Kudlow said on Tuesday trade talks between the U.S. and China have been heating up ahead of the summit.
"We're having now a lot of communication with the Chinese government at all levels," Kudlow said. "We were at a total standstill. Nothing was going on."
Trump has scheduled a meeting with Chinese President Xi Jinping this week ahead of the potential implementation of a 25-percent import tariff on Chinese goods set to begin Jan. 1. Kudlow's comments come after Trump reiterated a threat Monday to tack on duties on an additional $267 billion in Chinese exports if a trade deal isn't reached.
Trump has also threatened to impose auto tariffs on Europe and Japan that officials have said could cost him his fragile remailing international alliances.
Market Expectations
According to Shawn Cruz, senior trading specialist at TD Ameritrade, expectations for the G20 summit have been set appropriately low for the event to serve as a bullish catalyst for stocks.
"They're laying the groundwork in terms of dialing down expectations. I don't think right now that the markets are pricing in that we'll get any sort of clarity from these meetings," Cruz told Benzinga.
"So I think the risk is to the upside ahead of this meeting. I think the more likely surprise is they make more progress than what markets are expecting."
Heading into the G20 meeting, the SPDR S&P 500 ETF (NYSE: SPY) is up 1.5 percent in the past month, while the United States Oil Fund LP (NYSE: USO) is down 24.8 percent. The iShares FTSE/Xinhua China 25 Index (NYSE: FXI) is up 6.1 percent.
Related Links:
Oil, Stocks Hang In Balance Ahead Of G20 Meeting
Trump Threatens To Cut GM's Subsidies
The official logo of the 2018 G20 Buenos Aires summit; Government of Argentina.
View Comments and Join the Discussion!
Posted-In: Analyst Color News Commodities Events Top Stories Exclusives Markets Analyst Ratings Best of Benzinga