Why Did Somebody Aggressively Buy About Half A Million Shares Of Apple Thursday Night?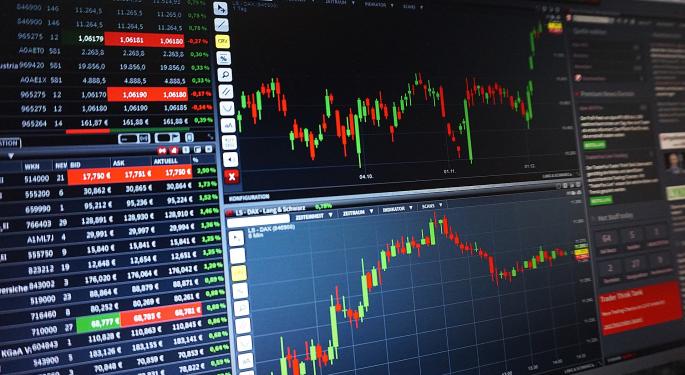 Thursday night was a rough night for tech. Amazon.com Inc (NASDAQ: AMZN) shares traded down $150 after an earnings miss. The Powershares QQQ Trust (NASDAQ: QQQ) was getting hit, as were most tech stocks.
But for some reason, there was an incredibly aggressive buyer in Apple Inc (NASDAQ: AAPL). PreMarket Prep Co-Host Dennis Dick first noticed the strange trading at around 6 p.m.
"Somebody decided that they had to own Apple last night," Dick said on Friday's show. "And I'm not sure if this was forced buying and a potential margin call or something like that, but the buyer just would not stop."
The Trading Action
Between 6-6:30 p.m. Thursday, shares of Apple started to rally. The stock went from down 1.8 percent after hours, which was in-line with the rest of tech, to flat in about a half hour.
"[Apple] gets all the way up to $218, and they flashed huge bids at $218," Dick said. "On two different exchanges, for 200,000 shares a piece. So it shows 400,000 [shares] to buy at $218, and I'm like 'What's this all about?' Then it cancels, and the thing just falls because there's people that are looking at that big bid and buying it up too. But then the buyer comes back. and not only did it come back it came in algorithmic form and it started lifting offers."
Dick estimated that between 7-8 p.m., this buyer must have bought half a million shares.
"On a day Amazon's down 150 points, somebody's buying Apple up a buck after hours. If you just add that up, if they bought 500,000 shares up like $219-$220, times four, you're talking about somebody throwing away $2 million last night," he said.
The Big Question
So the obvious question here is why would anyone do this? While there's no way to know for sure, Dick offered a few possible theories.
"There's no way for us to know why, so all we can do is speculate on the reasoning behind it," he said. "Maybe somebody just absolutely wanted to own Apple and didn't care what the market was doing. That's pretty dumb because they could have bought it for a lot cheaper this morning. But it could also have been forced buying. Maybe there was some kind of margin call or something. It would be weird to see a margin call after hours, it would also be weird to see buying in Apple."
He also posited it could have been a hedge fund blowing up.
"The algorithm was so aggressive, that it almost looked like forced buying. So I think it was either an algorithm gone haywire or a margin call or something. It was just so weird to see Apple getting bought so aggressively on a night that everything was destroyed."
Regardless of the reason for the buying, with Apple trading back down 2.5 percent to around $214 in Friday's session, the buyer is already down huge on this trade.
Listen to the Dick's full explanation at 1:54 in the podcast version of the show below.
PreMarket Prep is a daily trading show hosted by prop trader Dennis Dick and former floor trader Joel Elconin. You can watch PreMarket Prep live every day from 8-9 a.m. ET here. The replay can be found on Benzinga's YouTube channel, and the podcast is on iTunes, Google Play, Soundcloud, Stitcher and Tunein.
Related Links:
How To Trade During A Stock Market Correction
Buy The Dip In Home Builders? A Technical And Fundamental Perspective
Posted-In: Dennis Dick PreMarket PrepEducation Top Stories After-Hours Center Trading Ideas General Best of Benzinga
View Comments and Join the Discussion!