The Duel Over The JUUL: FDA Zeroes In On E-Cigarette Industry, Teen Use Concerns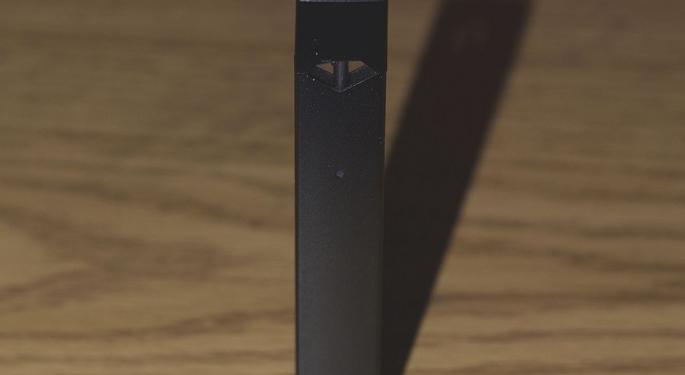 The Food and Drug Administration is eyeing the creation of a regulatory framework for e-cigarettes, a product that government data shows is increasingly popular with teenagers — and tobacco stocks are reacting to the downside.
The FDA started the largest-ever tobacco compliance action in its history and is exploring actions such as targeting flavored products that appeal to youth consumers, Commissioner Scott Gottlieb said in a Sept. 12 statement that name-checked JUUL and four other manufacturers.
"Let me be clear. This may require these brands to revise their sales and marketing practices, including online sales; to stop distributing their products to retailers who sell to kids; and to remove some or all of their flavored e-cig products from the market until they receive premarket authorization and otherwise meet applicable requirements," the FDA commissioner said.
"In the meantime, we'll be investigating their marketing and sales practices, including with boots on the ground inspections. The FDA is going to continue to work to find out why so many kids are using and abusing these products."
The Event
Gottlieb is scheduled to sit down with American Vaping Association President Gregory Conley and Duncan Van Dusen, founder and CEO at the CATCH Global Foundation, a childrens' health charity, at an Axios event Tuesday, Sept. 25 in Washington, D.C.
The Analyst Response
Height Capital Markets projects a 65-percent chance regulators will order the removal of "a material number" of e-cigarettes made by JUUL and other companies before the end of calendar 2018 ahead of regulatory approvals that can take years to complete.
The Axios event that puts Gottlieb and Conley in the same room should generate additional discussion on the issue of e-cigarette use by youth, according to Height.
In a Sept. 21 note, Height analysts said the public has yet to see the data on youth e-cigarette usage that Gottlieb cited in his announcement of a crackdown.
"The public has yet to see the data that Commissioner Gottlieb is referencing, which we continue to look forward to reviewing when it becomes public," the firm's analysts said.
The data appears to be from a spring National Youth Tobacco Survey by the Centers for Disease Control and Prevention, according to an unnamed source cited by the Wall Street Journal, Height said.
The CDC said the number of high school-age youth who have used e-cigarettes in the past month rose from 1.73 million in 2017 to 3 million today, according to the Height analysts.
'A Form Of Recreation That Creates Addiction In Minors'
A Sunday op-ed by Sarah Milov in The Washington Post is likely to influence policymakers in their decisions on e-cigarettes, according to Height.
The op-ed compares the marketing of e-cigarettes, including flavors like mango and fruit medley, to how the tobacco industry historically targeted young customers with strategies like Joe Camel.
While e-cigarettes have the potential to help smokers switch from traditional tobacco products, they have a "fundamental contradiction" in that they are spurring nicotine addiction in minors, Milov said in the column.
" ... The company has seen incredible growth not as a harm-reduction or a cessation tool, but as a form of recreation that creates addiction in minors And far from being an effective tool for quitting, evidence is emerging that young people who Juul may actually be more likely to smoke conventional cigarettes. Juul's sales are up more than 700 percent from a year ago, as the internet fuels its popularity among the underage."
Price Action
Shares of tobacco companies like British American Tobacco PLC (NYSE: BTI) and Altria Group Inc. (NYSE: MO) have fallen as scrutiny of e-cigarettes has increased.
Altria shares were down 2.38 percent at $61.06 at the close Monday, while British American shares were down 2.28 percent at $46.34.
Related Links:
4 Stocks To Watch Following The FDA's Proposal To Lower Nicotine In Cigarettes
The Cannabis Industry Continues To Expand: Who's Next?
Photo by Mylesclark96/Wikimedia.
Posted-In: Centers for Disease Control and PreventionAnalyst Color News FDA Top Stories Analyst Ratings Media General Best of Benzinga
View Comments and Join the Discussion!