Will Elon Musk Follow In Nikola Tesla's Footsteps?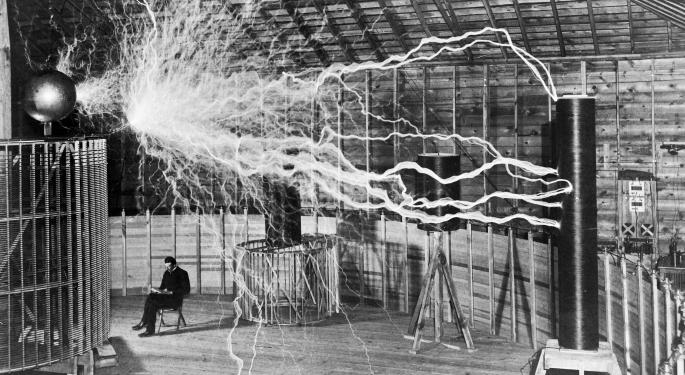 As he's become known for erratic decisions and spontaneous business endeavors, many have begun to dissect and study Tesla Inc (NASDAQ: TSLA) CEO Elon Musk's management objectives.
Aside from the common denominator of a well-known surname, many similarities can be drawn between the careers of Elon Musk and 1800s Serbian-American inventor Nikola Tesla.
Overall, Tesla is remembered as a brilliant innovator with poor business skills who essentially facilitated his own demise. Considering recent events, will we remember Musk in the same way?
Nikola Tesla
Considered a consummate showman and creative genius, Tesla was responsible for the production, development and application of electric power through an alternating current motor.
Tesla competed against Thomas Edison in a "War of Currents" in the 1880s, with his system rivaling Edison's direct current electrical power.
His developments sparked many of today's technological advancements, like electric cars and computer processors. Energy storage company Tesla applies these principles in new products today — hence the name.
Despite his enormous potential and obvious ability, Tesla never became truly prosperous for his work. The "lone wolf" suffered many career headwinds, from the destruction of his plans and his materials in a laboratory fire to causing a regional power outage.
While Tesla was talented in some areas, he struggled with business. When seeking help to build a laboratory, Tesla lost funding from financier J.P. Morgan due to poor business decisions and unrealistic expectations.
When Guglielmo Marconi was awarded the Nobel Prize in 1909 for developing the radio, Tesla sued, claiming the patents were his. In 1943, the Supreme Court ruled that the patents did, in fact, belong to Tesla. The ruling came months after his death.
According to historical accounts, Tesla was habitually single, frequently attended lavish parties and displayed an aversion to developing close, meaningful relationships. In the last years of his life, Tesla reportedly ran out of money and moved from place to place, leaving bills unpaid. When he died in 1943, Tesla was alone and his legacy was left without much atonement.
Elon Musk
Similarly to Tesla, Musk is a brilliant designer and engineer with the ability to completely transform the energy industry. Yet his management and people skills leave much to be desired.
As founder of SpaceX and CEO of Tesla, Musk has revolutionized the development of powerful electric cars and rocket engines, while also making strong advancements into the elusive realm of space travel.
But on the business side, Musk has gained a reputation as a micromanager.
As of late, his presence has been far from inspiring. From insulting a member of the Thai cave rescue team and making paramount company announcements via Twitter, to accounts from both former wives on his controlling nature and obsession with work, Musk continues to be a walking PR liability.
Musk has demonstrated his awareness of Tesla's detrimental business mistakes, according to InsideEV's.
"I think Edison was certainly a role model, probably one of the biggest role models. The car company is called Tesla … because we use an AC induction motor, which is an architecture that Tesla developed. And the guy probably deserves a little more play than he gets in current society," the CEO said in 2008, according to the publication.
Musk said he's a "bigger fan" of Edison than Tesla, because the former brought his inventions to market and accessible globally.
In most analyst takes since Musk scrapped go-private plans for Tesla,the conclusion has been that the company will likely recover and refocus.
But will Musk take a step back and delegate management endeavors to others? Oppenheimer analyst Colin Rusch said Musk is sticking around.
"From the blogs, we believe it appears that speculation on finding a replacement CEO will likely not come to fruition. Given the extensive coverage of Mr. Musk and his personal life, we expect such speculation will linger indefinitely," Rusch said in a Monday note.
As the dust settles on the latest Tesla headlines, Musk has the opportunity to bring the company toward profitability with an emphasis on Model 3 production.
The history behind his company's name shows that innovation and determination alone aren't always enough to carry a good idea — but unlike Nikola, the story of Musk and his company are far from over.
Related Links:
Canaccord Cuts Tesla Price Target, Suggests New Company Leadership
Musk: Tesla Will Remain Public
A double exposure of Nikola Tesla with a "magnifying transmitter" high-voltage Tesla coil circa 1899. Photo by Dickenson V. Alley courtesy of the Wellcome Collection.
View Comments and Join the Discussion!
Posted-In: InsideEVs Nikola Tesla twitterAnalyst Color Education Analyst Ratings General Best of Benzinga