Warren Buffett Pushing More Cash To Equities; 'Big 5' Stocks Still At The Top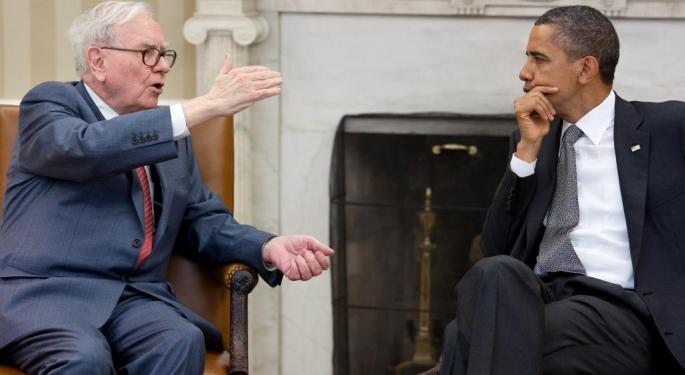 Warren Buffett's Berkshire Hathaway Inc. (NYSE: BRK-A) (NYSE: BRK-B) filed its 13F for the first quarter on Tuesday, revealing what changes it made to its portfolio during the period. The company's equity portfolio increased from approximately $166 billion at the end of 2017 to $169 billion.
Morgan Stanley's Kai Pan doubts the company will issue dividends and noted that Buffett doesn't see Berkshire's current valuation as cause for a large buyback, both of which drive his expectation that more cash will be spent buying equity.
Pan also took at look at what positions were cut and raised, highlighting a few of the more notable changes.
Get access to Benzinga's full hedge fund coverage by searching keyword "13F" in Benzinga Pro.
Buffett's Big 5 Stay At The Top
Berkshire's top five positions remained the same through Q1. The group includes Apple Inc. (NASDAQ: AAPL), American Express Company (NYSE: AXP), Bank of America Corp (NYSE: BAC), The Coca-Cola Co (NYSE: KO) and Wells Fargo & Co (NYSE: WFC). Each holding has a market value of more than $10 billion.
As announced by Buffett ahead of Berkshire's annual shareholder meeting, the company increased its stake in Apple from 166 million shares to 240 million shares. Since then the stock has returned 11 percent, adding $4.4 billion to Berkshire's portfolio.
Berkshire cut its stake in Wells Fargo by approximately 7.8 million shares, which as of Tuesday's close had a market value of over $427 million. The company still owns over 450 millions shares valued at more than $24.6 billion.
The Oracle of Omaha maintained his positions in American Express, Bank of America and Coca-Cola.
Other Notable Picks
Pan took notice of two other buys by Berkshire: Teva Pharmaceutical Industries Ltd (NYSE: TEVA) and Monsanto Company (NYSE: MON). Berkshire's stake in Monsanto increased by 62 percent, while it more than doubled the number of Teva shares it holds.
It should be noted Teva is still a relatively small part of Berkshire's overall portfolio, at around $700 million.
The company also dissolved its stake in IBM (NYSE: IBM) and cut its holdings in Verisk Analytics, Inc. (NASDAQ: VRSK) and Phillips 66 (NYSE: PSX) by 82 percent and 43 percent, respectively.
Related Links:
This Day In Market History: Warren Buffett Takes Control Of Berkshire Hathaway
Munger: Berkshire Has Been 'Too Restrained' In Buying Apple's Stock
View Comments and Join the Discussion!
Posted-In: 13F Kai PanAnalyst Color Hedge Funds Top Stories Analyst Ratings Trading Ideas General Best of Benzinga