Ford Still Committed To SUV, Truck Shift Even As Iran Relations Threaten Spike In Gas Costs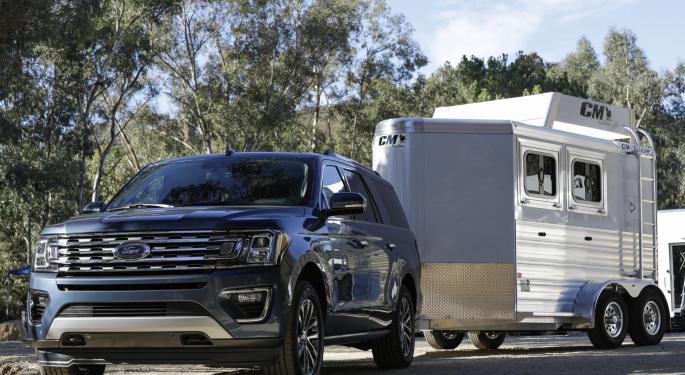 The U.S. has irked a major oil exporter, and some fear its withdrawal from the Iran nuclear deal could prompt a pop in gas prices.
Historically, such a cost trajectory has precipitated change in the auto industry's sales mix from trucks or SUVs to fuel-efficient cars.
Who Should Care?
The correlation is meaningful to companies like General Motors Company (NYSE: GM) and Fiat Chrysler Automobiles NV (NYSE: FCAU), both of which have long shifted investment from passenger cars toward higher-margin and better-selling trucks and SUVs.
Ford Motor Company (NYSE: F) announced in April it, too, would begin paring its North American car portfolio to just two models. Ford is not nearly as far along as GM or FCA and has a chance to reevaluate its plan amid new circumstances.
What's The Real Impact?
Experts say that isn't necessary: improvements to "gas hogs" render old vehicle comparisons irrelevant.
"While we see some volatility and increases in gas prices, we do not expect consumer buying behavior to change," Michelle Krebs, senior analyst at AutoTrader, told Benzinga. "There has been vast improvement in fuel efficiency in today's utility vehicles and trucks compared with 10 years ago. Consumers will continue to buy utility vehicles over cars because utilities offer little fuel economy penalty but significantly more versatility."
Ford is of the same mind.
"Many of today's SUVs are as fuel-efficient as cars were just a few years ago, helping to withstand any spikes in fuel prices," Dan Jones, North America SUV communications manager at Ford, told Benzinga. "We also are using lightweighting, new propulsion systems — including battery electric vehicles and hybrids — to offer customers the performance, capability and fuel economy they want in vehicle silhouettes they desire."
Last quarter's hike in gas prices correlated with a rise in truck and SUV sales and drop in car sales, Jones said.
What Can We Expect To Happen?
Nonetheless, Ford did not directly confirm its commitment to shrinking its car portfolio. Outsiders anticipate follow-through, though.
"We expect Ford will remain committed to paring its North American product strategy to shift focus to SUVs and trucks," Krebs said.
GM declined to comment on its strategic reaction to weakening U.S.-Iran relations.
Related Links:
Ford Maintains Its Fleet Sales As GM, Fiat Chrysler Scale Back
Is GM Finally Getting The Props It Deserves?
Photo courtesy of Ford.
Posted-In: Analyst Color News Commodities Top Stories Exclusives Markets Analyst Ratings Interview Best of Benzinga
View Comments and Join the Discussion!