Tellurian, Applied Optoelectronics Capture Short Sellers' Attention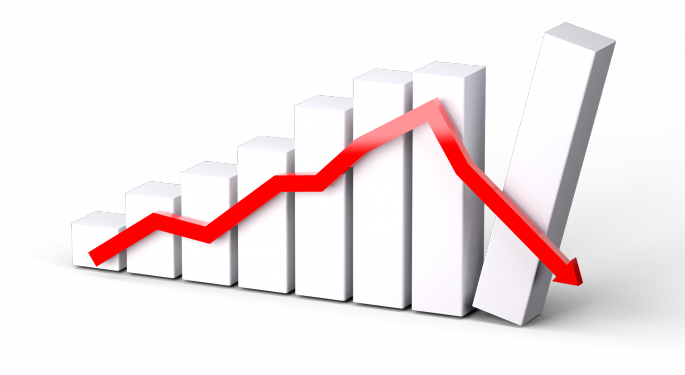 FIS Astec Analytics released its latest list of the most popular stocks among short sellers. The new list includes mostly under-the-radar names that traders are betting have further downside ahead.
Here's a rundown of the hottest stocks among short sellers.
Top Pick: Tellurian
Oil prices recently hit their highest level since 2014, and short sellers see big moves in oil & gas exploration companies like Tellurian Inc (NASDAQ: TELL) as a selling opportunity. FIS Astec said utilization rates jumped from 66 percent at the beginning of the year to the maximum 100 percent last week.
Applied Optoelectronics
Fiber-optic network provider Applied Optoelectronics Inc (NASDAQ: AAOI) has been a regular on the FIS Astec list for months. Utilization jumped 23 percent last week, pushing short interest up to 92 percent of available shares.
Diamond Offshore Drilling
Diamond Offshore Drilling Inc (NYSE: DO) is another oil play that short sellers believe has run too high too fast. FIS Astec reported that the stock's recent push from $14.39 to near $19 this month has reinvigorated short sellers, who are taking positions despite surging borrowing costs.
Helios And Matheson
Helios and Matheson Analytics Inc (NASDAQ: HMNY) has been a big winner for short sellers in 2018, with the stock plummeting 62.4 percent year-to-date. A massive new equity sale likely helps short-sellers' cause in the near-term, but FIS Astec said a flood of new borrowable share supply has driven utilization rates under 60 percent.
Himax Technologies
Semiconductor stock Himax Technologies, Inc. (ADR) (NASDAQ: HIMX) saw its utilization rate drop from near 100 percent to just 75 percent last week as the share price continued its 22 percent bounce from March lows. FIS Astec said traders will be watching the stock's price action in coming weeks to determine whether the rebound is an early sign of a turnaround or simply another short-selling opportunity.
Geron
Biotech stock Geron Corporation (NASDAQ: GERN) saw its utilization rate increase to 86 percent last week, even as a wave of new supply hit the market. The stock dropped just 1.5 percent last week, but short sellers need a much larger sell-off to justify the steep borrowing costs.
Related Links:
New Names, Old Classics Among Short Sellers' Top Stocks
Morgan Stanley: 11 High-Conviction Stocks To Watch This Earnings Season
Posted-In: FIS Astec AnalyticsAnalyst Color Short Ideas Top Stories Analyst Ratings Trading Ideas Best of Benzinga
View Comments and Join the Discussion!